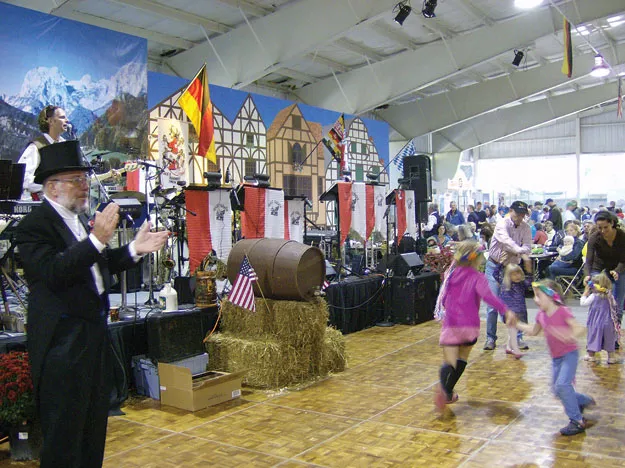 Ah, Oktoberfest. When else is it acceptable to drink beer in public at 11 in the morning, outside of sporting events? For that matter, where else can you go where people look at you funny if you're not drinking this early?
Stowe held its 11th annual Oktoberfest in the rigidly cold Jackson Ice Arena last Saturday and, from the traditional tapping of the first keg onward, the beer flowed endlessly. Three styles of Otter Creek drafts were offered, from the light Vermont Lager to the dark Copper Ale. The real star of this selection, however, was the seasonal medium Oktoberfest brew, which was crisp and refreshing, particularly before the crack of noon.
As I sipped my beverage and awaited the arrival of my parents - who were visiting from Connecticut - I passed the time by admiring the gusto of Ken Schumann, reprising his prestigious role as the Stowe Oktoberfest burgermeister for the 11th consecutive year. Roughly translated, the burgermeister is the mayor of the celebration, and his job is to make sure his guests enjoy themselves. As lederhosen-clad oompah band The Krazy Firemen played traditional polkas, Schumann made the most of this title and its duties, leading the crowd in traditional toasts and dances. Most importantly, he made sure to keep himself well hydrated, which he assured me was a task in itself.
"I practice drinking beer all year long to prepare for this weekend," Schumann said with a slight smirk. "Beer treats me well all the time." This was his theme throughout the day, as he gestured with a gigantic wooden beer stein to elicit cheers from the crowd.
My parents finally entered the arena to join the other rambunctious attendees and we shared a drink together, toasting to Oktoberfest and good times. When my father and I sat down to eat our bratwurst and sauerkraut, my mother observed, "Basically, it's about eating and drinking. That's the gist of it, right?"
Right on, Mom. Cheers.