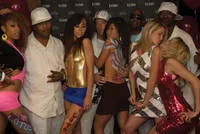 The young, glamorously dressed crowd pressing toward the gangway paused when a suited, tattooed gent at the narrow gate raised his voice. "Listen up, folks. If you are under 21, sell your ticket now. You will not get on the boat." Behind me, multiple voices chimed, "Um, interested!" meaning they were in the market for a way into Lotus Entertainment's sold-out "Miami Vice" theme party cruise. The man continued, "If you have any drugs or weapons, you will not be getting on the boat." Wow, this really does feel like Miami, I thought, watching folks ahead of me getting gently frisked.
The illusion intensified inside, after I got an eyeful of the number of white jackets aboard. Some guys had gone the gray-tone gangster route, but there were a few linen suits, and also a serious effort at mimicking the TV show's trademark Armani-jacket-over-T-shirt look. Panama hats popped up here and there, on ladies, too. One guy even had a leather shoulder holster — empty, thankfully.
In addition to launching pastel fashion trends shepherded by the show's style consultant, Gianni Versace, the flamboyant detectives of "Miami Vice" fought crime in MTV-mode 20 years ago. A star-studded roster of '80s rock groups — including The Police and Peter Gabriel — contributed tunes to the hip soundtrack. The music may have been different on the Spirit of Ethan Allen, but it was still what people wanted to hear: Lotus Entertainment, a Burlington-based production company of hip-hop music and events, hosted the floating fest as a thank-you to business interests (I stumbled across their VIP lounge near the second-floor bow around midnight), but then decided to open the party to the public as well.
DJ Fattie B. greeted guests as they boarded the boat, pointing them toward the bar and then ramping up the hip-hop vibe. Ladies clad in short, sequined dresses filled the dance floor to bust some moves. If the guys had taken detective-chic as their model for getting gussied up, most of the gals went the sassy streetwalker route in ruffled miniskirts or gold lamé hot pants and stiletto heels.
Once the boat had eased out onto Lake Champlain, the music paused for a recording that reviewed the location of lifejackets. But for the rest of the night, Fattie B., Craig Mitchell and DJ A-Dog took turns at the wheels of steel amid clouds of dry ice, and guests mingled or mugged for the camera in a prom-style photo set-up, complete with balloons. All in all, the $13 tickets seemed like a pretty good deal. It was about 1:30 a.m. by the time the boat docked, and I was partied out.