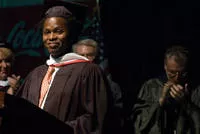 I can't recall my college convocation speaker, but chances are, UVM's Class of 2011 will theirs. At 26, Ishmael Beah was like a friendly older brother rather than the typical aging dignitary, and the freshman class already knew his story of being a child soldier — in theory at least, they read his book over the summer. Beah, from Sierra Leone, was 11 when civil war broke out and 13 when he was recruited by the government to fight the rebel forces that had killed his parents and two brothers.
Two years into his cocaine-assisted mass killing career, UNICEF stepped in and set him on the road to rehabilitation. The effort to rehumanize him was much harder than learning to wield an AK-47. As Beah said in the packed and un-air-conditioned gym, he still lives three lives: the present, the past and his dreams.
Despite the heat, the largest class in UVM history gave Beah a standing ovation even before he spoke, and slowed their program-fanning to better catch his words. First he joked about how at-home he felt in a place where people like to ride bicycles naked, as at his alma mater Oberlin College. Then Beah turned to his memoir to read a few gruesome paragraphs, which involved phrases such as "bullet holes," "brain matter" and "intoxicated flies."
But Beah, now a full-time public speaker against the use of child soldiers, quickly moved on to his main point: the value of education. Nothing he said was new — education helps you discover yourself and your place in society, question your own previously sacrosanct values, learn to listen to others and compromise — but it made all the difference that the words were coming from this survivor of horror, dressed in an academic gown, his dreads tucked neatly under a mortarboard cap.
"Try to expose yourself to the world," Beah said, noting the typical clueless response he finds in American high schools: Sierra Leone, is that a water bottling company? Even his final injunction was delivered with gravitas: "Also, have fun. Fun is good."