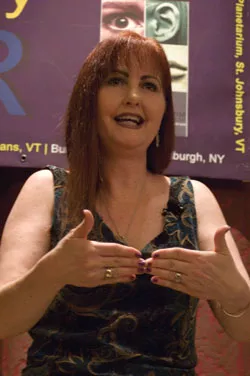 Matthew Thorsen
Nan O'Brien
Last Saturday night, some 80 people packed the back room at Chow! Bella restaurant to hear intuitive counselor and medium Nan O'Brien draw spiritual energy from the cosmos and give it voice. The seventh of 10 stops on a tour marking the one-year anniversary of her first appearance on Star 92.9's "Lana and Nolan in the Morning" show, the $35-a-head event sold out in a matter of days.
O'Brien, who has lived in Vermont since 2004, has made a full-time living from private-session spiritual counseling for five years. Fans of TV psychic John Edward would find her show's question-and-answer format familiar; like Edward, O'Brien claims to receive communication from the deceased. Additionally, though, she offered advice on the dilemmas of the living, and the overwhelmingly female audience had no shortage of issues to address. One woman asked if her daughter "would ever graduate from high school?" After asking the daughter's name and age, O'Brien surmised that the student might be suffering from an undiagnosed learning disability. The mother nodded, and a murmur escaped the crowd.
Critics of the psychic process might have alleged that what was on display was a classic case of "cold reading"; a psychological sleight of hand that sounds like spiritual mainlining but is actually just a clever method of information retrieval and story embroidering. Also fitting this description was O'Brien's abidingly warm, reassuring reaction to the naked pain of those whose loved ones had passed — "I've actually never met a soul who wasn't OK," she offered to one grieving mother. (In a phone interview after the show, a question to O'Brien about my own father's passing brought a similarly upbeat but frustratingly vague reference to my Dad's strict parenting skills.)
Midway through the performance, however, O'Brien turned to a healthy-looking woman sitting quietly in the middle of the room and asked, unsolicited, "Have you been taking care of your fibromyalgia?"
Flummoxed, the woman answered, "Yes. I was just diagnosed."
It wasn't the only startlingly out-of-context bull's-eye O'Brien hit that evening. Despite her hefty doses of positivity and a lead-footed sales pitch for an energy drink, O'Brien left me maddeningly uncertain whether this psychic stuff is real or not. Dammit.