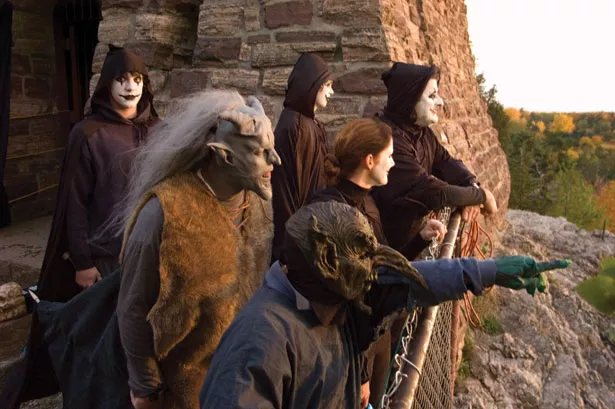 Ethan Allen Park echoed with the screams and cackles of ghosts, ghouls and witches on Saturday evening, when all-that-was-sinister descended upon this normally peaceful place in Burlington's New North End. The event marked the second time local spooks and spectres gathered there to celebrate Halloween with a haunted tour.
I was lulled into a false sense of security near the park's entrance, where tents offered food and fun while people waited their turn for the tower tour. Even as I fueled up on cider and donuts, I could hear tormented cries from the nearby forest. This did not bode well.
My apprehensions were confirmed when I finally joined the tour queue and was informed by the guide that things were about to get scary. Really scary. With that final warning, my group was ushered up the path into the forest. Two hooded figures in black trailed behind us, Dementor-style, either to ensure that nobody was left behind or to pick off any stragglers. I hovered near the middle of the group just to be safe.
As we moved further down the path, we were besieged by countless phantoms, witnessed macabre scenes, and listened to stories of tragic demise - these apparitions disproved the old adage that dead men tell no tales. Werewolves, ghost ninjas and vampires from space were just a few of the ghastly individuals we encountered along the way. An appearance by an undead reporter who met her end on the job reminded me to watch my step, lest I end up part of next year's show.
The tour concluded at the Ethan Allen Tower. The old stone structure was bathed in an eerie red light and filled with frights. It was enough to send all but the bravest scampering back down the path to the relative security of the "real" world. Five-year-old Lily Wolf of Burlington said the storytelling ghosts at the beginning were her favorites - before things got too scary. Brothers Chase and Brice Carey, 6 and 4 years old, said they liked the monsters and proved their bravery by boasting they weren't afraid at all. Me? I was partial to the cider and donuts.