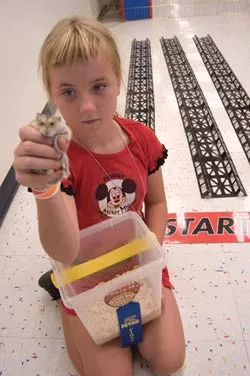 I've never owned a hamster. As kids, my brother and I kept gerbils, and when we were raising our many generations of fuzzy nibblers in the mid-'80s, plastic exercise balls had yet to make the rodent-running scene. So it was with curiosity that I observed kids who'd brought their hamsters to Petco's semi-annual, in-store Hamster Ball Derby, extracting their four-legged charges from carrying containers and snapping them inside colorful, translucent spheres.
Only five kids had registered their rodents for the race, but their parents and siblings formed a decent crowd next to towers of glass cases labeled with descriptions of their inhabitants. (The "Long-Haired Teddy Bear Hamster" from Syria seemed to be in hiding.) Strands of triangular, white-and-black-checked plastic pennants gave a Monte Carlo ambiance to the enclosure where three parallel, 10-foot sections of black plastic track stood at the ready. Kids waited patiently to set their hamster balls on the track, which would keep them rolling straight.
"Are his cheeks still full?" a mom called across to her middle-school-aged daughter. The girl peered inside the turquoise globe she held, then looked up with a worried face, nodding. Her dad reassured her, then explained to bystanders. "He ate the box on the way. Stuffed his cheeks." There was a brief pause while one hamster ball was cleaned up from an incident of hamster poo, perhaps brought on by the occupant's pre-race jitters. The store's manager introduced himself and offered some timely info about raw cabbage curing "wet tail," a euphemism for hamster diarrhea.
In the first race, the blue-orbed box-eater got off to a slow start against Austin, a speedy hot ticket in a red ball that he propelled across the finish line in under 10 seconds. The three remaining racers went fuzzy-eared head to fuzzy-eared head next, their owners urging them on. "C'mon, Rocco!" A boy nudged his hamster's plastic container, but Rocco and a timid critter named Honeydew lost the lead to Simba, an orange-and-white cutie the size of a large sweet potato.
Before the final heat, the manager had the crowd mimic a last-round racing trumpet, then Austin made another no-pause beeline to win the grand prix. Every participant got something to take home, from stickers to a calendar featuring photos of hamsters lounging in little hammocks. Austin's owner, Kristen Jensen, got four circular sections of black track to make a training circle for the champ's next official run. But the actual prize couldn't hold a candle to the teeny-tiny trophy. I hope Austin has a miniature mantel in his Habitrail.