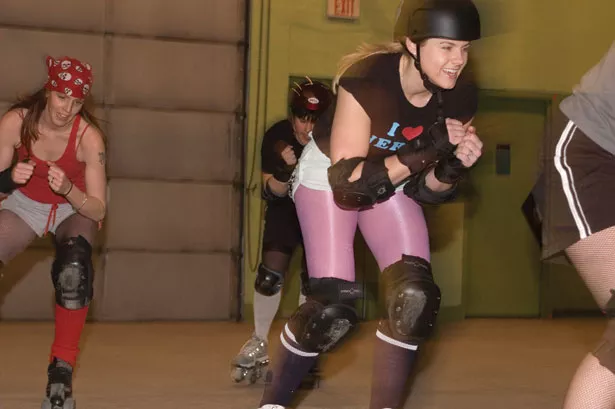 Heads up, recreational skaters - roller derby has come full circle. The all-women contact sport originated as a tough-girl activity decades ago, but since 2000, roller derby has undergone a grassroots revival. Something about in-your-face females unafraid of blood and bruises strikes a popular chord among fans and players alike, and independent, self-managed teams now number more than 50 nationwide. The Green Mountain Derby Dames have brought Burlington into the boisterous fold. The team is the brainchild of Courtney Reckell - a.k.a. "Wreckless Reckell" in derby parlance.
At Sunday's practice, I took the bench because skates are a must and I don't own any. It was a treat to watch the squad's eight members run drills. Rad outfits add to the fun and the intimidation factor, mixing sex appeal with aggro elbow- and knee-pads. Several ladies were tricked out in short-shorts, tights or fishnets, legwarmers, tank tops and tattoos. Everyone wore quad roller skates, with four wheels arranged in a block, since they offer more stability than in-line wheels when crashing into opponents.
Roller derby has clear goals: Basically, an eight-person pack of four skaters per team tries to keep a single lead skater, or "jammer," from passing, while allowing their own jammer through. All of this happens at top speed, and practice makes perfect. One team member called out moves: "T-stop!" "Double-knee fall!" "Left leg glide!" Other agility maneuvers included stepping side-to-side and front-to-back, and weaving in and out of a line of moving skaters.
Three-inch neon yellow cones delineated a wide oval track that spanned the length of the armory's slightly gritty concrete floor, allowing circlers to practice crossover turns inside the parameters. The course had been set up according to guidelines established by the Women's Flat Track Derby Association, an organizational body founded in 2004 to provide official structure for team bouts and league play. Yes, chaotic as it looks, there are rules.
Reckell reckons that bouts with other area teams may take a few months. For now, the Dames want to organize volunteer support staff, recruit newbies and hone their skating skills. Over-21 skaters at all levels are welcome at their twice-weekly practices, with one caveat: "You need to be a lady."