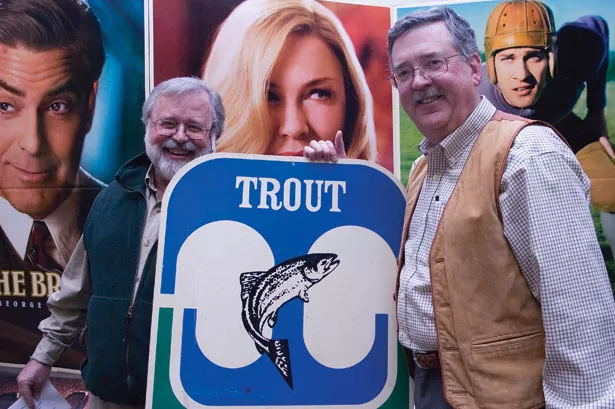 The Fly Fishing Film Tour is a national event organized by AEG Media featuring independent films on the subject, as well as trailers for its own releases. If you think the tagline "Pure fly fishing entertainment" is almost comical, you're not alone. Imagine Brad Pitt's character in A River Runs Through It cutting loose and setting up his own niche in the outdoor film industry.
Last week's film fest at Palace 9 was presented by the central Vermont chapter of Trout Unlimited, which doesn't profit from the event, but gets a chance to sign up new members and spread the word about local conservation efforts. "There's been an influx of young people coming into the sport," said Dana Baker, Trout Unlimited state council chair. "They're athletic and aggressive about fishing, but they're even more aggressive about conservation. It's not like they're going to turn fly fishing into an extreme sport, but they definitely kick it up a notch."
Indeed, echoes of The Endless Summer rippled through the selections, especially a short about North Carolina albacore fishing, which commences in October. Described by one charter captain as "more of a run-and-gun style," boat-mounted fly fishermen race across inlets, keying on gulls and casting into schools of glass minnows, which attract the aggressive, hard-striking albacore.
In another film, anglers wake up from a blackout induced by fermented goat milk and go after 5-foot Mongolian salmon - known to eat small mammals - and tie flies with freshly harvested yak-tail clippings. "Chasing tail" puns were not left unspoken.
Not surprisingly, the films were high on environmental awareness. Three of them exposed a potentially devastating gold and copper mining operation proposed for the legendary Basin Bay fishery in Alaska. The area is home to the world's last massive salmon run, which fuels a thriving river ecology of bears, trout, caribou and moose.
In Vermont, Trout Unlimited is working to pass regulations that would close three branches of the Winooski for rainbow trout-spawning season. The organization's regular activities include river cleanup, tree planting and building shore embankments. Gives new meaning to "Gone fishin'."