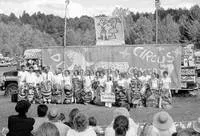 For some Vermont residents, traveling to see Bread and Puppet's summertime show is a seasonal certainty, on par with creek swimming and berry picking. As I settled into my chosen shady spot near the top rim of the troupe's huge, sunny amphitheater, I realized I'd skipped a few years, but they hardly seemed to matter. The grass was still growing, the Iraq War and George W. Bush's presidency were still ongoing, and Peter Schumann and his puppeteers were still offering onlookers a political kick in the pants, via clever use of cardboard and papier-mâché
Two decrepit, festively decorated school buses formed the backdrop for an open-air circus ring delineated by a foot-tall semicircle of brightly painted cloth at the base of the hill. After roughly 150 folks had parked, meandered through sideshows, and spread blankets on the hillside, a band of motley, white-clad musicians began tapping on metal objects to create an eerie ringing. Stiltwalkers costumed as storks slowly walked out from behind the first bus, gradually flapping their wings while carrying bombs in their mouths.
The Grand Forgiveness Society of Glover followed: One actor hit another over the head, saying, "Oh, pardon me," then both sang a tongue-in-cheek pardon-fest lampooning the president's commutation of Scooter Libby's jail sentence. A cardboard-bulldozer training act substituted the heavy yellow machines for ferocious tigers in a parking-lot allegory about ongoing construction of a new Wal-Mart in nearby Derby Line.
The short skits continued, some funny, some sad. Shamelessly hypocritical hucksters named "Mr. Everything Is Fine" and "Mr. Shut Up and Do What I Say" tried to sell the crowd a paradise machine, a stampede of wild buffaloes celebrated the memory of American wilderness, and the entire company of dancers donned fighter-jet headgear to dance and fall down in a memorial to fallen soldiers that was made more real by a hair-raising shape-note hymn sung en masse.
My two favorite acts hinged on musical jokes. In what may have been a protest against federal animal-ID laws, a group of faux chickens and sheep serenaded a herd of cardboard corporate types with a baa-and-cluck version of Carl Orff's Carmina Burana. A separate number featured a spectacled gent with small bells sewn strategically onto his outfit, which rang out during the man's very controlled song-and-dance. The tune? I'm not telling, but like the circus itself, it was both hopeful and fun.