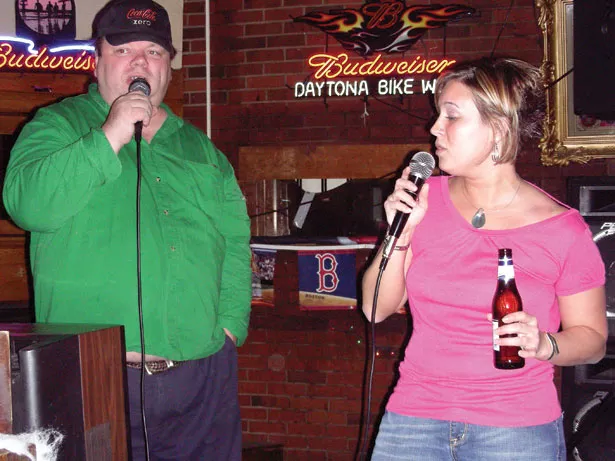 Matthew Thorsen
JP's Pub, Burlington, Saturday, December 15, 10 p.m.
Escapism is a hot commodity these days, particularly the musical variety. From the exploitative mock pageantry of "American Idol" to the color-coded video game shred fest "Guitar Hero," pop stardom has never seemed closer for the average Joe, regardless of actual talent. Nowhere is the phenomenon more evident than that most hallowed institution of musical delusion, karaoke night.
Lacking a true karaoke bar, a Burlingtonian's most reliable outlet for living out faded rock 'n' roll fantasies is Dave Harrison's Starstruck Karaoke at JP's Pub. On weekend nights, the Main Street dive is typically overflowing with would-be Neil Diamonds and Bonnie Raitts of various ages and oft-questionable abilities.
"It's obnoxious as shit," said bartender Rhyan Bray, 28, just as a gaggle of Cyndi Lauper acolytes launched into a wince-inducing chorus of "Girls Just Wanna Have Fun." Shrugging his shoulders, he then conceded, "We do really well on the bar, though." Noticing the throng of patrons clamoring in front of the taps, I made my way toward the stage, where Harrison himself was holding court in front of a rambunctious crowd, his smooth baritone proving a passable Sonny to a less-than-inspired Cher on "I Got You, Babe."
Seated at a table perusing "The Bible," a hefty book filled with thousands of song titles available to be butchered, er, performed, Stevion Flowers, 21, suggested karaoke is a means of personal expression. "It's all about being comfortable," he said as another group of girls, who looked anything but, hacked their way through Shania Twain's "That Don't Impress Me Much." Me either, ladies.
Fortunately, others were less critical than myself. Joanie Graves, 24, concurred with Flowers, saying, "It's a way to let out emotions. It's a stress relief." Graves claimed that performing karaoke gave her the confidence to pursue theater. "You can really connect through the words of specific songs," she said. Pausing as a churlish grin spread across her lips, she added, "But if I haven't made someone's ears bleed, I haven't done my job."