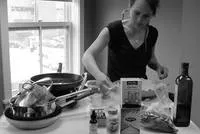 I always wondered what was at the top of that staircase behind the customer service desk at City Market. Last Saturday afternoon, I found out. With 13 other "commoners," I ascended to the upper level of Burlington's downtown market and was ushered into a common conference room for an unusual event: a dandelion workshop.
It was the latest entry on City Market's busy calendar — part of a series embracing the virtues of various plants. Led by local herbal medicine connoisseur Cristi Nunziata, 28, this workshop praised the dozens of overlooked uses of our favorite ubiquitous weed. For starters, we were offered a spot of dandelion tea.
Nunziata stood in front of the crunchy-looking crowd behind a portable stovetop, a table laden with oils and bowls full of dandelions. Workshop attendees — some taking notes — watched intently as Nunziata whipped up a batch of Dandelion Pesto and then Dandelion Fritters. Both were a huge success. As we washed them down with our tea, one workshopper yelled out, "You're such a great cook! Can I live with you?"
While passing around dandelion-infused oil (a great healing ointment) and some dandelion literature (great recipes!), Nunziata explained other perks of the sunny-faced plant. Who knew that when a dandelion stem is split open, its juices can be used to heal calluses? Now I do.
City Market offers these free workshops every month. Next up, on June 16: peppermint lip balm. Until then, I'll be saving those dandelions in my yard from a lawn-mower death.