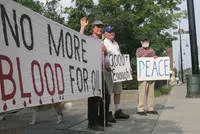 The folks who rally every weekday evening outside Burlington's Unitarian Universalist Church keep the message simple: PEACE. But talk with them for five minutes, and they'll launch into a philosophical riff on everything that's wrong with America.
On the day after the Fourth of July, 83-year-old Frank Gonzalez and four other 50-plus pacifists are reminding passersby that patriotism isn't always fun and games. Some pause to smile their approval; most just keep walking.
This gathering's nothing new, but rather an informal Burlington institution. In fact, explains another sign holder, demonstrators have been gathering at this spot since September 2001. "The Bush administration did that, too," she says of 9/11.
With his socks-'n'-sandals, iridescent white beard and black San Francisco Giants hat, Gonzalez looks like a post-apocalyptic Santa Claus. Turns out he's a veteran — of World War II. His companion's reads, "3000-plus enough!"
According to this arts educator, Bush's Iraq war debacle is just the latest misstep of politicians committed to a historically dysfunctional foreign policy. Gonzalez, a former ex-pat who's been criticizing the U.S. government for over half a century, thinks American leaders are "allowing the economy to drain the country to support a system that doesn't work." He adds, "Look at the health-care companies — they've gone to Ontari-ario and somewhere else . . . "
These five protesters are bitter, for sure. But that doesn't mean they can't lighten up. As the evening sun cranes its neck toward Pearl Street, Gonzalez and Co. explain that they see a lot of hope in the international peace community and the younger generation. Plus, they think Vermont is setting a good example of civic responsibility — more or less. "Our congressional delegation is one of the best in the country," asserts the bearded activist. "But then again, our governor's an idiot."