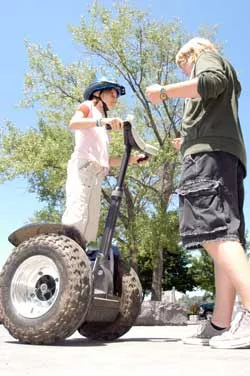 I have always made fun of the new-age scooters called Segways. But secretly embedded within my cynicism was a mounting curiosity — surely shared by many — and that's why I went to ECHO's "Body Language" exhibit last Sunday to give one a test drive.
Bruce Morrissey, founder of SegRides of Vermont, was on hand with part of his "fleet" to complement the exhibit by offering demonstrations and free rides. As he explained the finer points of Seg-riding, I remembered all the crashes I had stupidly viewed on YouTube before coming. So, instead of volunteering as the guinea pig, I watched the first few riders and tried to bolster my confidence.
Once aboard the Segway, I had to acquaint myself with the gravity-centered accelerator and throttle steering. To accelerate, you simply lean forward; you lean back to stop, and the Segway stops on a dime. You control the steering with a throttle-like knob on the left handlebar. Turn the knob all the way in one direction and you can spin in place, kind of like a figure skater, fully experiencing the Segway's 360-degree turning radius.
After a few laps behind ECHO, I was starting to get the feel for the Segway, and Bruce even complimented me on the way I bent my knees into the turns. Guess I'm a natural! I felt as cool as is possible riding a Segway, wearing my shades and metallic helmet and dodging waterfront walkers. I learned Bruce had spinners for the wheels but didn't bring them along, so I was unable to pimp my Segway. Regardless, for one afternoon I was up there with the best of them: the NYPD, Shaq and all the other talented, high-self-esteem individuals willing and able to ride the vehicle today.
Even better, I was able to add "Riding a Segway" to my list of "Things I Can Do That President Bush Can't."