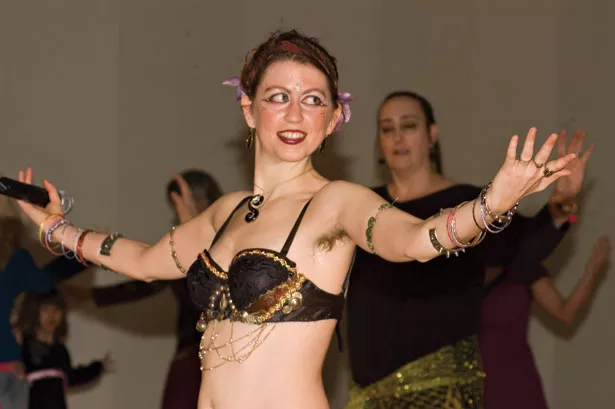 Kaytee Manchester's arms rose and fell in undulating waves, hips swaying in a classic "Ghawazee Shimmy," feet gliding across the stage to the rhythms of a tribal Saptak song. It was an encouraging reminder that Middle Eastern culture - the one that brought us the burka and moral police - can also celebrate the grace and sensuality of the female body.
Manchester and eight other local belly-dancing practitioners took the stage to benefit the Vermont Council on World Affairs. Their performances ranged from the traditional Egyptian Oriental solo dance (complete with elaborate costuming, hand cymbals and abundant veils) to more "tribal" techniques. The latter form largely eschews the most seductive moves in favor of an emphasis on improvisation and modern step integration.
VCWA Executive Director Anita Selec intended the evening to be educational as well as entertaining; accordingly, she asked Elizabeth Smith, a University of Vermont assistant professor of anthropology, to provide a brief description of belly dancing's origins. It turns out that the fantasy - belly dancing as a sumptuous rite of seduction - is just that. Along with the jewel in the navel, that fiction belongs more to Hollywood than Haifa. The unique dance actually evolved as a way for women to celebrate ceremonies together, as women and men were - and are - often segregated at religious functions.
"It's actually a first-of-its-kind program for us," said Selec, as a yellow-clad, bejeweled dancer pivoted on one foot to the thrum of a dambek (traditional drum). "That's saying something, after our 56-year history of attracting cultural events to Vermont," she noted. "But I fell in love with this kind of dance years ago, and we were very lucky in getting so many performers from the area to come."
The 50-member audience - including a nattily attired contingent from Iraq - expressed its appreciation in animated applause, in between bites from an exotic buffet (including a killer baklava). Some took turns for lessons on stage. And for a moment, at least, the seemingly perpetual boil of East-West relations cooled to an enticing simmer.