If you were in a band in Vermont during the 1990s, there's a good chance Matthew Thorsen captured your smiling — or maybe sneering — visage at some point. The quirky shutterbug was the local music scene's equivalent of famed rock photographers such as Jim Marshall and Bob Gruen. He chronicled an entire generation of Vermont music in photos. It's a role he continues to play to this day — including, it must be noted, through his regular work as a freelance photographer for this paper.
This week, a unique exhibit featuring some of Thorsen's finest print work from that earlier era opens at the Magic Hat Artifactory in South Burlington. Presented by Big Heavy World, "Sound Proof" combines the sights and sounds of the 1990s rock scene in Vermont into an immersive multimedia experience. Each of the exhibit's 115 photos is accompanied by an audio component, accessible by cellphone or iPod, consisting of Thorsen describing the subject of the photo and the context in which it was taken. Many of the audio tracks also contain a sample of music from the artist.
The exhibit opens with a reception at the brewery this Saturday, October 15. It features an outdoor beer garden, brewery tours, a barbeque and, fittingly, performances by local bands Funkwagon, Lendway, the Dirty Blondes and Champagne Dynasty. Magic Hat will host the exhibit through October.
What follows is a sampling of images from "Sound Proof" and brief explanations of just who these folks are.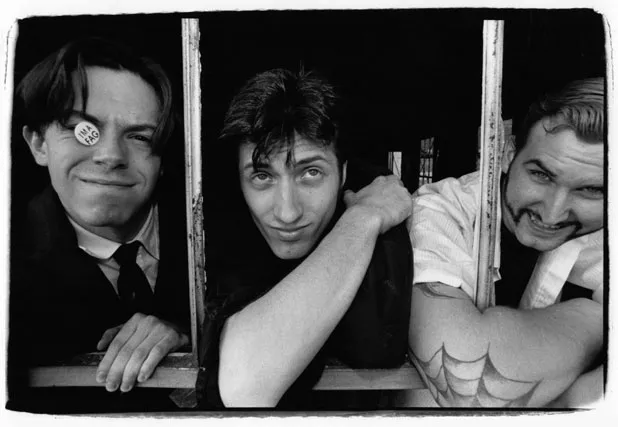 The Fags
Burlington has a loud, proud tradition of punk rock. In the 1990s, no band embodied local punk like the Fags. Raucous and rowdy, they were among the most beloved bands of the era. Their lone full-length, No Fleas, Lunch Money and Gold Teeth, remains an all-time classic local record. Oh, and you might recognize the swarthy youngster in the middle here. That's Eugene Nikolaev. Or, as he's better known now, Eugene Hütz, the enigmatic front man of globetrotting gypsy punks Gogol Bordello.
Amanda Gustafson
This is proof that Amanda Gustafson has pretty much always been the coolest woman in Burlington. At the time this picture was taken, she was the front woman for acclaimed local alt-rockers Wide Wail. She's better known to current local audiences as the vocalist and keyboardist of art-rock trio Swale. We have no idea what became of the helmet.
Fattie Bumbalattie
Vermont is currently home to an active and diverse hip-hop scene. It's unlikely that would have been possible without the efforts of Fattie Bumbalattie — aka Kyle Thompson — in the 1990s. As both a solo artist and the front man for pioneering local funk-hop act Belizbeha, Fattie B became the undisputed godfather of Green Mountain hip-hop. Though live performances are rare now, he remains the scene's elder statesman. And you can still catch him spinning records at his long-running Saturday dance party, Retronome, at Club Metronome.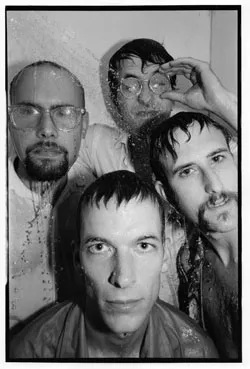 The Pants
Though other bands were more conventionally successful, the Pants were among the defining Burlington bands of their generation. Alongside such great B-town acts as Envy, Chin Ho! and Wide Wail, to name a few, they embodied the independent spirit of the vibrant 1990s Queen City alt-rock scene. Their final record, Eat Crow, is still a local classic.
Richard Haupt
If Burlington in the 1990s had a soundtrack, it probably would have been Richard Haupt, better known as "the Clarinet Man," playing his version of "When the Saints Go Marching In." The diminutive Haupt was a fixture on Church Street, where he busked until close to his death in 1998. Was he any good? Not really. But his typically off-key renditions of jazz standards and his almost daily presence downtown were an integral part of the Queen City's offbeat character in the 1990s.
Trey Anastasio
Does he really need an introduction? Ernest "Trey" Anastasio is, simply put, the most famous musician ever to call Vermont home. Here he is shredding on the stage at the original Higher Ground in Winooski.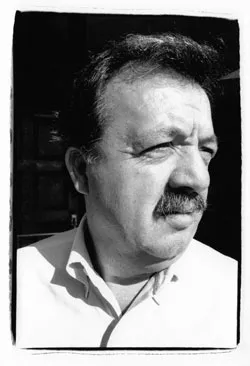 Nectar Rorris
Here it is. A picture of Nectar. (OK. Not the picture of Nectar. But you get the idea.) Though Rorris no longer owns his namesake rock club, it remains an iconic Burlington nightspot. That's due in no small part to Phish putting the joint on the national map. But just as important to the club's legacy was the man who made his bar available to virtually every local band of the era — a tradition that continues today. A tradition that doesn't: late-night gravy fries at the front window.
"Sound Proof" opens this Saturday, October 15, at the Magic Hat Artifactory in South Burlington. Reception 12-5 p.m. Free. On view through October.