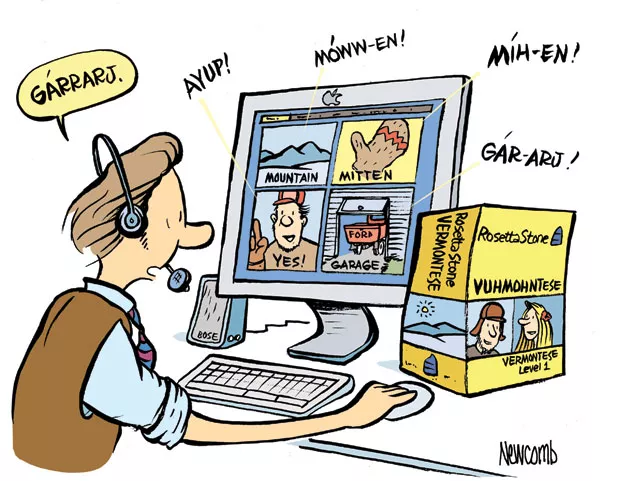 New England offers a treasure trove of distinctive dialects. The Boston accent is the most famous. Both New Hampshire and Maine have well-known, provincially charming native drawls. And there's whatever the Rhode Island accent is, some bizarre linguistic hybrid of Southie and the Bronx. Though they all have their defining characteristics, each state's dialect also shares commonalities — the dropped "R" that turns "car" into "cah," for example.
And then there's Vermont.
To put it bluntly, native Vermonters talk kinda funny. The native twang is an odd mixture of curiously pronounced vowel sounds and casually uttered — and sometimes completely ignored — consonants that makes it unique among its regional brethren. The dialect is also a vital link to local heritage that, like so many other aspects of traditional Vermont life, is fading away.
To understand what is happening to the Vermont accent, it's important to understand where it comes from.
"It really comes down to how the different parts of New England were settled," explains University of Vermont linguistics professor Julie Roberts, who, since 1996, has studied the Vermont dialect. She received a grant from the National Science Foundation to conduct the first in-depth exploration of the state's accent. Over the years, she has taped and examined the speech patterns of hundreds of native (though not Native American) Vermonters.
Roberts says much of Vermont was populated as a "secondary settlement" by individuals moving from other New England areas such as Massachusetts and Connecticut. In other words, Vermont was settled by flatlanders.
Surprisingly, Roberts says she has yet to find evidence that the state's French Canadian heritage had any influence on the state's dialect, though she admits to not having much data from along the Canadian border.
"Clearly there are a lot of place names and people with French roots," she says. "But in terms of the dialect, it seems to be more the British variety."
Roberts suspects the reason is that, though the French arrived in Vermont before the British, they tended not to stay.
"They were largely traders, and often moved along once their business was done," she says. "The British formed towns and stayed."
Roberts notes that geographical barriers played an important role in the development of the Vermont dialect. She also identifies two distinct versions of the accent. "There is a dialect boundary that runs right up the middle of Vermont, along the Green Mountains," she says.
East and south of the Green Mountains, the local twang more closely resembles that of New Hampshire and southern New England. West of the mountains — including parts of northern New York — is where one finds what is generally considered to be the "real" Vermont accent. Or at least what's left of it.
Like many other Yankee dialects, Vermont's accent traces its lineage to England and Scotland. Despite that shared history, the Vermont lilt is noticeably dissimilar from the better-known dialects found in Massachusetts or Maine.
Among the key distinctions is what Roberts calls fronting and raising. Fronting is a speech characteristic that turns a word like "cow" into "kee-ow." Raising elongates vowel sounds — "i" in particular — so that a word like "kite" becomes "koit."
Another key component of Vermont speech is a glottal stop that takes the place of the "t" sound, so that "Milton" becomes "Mil-'un," "Vermont" becomes "Vermon'." Roberts points out that the glottal stop is common in certain strains of British English, particularly in working-class dialects, where a word like "city" becomes "ci-'y."
Tunbridge filmmaker John O'Brien has logged many hours with old-time Vermonters, most notably for his 1996 mockumentary, Man With a Plan, which chronicled the unlikely Congressional campaign of elderly Vermont farmer Fred Tuttle. Many viewers of the film may need subtitles to parse the gloriously thick accents of Tuttle and his friends.
"I always thought Fred's friend Kermit Glines had the classic Vermont accent," O'Brien says. "Kermit never said much, but when he did speak it sounded something like a Yorkshire cattle auction on a transistor radio."
Perhaps a more well-known example of the Vermont dialect comes from Rusty DeWees, a local — though non-native — actor and comedian. He's made a career of caricaturing the Vermont accent through his persona, and one-man show, "The Logger."
"He's a great example of what we call in linguistics 'performance speech,'" says Roberts. "In other words, he does a great job of picking out features that are most salient. And he exaggerates them so he sounds like the quintessential old Vermonter."
DeWees, who was born in Philadelphia but grew up in Vermont, concedes his stage show is an act, an amalgam of various local characters and accents he's encountered and observed over the years. But even in casual speech, he naturally falls into a slight Vermont twang.
"When I was a youngster, I worked with guys who had the accent," he says. "I took it in and enjoyed it."
DeWees worked a variety of blue-collar jobs in Vermont, from truck driving to construction. He says the camaraderie with his fellow workers infused Vermont-speak into his own speech.
"Your lexicon and tones change depending upon who you're hanging around," he says.
Roberts notes that accents generally tend to be strongest in working-class groups, which helps explain why what remains of the Vermont accent tends to be found in more rural parts of the state, especially in farming communities. But, much like the family farm is on the decline in Vermont, so, too, is the prevalence of the Vermont accent.
"It is kind of dying out," Roberts says. "Though that's sort of an oversimplification to say." As the state becomes less agricultural and incoming urbanites increasingly influence the culture, the Vermont accent is getting homogenized into generic American-speak. But Roberts says it's happening in stages.
"It doesn't just happen in a generation," she explains. "Different features weaken at different paces. And though the Vermont dialect may be weakening, it does so in its own special way."
Roberts also observes that certain aspects of the accent are actually increasing. She has found that, though the fronting and raising of vowel sounds is generally less noticeable, the glottal stop, particularly among younger — and mainly male — Vermonters, is more prominent. "The glottalization seems to be getting stronger rather than weaker," she says.
Even so, with the declining rural way of life in Vermont, "That's not necessarily the way younger people want to sound," Roberts says. "Unfortunately, farming is not as viable an occupation as it once was, so they need to find something else to do if they want to be successful. And, in some ways, success is disassociated with agriculture. Therefore, sounding that way is less popular than it once was."
One might assume that to be the case with any strong regional accent, if it suggests to others a lack of sophistication. But Roberts disagrees, saying that the prevalence of certain urban accents is actually on the rise.
"[Accents] may be associated with working class or lower class, and for some people, that's not how they want to sound," she says. "But for others, that is how they want to sound. They're proud of their working-class roots. So there isn't the same impetus for change in cities. And in rural areas, there is a huge amount of change going on."
Roberts adds that the influence of hip-hop has helped intensify urban vernacular. "You don't have that in Vermont," she notes. "There's not a similar rural hip-hop culture that continues to influence Vermont speech."
So, how unique is the Vermont accent?
"There are only so many things you can do with your mouth. And in general, there probably isn't a feature in Vermont speech you can't find somewhere else," says Roberts. "But what makes a dialect unique is which features [its speakers] put together and in which words they do it."
As DeWees might say, "Yer gosh durned roight."
Want to hear the accent for yourself. Click here to see a collection of videos of the Vermont accent in its natural habitat.