Courtesy of vermont cheese council: sabin gratz
Vermont Cheesemakers Festival at Shelburne Farms
Visitors to the Green Mountains quickly discover that Vermonters are seriously sharp about their cheeses. This tiny state is home to more than 45 artisanal cheesemakers, many of which have earned international honors. Among them: Jasper Hill Farm in Greensboro, Vermont Creamery in Websterville, Boston Post Dairy in Enosburg Falls, the von Trapp Farmstead in Waitsfield and, perhaps best known, Cabot.
Due to strict public health codes, most local cheesemakers don't allow guests inside their cheese caves or processing facilities. Nevertheless, many do welcome visitors to their dairy farms to meet their animals and to sample and purchase cheeses. So, if you're looking to commune with nature on a farm this spring, read on for some of the delicious spots closest to Burlington.
Can't get enough? The Vermont Cheese Council offers a complete list of cheesemakers across the state and has curated the Vermont Cheese Trail — a handy road map to DIY tours and tastings. And remember: Many of the stops are small mom-and-pop operations, so call ahead before making the trek.
A Tasty Trail
photos Courtesy of shelburne farms: vera chang
Cheesemaking at Shelburne Farms
Kick off your edible adventures at the Vermont Cheese Trail stop nearest to Burlington: Shelburne Farms. Once a Gilded Age country estate, the farm now operates as a nonprofit agricultural and environmental education center that's open year-round to visitors. Located 20 minutes south of Burlington on 1,400 scenic acres, Shelburne Farms has been producing world-class artisanal cheese since 1980. From mid-May to mid-October, visitors can observe the farm's signature cheddar being made and its herd of Brown Swiss cows being milked. Guided tours of the property's barns, children's farmyard and historic inn are also available.
The farm's Coach Barn, neighboring Lake Champlain, hosts the annual Vermont Cheesemakers Festival. Serious cheese lovers should save the date — July 16 this year— for the chance to learn about, sample and buy Vermont cheeses, as well as locally produced wines, beers, ciders and spirits.
Courtesy of vermont creamery: Tim Calabro
Allison Hooper and Bob Reese of Vermont Creamery
About a half hour's drive north of Burlington is Willow Hill Farm in Milton. Here, native Hawaiian cheesemaker Willow Smart uses milk from her herds of dairy cows and sheep to create nine different varieties of award-winning cheeses. These range from soft, bloomy-rind styles to hard, aged types — look for Blue Moon, a creamy sheep's milk; and Butternut, an alpine-style cow's milk cheese that won gold at the 2011 World Cheese Awards. In summer, visitors can pick their own organic blueberries on-site.
Fifty minutes north of Burlington is Highgate Center's Boucher Family Farm, which welcomes visitors most days of the year. On rolling pastures that nestle the Canadian border, the Boucher family employs the same cultures used in French Roquefort to produce their own Green Mountain Blue Cheese. Along with Boucher Blue and a tangy Gorgonzola, they also turn out a sharp, Swiss-style tomme. Dawn Morin-Boucher will explain how things are done if she's around. If not, she says, just pick out the cheese you want and leave your money on top of the fridge. Yeah, Vermonters are trusting in that way.
Less than an hour's drive east of Burlington is Websterville's Vermont Creamery, winner of nine World Cheese Awards and nine American Cheese Society awards in 2016 alone. Vermont Creamery makes several varieties of goat and cow's milk cheeses, including feta, crème fraîche, coupole and Bijou.
Bonne Bouche, considered the creamery's flagship aged goat cheese, has been awarded some of the most prestigious honors in the cheese world. Reminiscent of the Loire Valley cheeses of France, Bonne Bouche means "good mouth" and represents a tasty bite of Vermont. Though Vermont Creamery doesn't offer factory tours, it features a tasting counter and retail outlet.
Buy Now, Eat Later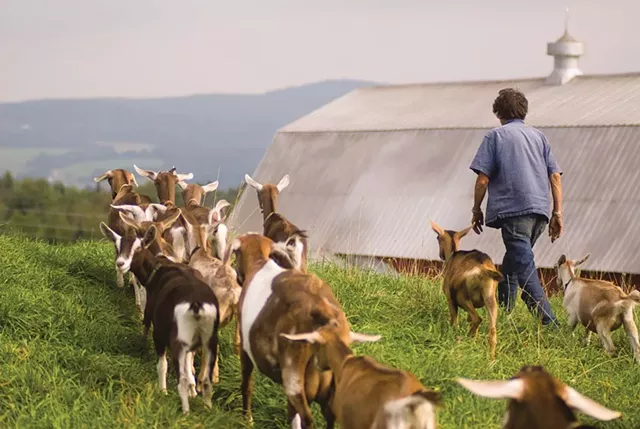 Courtesy of vermont creamery: Tim Calabro
Goats at Vermont Creamery
Don't have time to visit Vermont's cheesemakers in person? The Burlington area boasts some of the most impressive cheese counters in the state, both indoors and out.
On Saturday mornings, Vermont cheesemakers are among the dozens of vendors who set up shop at the Burlington Farmers Market. Held indoors biweekly on the University of Vermont campus through early April and outdoors weekly at City Hall Park from May through October, the market sells cheeses made from cow, goat and sheep milk. Also up for grabs: local fruits, veggies, wines, meads, ciders, distilled spirits, honey, maple syrup, pickles and prepared foods.
For a more extensive assortment, walk three blocks east to City Market/Onion River Co-op. It stocks more than 100 different cheeses, at least 70 percent of them made in Vermont. Cheese buyer Dave Lauber recommends Consider Bardwell Farm's Experience, which he described as "tasty and very earthy in flavor."
Minutes from Burlington International Airport in South Burlington, Cheese & Wine Traders is a must for serious wine and cheese aficionados. The store carries more than 150 varieties of local and international cheeses. Don't miss the daily samples!
Just up Dorset Street is Healthy Living Market & Café, which offers a wide assortment of organic, raw milk and even vegan cheese selections, as well as an impressive variety of craft beverages. Planning a pretty cheese plate at home? This is the place to pick up breads, meats and other treats.
Cheese Photos: Charlotte Scott
---
Courtesy of vermont cheese council: sabin gratz
Vermont Cheesemakers Festival at Shelburne Farms
Tous ceux qui sont passés par les Montagnes vertes le savent : les fromages au Vermont, c'est du sérieux! À preuve, on compte dans ce petit État plus de 45 artisans fromagers, dont beaucoup ont remporté des prix internationaux, notamment les suivants : Jasper Hill Farm à Greensboro, Vermont Creamery à Websterville, Boston Post Dairy à Enosburg Falls, la von Trapp Farmstead à Waitsfield, sans oublier Cabot, probablement le plus connu.
En raison de codes sanitaires rigoureux, la plupart des fromageries locales n'ouvrent pas leurs caves d'affinage ni leurs salles de transformation au public. En revanche, beaucoup accueillent volontiers les visiteurs dans leurs fermes laitières, où ils peuvent aller voir les animaux ainsi que déguster et acheter des fromages. Si vous souhaitez faire un retour aux sources sur une ferme ce printemps, lisez ce qui suit pour connaître une foule d'endroits à découvrir près de Burlington.
Vous en voulez encore plus? Le Vermont Cheese Council offre une liste complète des fromagers de l'État ainsi qu'une carte de la route des fromages du Vermont, la Vermont Cheese Trail, qui répertorie les différentes visites et dégustations offertes. Conseil : la plupart des étapes du parcours étant prévues dans de petites exploitations familiales, il vaut mieux téléphoner avant de vous y rendre.
Un parcours aux mille saveurs
photos Courtesy of shelburne farms: vera chang
Cheesemaking at Shelburne Farms
Démarrez votre aventure gourmande à la fromagerie la plus proche de Burlington : Shelburne Farms. Cet établissement sans but lucratif – ouvert à l'année aux visiteurs – était à la « période dorée » de l'histoire des États-Unis un vaste domaine privé, mais il se consacre maintenant à l'éducation en matière d'environnement et d'agriculture. Situé à 20 minutes au sud de Burlington sur un territoire pittoresque de 567 hectares, Shelburne Farms produit des fromages artisanaux de classe mondiale depuis 1980. De la mi-mai à la mi-octobre, il est possible d'observer la fabrication de son cheddar signature et la traite des vaches brunes de race suisse. Visites guidées des bâtiments, ferme des enfants et auberge historique raviront petits et grands.
C'est à la Coach Barn de Shelburne Farms, proche du magnifique lac Champlain, que se déroule l'annuel Vermont Cheesemakers Festival. Le 16 juillet, les amateurs de fromage pourront faire le plein d'information ainsi que déguster et acheter des fromages du Vermont et une foule de vins, bières, cidres et spiritueux locaux.
Courtesy of vermont creamery: Tim Calabro
Allison Hooper and Bob Reese of Vermont Creamery
À environ une demi-heure de route au nord de Burlington se trouve la Willow Hill Farm, à Milton. C'est là que Willow Smart, fromagère native d'Hawaï, utilise le lait de ses vaches et de ses brebis pour confectionner neuf varitétés différentes de fromages primés, des pâtes molles à croûte fleurie aux fromages vieillis à pâte ferme. Ne manquez pas de goûter le Blue Moon, un fromage de brebis crémeux, et le Butternut, un fromage d'alpage ayant remporté l'or aux World Cheese Awards de 2011. L'été, les visiteurs peuvent aussi faire l'autocueillette de bleuets biologiques sur place.
À 50 minutes au nord de Burlington, la Boucher Family Farm du Highgate Center accueille les visiteurs presque tous les jours de l'année. Dans cet établissement niché sur des pâturages ondoyants près de la frontière canadienne, la famille Boucher emploie les mêmes cultures que dans le roquefort français pour fabriquer son Green Mountain Blue Cheese. Outre ce bleu et un gorgonzola acidulé, la ferme produit aussi une tomme de style suisse au goût franc. Si elle est là, Dawn Morin-Boucher pourra vous expliquer le procédé. Sinon (c'est elle qui le dit), vous n'aurez qu'à choisir le fromage que vous voulez et à laisser l'argent sur le dessus du frigo. La confiance règne au Vermont!
À moins d'une heure de route à l'est de Burlington, à Websterville, on arrive à la Vermont Creamery, lauréate la seule année 2016 de neuf World Cheese Awards et de neuf prix de l'American Cheese Society. Cette crémerie fabrique plusieurs variétés de fromages de chèvre et de vache, de la feta, de la crème fraîche, ainsi que les fromages Coupole et Bijou.
Le Bonne Bouche, qui rappelle les fromages de la vallée de la Loire, en France, révèle toute la saveur du Vermont. Ce chèvre vieilli, considéré comme le produit phare de l'établissement, a remporté les plus grands honneurs dans le monde du fromage. La Vermont Creamery ne propose pas de visites, mais on y trouve un comptoir de dégustation et une boutique.
Achetez maintenant, mangez plus tard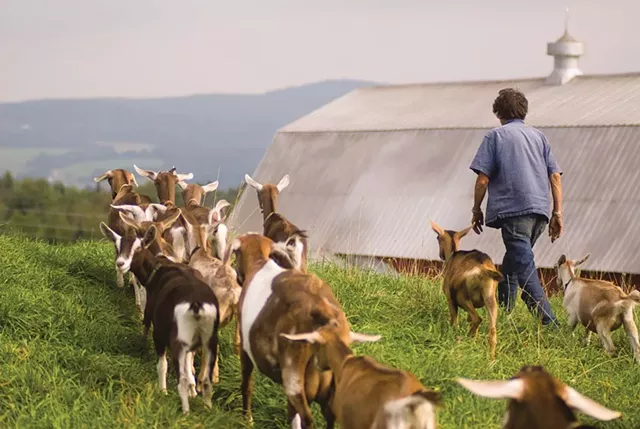 Courtesy of vermont creamery: Tim Calabro
Goats at Vermont Creamery
Pas le temps de visiter les fromagers du Vermont en personne? Vous trouverez dans la région de Burlington certains des comptoirs de fromages les mieux garnis de l'État, à l'intérieur comme à l'extérieur.
Le dimanche matin, les fromagers du Vermont comptent parmi les dizaines de commerçants qui s'installent au Burlington Farmers Market. Ce marché, qui se tient à l'intérieur deux fois par mois sur le campus de l'Université du Vermont jusqu'au début d'avril, et à l'extérieur toutes les semaines au parc City Hall de mai à octobre, accueille des producteurs de fromages de vache, de chèvre et de brebis. Vous pourrez également y dénicher fruits, légumes, vins, hydromels, cidres, eaux-de-vie distillées, miel, sirop d'érable, cornichons et plats cuisinés.
Pour avoir encore plus de choix, faites trois coins de rue à pied vers l'est jusqu'à la City Market/Onion River Co-op. On y trouve une centaine de fromages différents, dont au moins 70 pour cent sont faits au Vermont. L'acheteur Dave Lauber conseille le savoureux fromage Experience de Consider Bardwell Farm, "au goût de terroir".
À quelques minutes de l'aéroport international de Burlington, à South Burlington, la boutique Cheese & Wine Traders est un incontournable pour les véritables amateurs de vins et de fromages. Elle propose plus de 150 variétés de fromages locaux et internationaux. Ne manquez pas les dégustations quotidiennes!
Un peu plus loin, sur Dorset Street, le Healthy Living Market & Café offre un vaste assortiment de fromages bio, au lait cru et même végétaliens, ainsi qu'une impressionnante sélection de boissons artisanales. Pour concocter un joli plateau de fromages à la maison, c'est l'endroit idéal pour vous approvisionner en pains, viandes et autres gourmandises.
Cheese Photos: Charlotte Scott