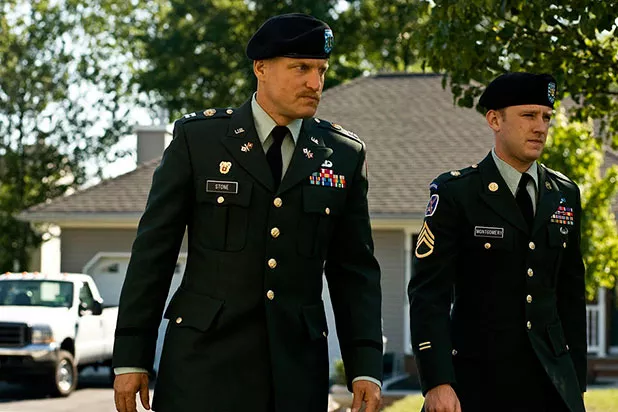 A scene from "The Messenger"
By now, local film fans probably know that Rick Winston and Andrea Serota have sold the Savoy Theater, their 29-year-old Montpelier arthouse cinema, to local documentary filmmaker Terrence Youk.
So, what does the 55-year-old Montpelier resident have planned for the Savoy? Reached by phone on his way to another interview, Youk says he was up the previous night learning to use the projector, something he's excited about: "I've always had the fantasy of either running a projection booth or a theater."
Youk says the theater's "incredible staff" will stick around. Otherwise, "there are going to be changes and there aren't going to be changes. The programming has always been excellent at the Savoy, and I intend to keep it that way."
But one thing that needs changing, he acknowledges, is the theater's sight lines. Youk hopes to eliminate complaints about poor visibility by raising the screen about a foot "in the first month or so." He'd also like to improve the Savoy's sound system and free up space in its basement — which houses a video store — by building a searchable database so not all the DVDs have to be displayed on shelves. The new space might become home to a second, smaller screen and a film club series.
"Video rentals in general are a really challenged business right now," notes Youk. He's considering the possibility of competing with Netflix by hiring high school kids to deliver DVDs to the door.
Youk observes that at the Savoy, "most of the moviegoers now are sort of my age and above ... mid-forties up through elderly." The challenge of programming films that appeal to this core group, while also reaching out to younger viewers and dealing with the intricacies of film distribution, amounts to a "very complex calculus," he says.
One way to get youthful audiences into the Savoy, of course, is "more social networking," and Youk plans to "upgrade our Facebook page and Twitter connectivity." Online polls, he says, will let viewers "indicate what they'd like to be seeing. It's essential to have that kind of input."
When it comes to his own filmmaking, Youk — whose herbalism documentary Numen: The Nature of Plants, played at several fests this year — says he'll "take a bit of a break. I'm sick to death of fundraising." After three years of 12- to 16-hour days of editing, he says, he's happy to be running a projector instead.
The Messenger is one of those award-season movies everybody's talking about. And starting January 8, Vermonters who didn't catch it at last fall's Vermont International Film Festival will get a chance to see it at the Palace 9.
In advance of that, I had a phone chat with Lawrence Inglee, the film's producer — who was born in Rutland and left Vermont at 15.
The Messenger is a drama about the U.S.'s current military engagements, but from an unusual home-front perspective. Woody Harrelson and Ben Foster star as two casualty notification officers, servicemen who have the job of delivering the bad news to the families of fallen soldiers.
When the duo knock on a door, they have no idea what they'll find — violent grief, anger, resignation. And neither did the actors, at least on their first take, because the notification scenes were played unrehearsed.
Inglee says that was the inspiration of first-time director Oren Moverman: "This is one of the most intense moments any of us could ever imagine encountering. So "the actors were given the freedom to experience the moment" — they walked through the blocking of the scene, but "didn't meet the other actors till the door opened."
The scenes could get intense, says Inglee. Harrelson likes to joke that, while the actors playing the bereaved might cry during the scene, the actors playing the notifiers would need to "go off and cry afterward. It was emotionally draining."
But the pain paid off — Harrelson has a Golden Globe nomination for his performance. The Messenger has also garnered Independent Spirit nominations for Best First Feature, Best Screenplay and Best Supporting Male and Female.
Inglee hopes Americans feeling war-news fatigue will still see The Messenger. "It's important for people to not be afraid of the movie," he says. "It's full of life, and it's often very funny. At its heart it's a buddy movie."