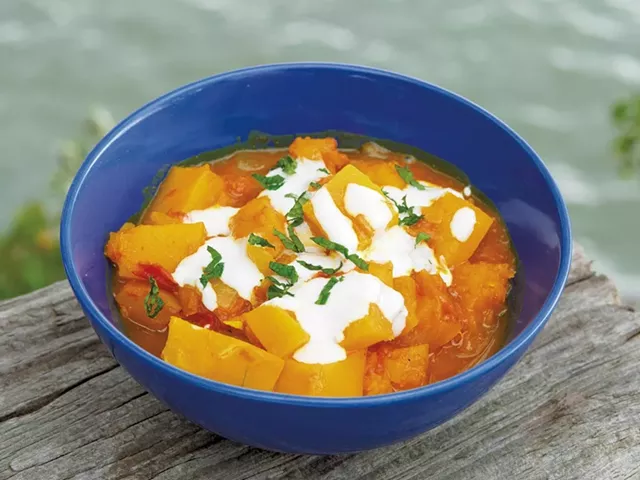 For better or worse, it seems that pumpkin products are everywhere you turn in the fall. While I enjoy the occasional pumpkin-spice coffee, and a hefty slice of pumpkin pie on Thanksgiving, I think the pumpkin trend has gone too far. This fall, I saw an ad for pumpkin-spice Spam. And on NPR recently, I heard a reporter talk about trying pumpkin-spice deodorant.
The simple fact is that pumpkin — and its culinary cousin, butternut squash — is a versatile and healthy ingredient, loaded with vitamin A and vitamin C, and a good source of vitamin E, iron and folate. I decided to skip the copious sugar and find a more savory application for this humble fruit. (Yes, technically it's a fruit!) I came across a recipe for Kadu Bouranee, a stew from Afghanistan made with spices and drizzled with a delightful yogurt sauce.
It may seem surprising that pumpkin, native to the Americas, is used in places as far flung as Afghanistan. In fact, pumpkins were among the first crops to be brought back to Europe from the New World in the 16th century. Hardy and easy to grow, they spread pretty much throughout the continent and beyond, and were used by local cooks in many different ways.
We served this dish with beautiful Lebanese lamb hand pies made by my sister, along with tabbouleh (a bulgur wheat salad with tomatoes and parsley) and an Afghani flatbread, courtesy of my mother. It was a multicultural celebration on a plate!
This dish would go well with so many accompaniments. Try it with a simple chicken or turkey breast, or with kebabs.
The preparation is simple. Peeling the squash might have been the most time-consuming step, besides the simmering. We used tomatoes from my mother's garden, but you could simplify by using canned tomatoes. I used a combination of butternut squash and pumpkin, which was wonderful, but you could also use all pumpkin or all butternut squash. I do recommend using a small pie pumpkin over your big jack-o'-lantern-style pumpkin, though, as they have more flavor and a better texture.
This recipe proves that pumpkin is good for more than just pumpkin-spice lattes. It will expand your culinary horizons!
Afghani Stewed Pumpkin
Ingredients
4 tablespoons olive oil
1 small onion, diced
2 cloves garlic, chopped
½ teaspoon salt
¼ cup sugar
1 teaspoon fresh ginger, grated or finely chopped
¼ teaspoon ground black pepper
2 pounds pumpkin, butternut squash, or a combination, peeled and cut into 1-inch cubes
2-3 tomatoes, chopped, with as many seeds removed as you can (don't fret if some remain), or a 14-ounce can of chopped tomatoes in juice
1 cup low-sodium chicken broth or water
Yogurt sauce:
1 cup whole-milk plain yogurt
1 clove garlic, minced
¼ teaspoon salt
fresh mint for garnish, chopped
Directions
Heat olive oil in a large heavy sauté pan over medium-high heat. Sauté onion until translucent, about 4-5 minutes, stirring often.
Add the garlic, salt, sugar, ginger and pepper, and sauté until fragrant, about 1 minute.
Add the pumpkin and stir to coat. Finally, add the tomatoes and broth and bring to a boil, stirring often.
Cover and lower the heat to a simmer, and cook until the squash is tender, about 25 minutes. Remove the cover and continue to simmer on low for another 10 minutes or so. The sauce will thicken slightly as it cooks.
While the dish is cooking, prepare the sauce by mixing together the yogurt, garlic and salt. (This can also be done ahead of time, to allow the flavors to meld.)
Serve in a bowl, topped with a generous drizzle of yogurt sauce and plenty of freshly chopped mint.