Sarah Priestap
Chef Wesley Genovart garnishes a plate with potato puree in the kitchen at SoLo Farm and Table in South Londonderry, VT on February 10, 2013
SoLo is a place for both bow ties and beer drinkin'. That's the eclectic mix Chloe and Wesley Genovart had in mind when they came to Vermont from New York City to renovate a rambling colonial house into the restaurant of their dreams. By then, both had formidable kitchen credentials — he as a chef; she as a maître d' — that also happened to be perfectly complementary.
95 Middletown Rd.
Brattleboro/Okemo Valley
South Londonderry, VT
802-824-6327
American (New)
So the couple painted bright colors inside and out, planted raised beds full of herbs and veggies, and put together an imaginative, seasonal menu that pairs local food with chef Wesley Genovart's exacting technique. Just about a year after SoLo Farm & Table opened in the summer of 2011, Bon Appètit magazine selected it as one of the 50 best new restaurants in America — the only Vermont eatery to make the list.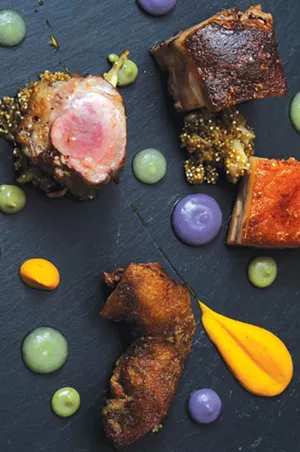 Sarah Priestap
Tasting of Amlaw Family Farm's roasted suckling pig with thyme scented quinoa, roasted garlic, potato puree and honeycrisp apple with sauteed hen of the woods mushrooms at SoLo Farm and Table
When the dishes arrive, it's clear why: Genovart's global approach to gastronomy. Though the chef is a native of Spain, his food exudes a crisp, almost Asian sensibility. A soy-lime mignonette accompanies the fresh Maine oysters. A bowl of gazpacho is delicately presented with paper-thin radishes, dill fronds, tiny pink flowers and crumbled, crispy jamón — the result is sort of like a liquified August farm. For a summer salad, Genovart scatters spicy greens around tempura zucchini and half of a poached quail egg, drizzles it all with grape reduction and smears housemade ricotta cheese across the plate.
The same original approach enlivens his bigger dishes: The ricotta appears with shards of pink rabbit confit, hen-of-the-woods mushrooms and edamame atop floppy, fresh pappardelle. A server pours warm, briny fish fumet over seared sturgeon filet. And a duo of seared, herb-crusted quail oozes its juices onto a bed of bright-green, herb-laden quinoa.
Sarah Priestap
Micro greens, such as these cilantro sprouts, are grown right in the kitchen of SoLo Farm and Table
It's a feast for the eyes as well as the tongue, served in a setting so cheerful you won't want to leave. And you don't have to. Have one last drink at the bar, where a dizzying variety of wines, craft beers and American hard ciders awaits.