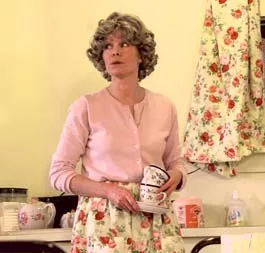 Grace Kiley is certain she should have been Ophelia. As a teenager, the Charlotte native spent two summers in an apprentice program with the Champlain Shakespeare Festival, once an annual event on the University of Vermont campus. Her responsibilities during a production of Hamlet were more mundane than going mad for love of a forlorn Danish prince. She could only fantasize.
"It was my job to make Ophelia's flowered wreath," Kiley says, recalling how she went out to pick daisies on the UVM lawn during evening rehearsals. "I was her, a waif with long blond hair down to my ass."
With hair just below her shoulders three decades later, the Burlington actress is still waif-like, but she's undergoing a matronly mid-life crisis in Shirley Valentine. Kiley will bring her one-woman show, a hit play by Willy Russell that became a 1989 film, to the FlynnSpace in Burlington next week.
"The storyline really hit me in the gut," she says about her first encounter with the script for the comic drama about a year ago. "It's about a woman coming back to herself."
This is a concept Kiley understands — she abandoned the thespian life altogether a dozen years ago to raise three kids and launch a second career as a psychotherapist.
On a recent Saturday afternoon, Kiley seems indeed to be "coming back to herself" while rehearsing Shirley Valentine in the basement of the Old Brick Church in Williston. She is thoroughly immersed in the role of a disillusioned Liverpool housewife whose dreams and nightmares are revealed through her engaging monologue.
Sipping wine and frying eggs, Kiley's protagonist talks to the kitchen wall the way Tom Hanks, as a FedEx employee who survives a plane crash on a deserted island, talks to a volleyball in the movie Cast Away. This dramatic device allows inanimate objects to become alter-egos, off which a solo character can bounce his or her thoughts. The island Shirley is "stranded" on — Great Britain — may be populated, but her unwanted solitude is palpable in the midst of a stale marriage. "I always said I'd leave him when the kids grew up," Shirley says. "By the time they grew up, there was nowhere to go."
Well, not quite. She does bop off to Greece in the second act, a trip that sparks adventure and the emotional arc necessary for change.
---
Grace Kiley comes from a family that might have inspired a TV sitcom like "Eight is Enough." One of eight children born to Anne, a short-story writer, and Dan, a world-famous landscape architect, she grew up in the chaos of an ever-expanding Charlotte homestead. "My father kept renovating each time he had a new vision," she says of the old farmhouse that wound up "looking more like a big ship or something."
Kiley and her best friend Sara Bridgman "always played witches" in neighborhood theatricals mounted under a carport. Three of the five Kiley boys formed a rock group, The Bushmen, that competed in "battle of the bands" events and recorded a single that hit the top of the charts — in Burlington, anyway.
One of her older brothers, Chris, had a 16-mm camera. Together they em-barked on short cinematic experiments that were "a little Bergmanesque," Kiley says, in the manner of the Swedish filmmaker who created such poetic masterpieces as The Seventh Seal. Heady stuff for a state then boasting more cows than people and no Interstate highway system.
Apart from a role as the mother in a student performance of Our Town, Kiley says she felt alienated at Champlain Valley Union High School. She dropped out at age 16, but that Ophelia-envy summer had transformed her. "I wanted to go to New York and study acting," she says. "I was passionate. I had to go."
That's exactly what happened when she turned 18. Fresh from a rural Vermont upbringing, in the late 1960s Kiley moved through a succession of Manhattan apartments and waitressing jobs that supported her alternative educational goals. Told that Uta Hagen — a veteran of stage and screen — was the best teacher in town, Kiley auditioned for her by performing a scene from Member of the Wedding, a Carson McCullers tale about a lonely adolescent in Georgia.
"I worked on the piece so deeply that I could feel the hot Southern night and smell the air," Kiley says. "Five minutes into it, Uta said, 'Excellent!' I was stunned."
She walked out onto a Hudson River pier and cried. She recalls, "I hadn't had anyone other than my family acknowledge my talent before that."
For the next five years, Kiley studied off and on with Hagen, her mentor ever since. In a city brimming with opportunities, she appeared in the occasional small play; Federico Garcia Lorca's Blood Wedding was one. She even auditioned to become an off-Broadway Ophelia, but, at age 20, was told that particular Hamlet needed a younger waif.
During this period, Kiley was on a family vacation in Ireland, bicycling near Dingle, when a policeman signaled to them. "He was looking for me. My agent had tracked me down," Kiley recalls. "We zipped over to London so I could audition for some big film. As soon as I showed up, they told me I was not plump enough for the part. It's always something," she laughs.
Back in New York, Kiley grew disenchanted. "In the beginning, I was giddy about being there," she says. "But I was not worldly. I started to have ups and downs. I'd leave, spend time in Vermont, then come back again."
As the daughter of a landscape architect, she began to miss the flora of her hometown. "There were no friggin' trees," she complains. "And I was alone. I never made too many friends. It was a painful time. Such homesickness."
Kiley returned to the Green Mountains in 1976. A chance meeting with Darri Johnson, a fellow native who had also studied with Hagen, led them to form the Vermont Actors Workshop. In addition to offering classes, the duo devised "Theater on Families," a series of sketches on pressing social issues. "I researched things like battering and incest," Kiley explains.
With funding to tour the state from the Vermont Arts Council and various human-service agencies, the company delivered about 300 performances in three years. Johnson and Kiley also mounted more mainstream fare, such as Jean Genet's The Maids and Talley's Folly, a Pulitzer Prize-winning play by Lanford Wilson.
"Grace was without fear," observes retired Vermont College professor G. Roy Levin, who directed her in The Maids and some "Theater on Families" segments. "She does things so wholeheartedly. Her work is very bold, both mentally and physically."
By the mid-1980s Kiley — who had already aced a high school equivalency exam shortly after dropping out — earned a Vermont College bachelor's degree in family studies, and successfully completed graduate work in counseling psychology. "Theater was not practical, so I decided it was time to get a real job — something I could do as the mother of small children. I felt I had to turn my back on acting. I mourned it for years, really believing I'd never go back."
As the saying goes, never say never. Kiley was chair of the psychology department at Burlington College when life nudged her to reconsider everything. "Three years ago, I was feeling unhappy and suffocated," she says, sounding like she might be reciting a bit of Shirley Valentine dialogue. "Then the blood was starting to flow again. When I began taking singing lessons, I told someone, 'I'm an actress.' My next thought was. 'Whoa! What was that about?'"
That was about the muse resurfacing. "I was amazed. It had been so buried," Kiley marvels. "Three years ago, I got a new life going."
Kiley decided to start teaching acting classes. Her advertisements brought more students than she had expected. She has instructed children in after-school sessions and Burlington College students in a course called "Acting for Stage and Film." An estimated 120 people have participated in her group workshops for adults. Currently, Kiley is coaching a local actor cast in a supporting role for an upcoming Hollywood feature that will be shot out of state.
"Grace is very fluent in the art," suggests Walt Levering, owner of the Best Western and Windjammer Restaurant in South Burlington, and an amateur actor himself. "I've been studying with her for two years. She's encouraging but firm. She doesn't mess around."
Levering appreciates Kiley's insistence "in having you try to discover the moment, to really feel the character's emotions. You've got to be that person, even when waiting in the wings."
That assessment is echoed by Mark Nash, artistic director of the Vermont Stage Company and an acting coach. "We haven't worked together, but we're colleagues. She's one of the best resources in Vermont," he says. "I think Grace and I are both interested in authenticity, in having an actor reveal something about himself or herself rather than putting on a façade."
It's Kiley's matter-of-fact movements in a scene — what actors call "little bits of business" — that distinguish her approach to inhabiting a role. "She's more absorbed than I am in the physical world of the character, the sets and props and costumes," Nash says.
---
Details are key in Shirley Valentine. Wearing a flowery apron that matches the kitchen curtains, Kiley bustles around a convincing set built by her second husband and production coordinator John Duncan, a Williston Central School social studies teacher. Tea time, a sacred daily ritual in English homes, torments Shirley even as she prepares to do it once again —her hausfrau instincts are at war with the freedom from convention that she desperately covets.
Quotidian activities are crucial in one-person plays, because it's essential to build as much action as possible into what is otherwise a stream of consciousness. After rehearsing the first act, Kiley asks her young stage manager for feedback. "It was flawless, except that you forgot the tea bags and the milk," judges Erin Evarts, a 17-year-old high school senior from Shelburne.
Kiley's own intensity contributes to the dramatic impact of the proceedings. The film version is played for big laughs, but she has tried to emphasize the underlying sorrow that gives comedy its punch. Shirley's suffering is often expressed in amusing anecdotes and observations. In remembering an attempt to have a frank sexual discussion with her husband, Joe, she reports on his oblivious reaction to the word "clitoris." It must have sounded like some sort of automobile model, Shirley tells the kitchen wall, because Joe indicated that he prefers a Ford Cortina.
With help from three consultants, Shirley Valentine has been essentially a self-directed effort by Kiley. "I loved the idea of envisioning it, making it mine," she confirms. "What a challenge. This approach takes you on an incredible journey, and it's not cute."
The most searing reverie is Shirley's recollection of the early years in her marriage, when it was still fun and freewheeling. The fleeting glimpse of joy is eclipsed by her bitterness at being taken for granted. Kiley has tears in her eyes when she rehearses this sequence.
"The goal is to become your characters rather than merely acting like them," she later points out about a technique derived from Stanislavski's method acting. Yet it differs in that "you don't reflect on your own past while you're on stage. You have to know who you are emotionally, physically and intellectually, but then you become the person in the play," Kiley explains. "You're living the moment, so the audience experiences a moment in themselves. You are a conduit for that immediacy."
It's an endeavor that "makes you more vulnerable," Kiley adds. "You can't pretend, you have to be there. You can't jump in by the seat of your pants."
Vulnerability can be tricky. When she was required to cry at the end of Tally's Folly, Kiley remembers, she sometimes found herself astonished when the audience applauded. "I would think, 'I'm supposed to feel good about this?' I tell my students to take a breath after an emotional scene and blow it away."
When Shirley Valentine gets a bit tipsy from all that wine-sipping, Kiley has to figure out just what kind of inebriation she should mimic. "For me, it's behind my eyeballs. My posture changes and everything about me is altered by this decision."
In her kitchen, the character listens to a bland BBC broadcast and is serenaded by music, including classic songs such as "I Wanna Hold Your Hand," by The Beatles. This background "score" was assembled by sound technician Don Dresser. The lyrics to one of the songs, Petula Clark's "Downtown," evoke a longing for the heartbeat of a vibrant city.
In this frame of mind, Shirley's Greek odyssey assumes epic grandeur as an escape from the anger and sadness of a life not lived to the fullest. She longs for the romantic fulfillment she imagines might be found along pristine Mediterranean beaches. For her part, Kiley's longing for an acting life meant she had no choice but to return to her real calling.
That choice has begun to pay off. Last year, she toured in the Center Stage Company's A Bridge to Terabithia. After performing in a few short films, Kiley had three bigger jobs: She was Charlotte Rampling's ski double in Signs and Wonders, an independent film that opened in New York last week to mixed reviews. She was a stand-in for Michelle Pfeiffer on What Lies Beneath, the Robert Zemeckis thriller shot in Chittenden and Addision counties in the fall of 1999. Last year, Kiley had a meaty part in the as-yet-unreleased indie flick, Dress Like a Hitman, filmed in Hyde Park and other locations.
Perhaps it's inevitable that Kiley is also making a comeback, so to speak, in the Big Apple. "My daughter Ariel and I will get an apartment together in the city," she reports. "For me, it'll be a place to land. I'm ready to find an agent and do some auditioning."
Ariel, 19, has been lucky so far in her fledgling career as an actress. On February 28 she's scheduled to appear as a hippie on NBC's "Law & Order," and will be a featured player in an April episode of "The Sopranos" on HBO.
Kiley's 13-year-old son, Galen, is also in love with movies. Her 21-year-old daughter, Leda, is studying visual art and sociology in London.
Kiley has two projects in mind for the coming year. She's like to do The Novelist, a play about Jane Austen based on a book by Howard Fast. And she's writing a screenplay, North Corner, a love story about an older couple, which she hopes to act in this summer — "if I can get the money and the crew together to make it."
That's a big if, of course. But, much like her character Shirley Valentine, Kiley believes her time has come. Again. All dues are long since paid. "What's stopping me? Nothing. I tell myself, 'Why not?' I just want to do the things I want to do," she insists with the seasoned determination of a grown-up waif.
"Shirley goes to hell and back," Kiley says. "It's a universal theme. Everybody goes to hell and back for a second chance. That's how you find your true self."
Shirley Valentine opens February 22, 8 p.m., at the FlynnSpace in Burlington. Info and tickets, 863-5966.