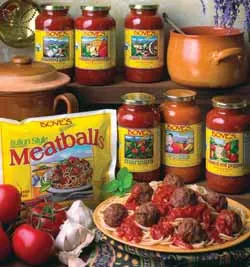 JFK may have eaten there back in the day. But on October 11, Bove's Restaurant, Burlington's Neapolitan food institution and bottled-pasta-sauce purveyor, will be on its way to a whole new level of fame. That's the day a crew from the Food Network will show up to film a segment about the eatery.
Even though he dutifully turned over family recipes for meatballs and lasagna, "sauceboy" Mark Bove hasn't been told which celeb host will show up. He does know at least one thing about the segment: "They're gonna follow me around that day as I do prep work and other activities with the sauce company."
How did the network find out about Bove's? "One of the directors at the Food Network purchased our vodka sauce at a Whole Foods store in New York," explains Mark. "She loved it, and she Googled us."
After reading the restaurant's story on its website, the bigwig called and requested an audition tape. Not leaving anything to chance, the Bove's crew whipped up a pair. In one clip, Mark Bove is caught literally red-handed, as he layers noodles, sauce and cheese for lasagna. In the other, he's shown manhandling the restaurant's famous meatballs.
Although filming is still weeks away, Bove is already in training for the big event. Last week the chef "did 820 meatballs in under 10 minutes," he boasts. Phew!
The restaurant's saucy stuff is garnering other accolades, too. For the October issue of Natural Health magazine, staffers sampled 64 organic and all-natural pasta sauces. Bove's organic vodka sauce was one of four they raved about, calling it "slightly sweet and a little bit spicy . . . Heavy cream and aged Pecorino Romano cheese add richness . . ."
And while the national press will almost certainly increase the place's sales and profile, the best part about it, Mark Bove says, is that "It's definitely gonna make Dad happy." That would be restaurant patriarch, Dick.