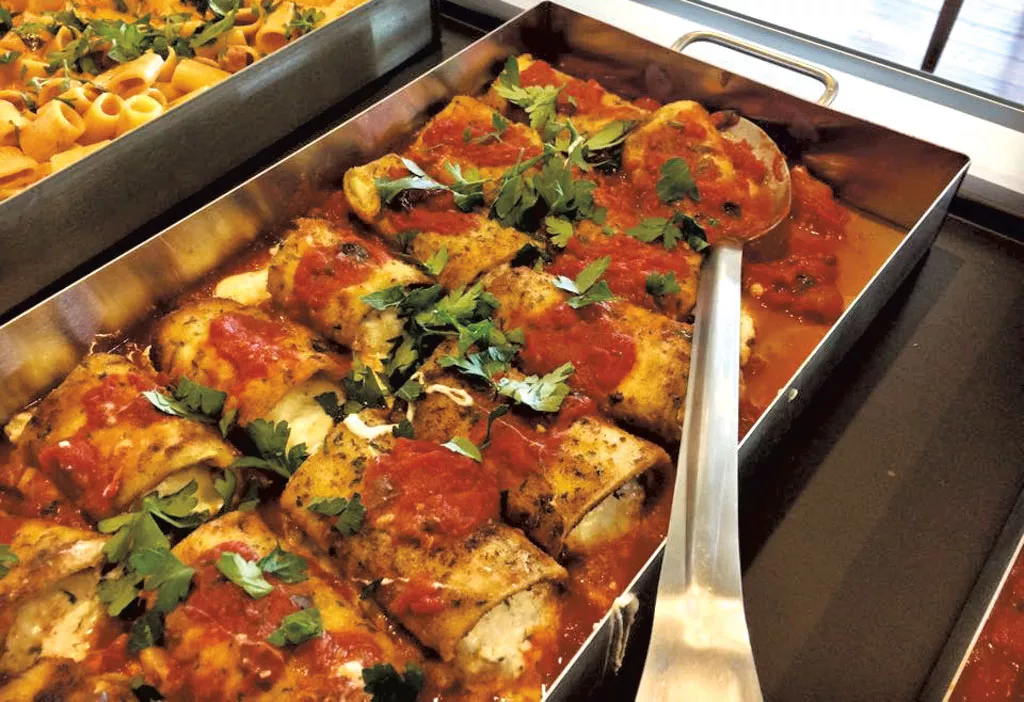 Photos Courtesy Of Sauce Italian Specialties
Eggplant rollatini
When Sharon Herbert first told Seven Days about her plans for Sauce Italian Specialties, back in March, she described a homey take-out joint dishing quality Italian food just like Grandma used to make it. Now, after a few last-minute delays — Herbert debuted briefly over Memorial Day weekend, then closed to work out a few kinks — the vision is a reality. Located at 407 Mountain Road in Stowe, Sauce officially opened for business on Friday, June 5.
The shop stocks Italian market essentials (think pasta, olive oil, bread) and sells prepared dishes such as chicken Parmigiana and eggplant rollatini by the pound. Customers can also find ingredients to enhance their home cooking. One popular concoction that Sauce vends in containers is "Sunday gravy": Herbert and her staff simmer Italian sausages, braciole, beef bones and meatballs for hours until the flavors blend into a hearty sauce. "It was typically made in Italian family homes on Sundays," Herbert explains, "hence the name."
Herbert, a New Jersey native, remembers countless childhood trips to her resident Italian market for family meals, and hopes that Sauce will provide a similar experience in Vermont. "It's great for people who are always working and just want to grab something to bring home, or for people who are just up [at Stowe] for the weekend," she says.
In Sauce's earliest stages, Herbert reached out to Joe Leone, a local legend who owns an Italian specialty store in her hometown. He quickly became a mentor figure. Drawing on Leone's savoir faire, Herbert offers homemade mozzarella and heaping sandwiches such as the Italian Stallion, a stack of Genoa salami, Cappy ham, soppressata, mortadella, tomatoes and banana peppers. Its fiery partner, "Hot Pants," kicks up the heat with hot pepper relish, hot coppa, bianco d'oro and provolone picante.
Though drinking is not permitted on-site, Sauce sells 16 Italian wines by the bottle. The assortment of reds, whites and proseccos selected by Herbert's sommelier friend spans a price range of about $10 to $55.
Sauce is open Wednesday through Sunday, 11 a.m. to 7 p.m. While takeout is the main venture, customers who have trouble waiting for dinner can sit and snack at tables inside or on the deck.