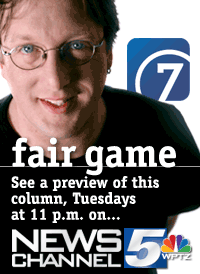 Burlington Telecom has received two — count 'em, two — letters of interest since the first of the year from parties proposing to buy and run the municipal utility.
That's according to a letter BT attorney William Ellis sent to the Vermont Public Service Board late on Monday. The city was scheduled to file an update with the PSB, including a plan to "cure" the various violations of its certificate of public good. Those violations include the $17 million the city borrowed from its coffers to support BT, and its failure to complete the network's build-out within city limits.
One offer is from an out-of-state independent telephone company; the other is from an individual investor who has telephone and cable experience, city officials told the PSB. The interested parties were not identified due to nondisclosure agreements.
Both proposals would allow the city to retain a minority stake in BT.
Two other groups expressed interest in buying BT but haven't made formal offers, according to the letter. One of them is expected to make an offer this month.
In addition to these groups, a consortium of investors led by former City Councilor Andy Montroll — a group that includes original BT general manager Tim Nulty — is in direct talks with CitiCapital. The city stiffed the giant financier last year when it walked away from a $33 million lease-purchase deal.
"The group that I'm working with would not be interested in new equipment, but accessing the equipment in place," said Montroll. "For us, the conversations with Citi really need to come first."
For now, the city of Burlington is not paying anything to CitiCapital to use the fiber network, nor is it repaying the $17 million. BT is, however, paying interest on that borrowed amount.
In early February, CitiCapital asked BT how much the city or a third party would pay Citi in lieu of returning the equipment and replacing it. The city claims it can find replacements for $6 to $8 million, which is one option if Citi decides to repossess BT's equipment.
When asked to produce a termination letter, the city said no such document exists.
"There isn't a stand-alone termination letter," said City Attorney Ken Schatz. "Letters between the city and CitiCapital involve ongoing contract negotiations and settlement discussions. Therefore, in order to protect the city's interests, we need to keep them confidential."
Given the likelihood that any deal with an outside party will take 60 to 90 days, the city is asking the PSB to give it until June 30 to provide a detailed restructuring plan but will file a status report on April 30.
Despite the lack of major progress, Ellis told the PSB that BT has begun to rightsize its operations and improve its cash flow: It cut six jobs last month, including two salespeople and its marketing manager. BT is clearing about $40,000 a month.
But the beleaguered utility is struggling to hold on to its customer base. Since July 1, 2010, subscriber numbers have dropped from more than 4500 to just under 4100, according to information BT provided to "Fair Game." Of the subscribers, 869 are "triple play" customers; 1060 are "double play"; and 2164 order à la carte — that is, they are businesses and individuals who buy more than one service but do not bundle them.
Food for Thought
A Vermont House resolution introduced last Friday seeks to give the state authority over which foods people who receive federal food stamps — known in Vermont as 3SquaresVT — can buy.
What feel-good, librul do-gooder sponsored this piece of nanny-state legislation? That would be Republican Rep. Oliver Olsen, Olsen picked up multipartisan support — from Republicans, Democrats and Progressives (and even an independent) — for the legislation.
The resolution was crafted in response to another legislative proposal to tax soda. The idea was simple: Tax unhealthy foods, particularly soft drinks, at a different level from healthy ones, because these foods often lead to health problems that drive up the cost of public health programs.
Federal food-stamp guidelines allow recipients to use their benefits to buy soft drinks, candy, cookies, crackers, bakery cakes and ice cream, among other high-sugar- and high-fat-content products.
Olsen thinks the state should be able to restrict the list of eligible foods beyond the federal guidelines to encourage better eating habits.
"If citizens are going to avail themselves of a taxpayer-funded benefit, I think it's reasonable to ensure that the benefit is being used wisely, and in a manner that does not add future benefit costs," said Olsen, who noted that a majority of food-stamp recipients also avail themselves of publicly funded health care.
I hope this group of busybodies will next ban chips, cookies, ice cream and soda from the Statehouse cafeteria. After all, lawmakers get up to $61 a day for meal allowances. Surely we should have some say in what they buy, right?
Taxing Times
State Sen. Anthony Pollina (D/P/W-Washington) and Rep. Chris Pearson (P-Burlington) are talking up the idea of implementing income-tax surcharges on Vermonters in the state's two uppermost brackets as a way to close its roughly $150 million budget gap without cutting services.
Many of those wealthy folks will see lower taxes — totaling about $180 million in federal taxes statewide — thanks to the extension of the tax cuts first put in place by President George W. Bush and recently extended by President Barack Obama.
The Vermont surcharge would raise about $17 million by increasing the top quintile's tax rate by 1.5 percent and that of the quintile below it by 1 percent, said Pearson.
The effective tax rate, after deductions, would only increase by eight-tenths of a percent for the top bracket and two-tenths of a percent for the next highest bracket, added Pollina.
"Public employees get pay cuts, and needy people get service cuts, while millionaires get tax cuts," said Pollina. "We keep hearing that times are tough, but why is it that when things are tough, we make things even tougher for people making ends meet and give tax breaks to millionaires?"
One progressive-minded colleague, Sen. Tim Ashe (D/P-Chittenden), is taking a different tack: He's calling it "fairness first."
According to Vermont tax data, hundreds of people with adjusted gross incomes of $100,000 or more are paying nothing in taxes — including at least seven people who have an AGI of more than $1 million.
Ashe's proposal, which already has had hearings in the Senate, would create an alternative minimum tax to ensure everyone pays at least something. The Joint Fiscal Office has said Ashe's proposal would raise at least $13 million — without raising tax rates.
"The first instinct should always be about people paying their fair share," said Ashe. "We need to get people with tremendous resources to at least have some skin in the game."
Survey Says
His research is far from scientific, but since 1970, Sen. Bill Doyle (R-Washington) has sought the opinion of Vermonters through his Town Meeting Day survey.
This year, Doyle is asking Vermonters whether they support a four-year term for governor (an oft-asked question dating back to the first survey); whether Vermont Yankee should be relicensed beyond 2012 (a repeat from last year); whether the state bottle bill should be expanded; and whether Vermonters have confidence in Gov. Peter Shumlin.
This year, a few other people posed questions and asked Doyle to include them on the survey. For example, Lt. Gov. Phil Scott is interested in whether people still support the law requiring motorcycle helmets, while the Montpelier police chief wants to know if the public supports the use of Tasers by law enforcement.
"I think this is the most new questions I've ever had on a survey," said Doyle.
No Tom, or Thom, Foolery
Will he or won't he? We should find out Thursday at noon, when Republican State Auditor Tom Salmon will reveal whether he'll challenge U.S. Sen. Bernie Sanders (I-VT) in 2012 or drop out of politics to seek a degree in mediation and conflict resolution. Salmon announced two weeks ago that he would not seek a fourth term, saying he wanted to give potential candidates for the job plenty of time to plan.
Salmon has reserved the Cedar Creek Room at the Statehouse for a press conference, but told "Fair Game" he may simply issue a press release.
If Salmon declines to take on Sanders, there's another "Thomas" waiting in the wings to take on Bernie: Barre Mayor Thom Lauzon.
Party Pooper
Democrat Dave Hartnett, who was running unopposed Tuesday in the race for the Ward 4 council seat, had to fend off a last-minute write-in challenge from within his own party.
Democrats in the New North End were upset when they saw Hartnett on Monday publically holding up a sign for a Republican candidate — Ward 7 incumbent Vince Dober. Some ward Dems believe Hartnett is a DINO (Democrat in Name Only), but he was the only person to seek the Democratic nod at the Ward 4 caucus.
On Monday, the Burlington Democrats fired off this tweet (typos are theirs): "Saw Dave Hartnett holding s sign for a republican.... Again. Does anybody believe this guy is a democrat?"
On Tuesday, the tweeter at BTV_Dems urged people to write in Democrat Ralph Montefusco against Hartnett.
After "Fair Game" inquired about the tweets, they disappeared. The eager tweeter apparently didn't get party OK to back a new candidate.
Any wagers on how long it takes Hartnett to ditch the Dems and join the GOP?