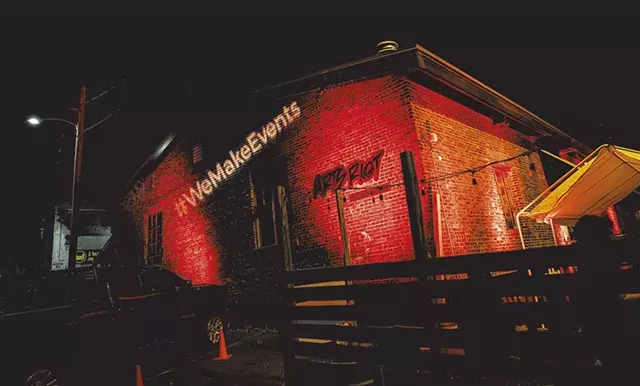 Luke Awtry
ArtsRiot lit up for the We Make Events initiative
The pandemic has dealt a critical blow to show business: Headlines mourn a darkened Broadway, stalled Hollywood productions and a live-concert industry teetering on the brink of bankruptcy, if not extinction. But the economic and emotional carnage wrought by the coronavirus in the entertainment industry goes far beyond who or what audiences see on stages and screens. For a sense of the real toll, take a peek behind the curtain at the thousands of largely unknown production workers who make all your favorite shows, movies and festivals happen.
People like Jason Liggett, Josh Rowe and Kyle Rose.
"Everyone's out of work. It's heartbreaking," Liggett said.
2020 Art Hop Guide
Liggett is a Williston-based lighting designer who's logged countless tour miles with the likes of Phish bassist Mike Gordon, Grace Potter, Nickel Creek and Wilco since getting his start at Higher Ground 20 years ago. For the past five years, he's been making sure the right hues shine on Cecily Strong, Pete Davidson and the rest of the "Saturday Night Live" cast as best boy grip on the show's film units.
Sidelined because of the pandemic, Liggett and fellow erstwhile local lighting designers Rowe, who owns True Hue Concert Lighting, and Rose, owner of KTR Lighting, have embarked on a new endeavor called Satellite Arts Productions. It's so named because of its location in the Satellite Arts studios behind Feldman's Bagels on Pine Street in Burlington.
"There's no work," Liggett explained. "So we figured, let's start a collective and make work."
Satellite Arts Productions might not have the high-wattage star power of SNL — or acts like Trombone Shorty or Twiddle, with whom Rowe and Rose had worked just before the coronavirus arrived. But the trio hopes to shine a spotlight — or several spotlights, and maybe some strobes and rad lasers — on the artistic efforts of locals. That includes what promises to be an extensive presence at this year's South End Art Hop.
"I've always wanted to light the Art Hop," Liggett said, noting that many of the artists he worked with while lighting Phish festivals, designed by local design wizard Russ Bennett, are based on Pine Street.
Liggett conceded that the lighting company's contributions to Art Hop this year might not be as grandiose as they'd typically craft. But it's likely that he, Rowe and Rose will inspire attendees to see the annual arts fest in, ahem, a new light.
Luke Awtry
From left: Josh Rowe, Kyle Rose and Jason Liggett of Satellite Arts Productions
Along Pine Street, from the S.P.A.C.E. Gallery in the Soda Plant to Switchback Brewing farther south, Satellite Arts Productions will present a constellation of luminous wonders. Socially distanced revelers through the South End Arts District can experience the collective's glimmering handiwork at locations such as the Innovation Center of Vermont, the Dealer.com silos, the smokestack by ReSOURCE, the Unsworth Block and the Maltex Building. In the woods abutting the last, expect a Close Encounters of the Third Kind-inspired installation in line with the Art Hop's alien theme this year.
"You might get abducted," Liggett joked.
The Art Hop marks Satellite Arts Productions' coming-out party, but the group introduced itself to the Burlington area earlier this month. On September 1, it took part in a nationwide initiative called We Make Events. That day, buildings across the country were lit up in red, along with the projected hashtags #wemakeevents and #redalertrestart. The goal was to raise awareness of the RESTART Act, a bill that would provide federal relief to entertainment industry workers.
Rowe spearheaded We Make Events in Vermont, and Satellite Arts bathed local live-music venues such as Higher Ground, Nectar's, Radio Bean and the Monkey House, among other locations, in red light.
"It's a solidarity statement," Rowe explained.
"It speaks to what we're about," Liggett added, noting the wide, close-knit community of arts production workers in Vermont.
Thanks to the varied and complementary talents of its three founders, as well as the growing community of lighting artists and designers who are now members of the collective, Satellite Arts Productions is able to offer everything from small, arty lighting projects to virtual events to large-scale set design. The Pine Street studio, which is still a work in progress, will feature a visualization suite where the designers can map out productions using computer models. It will also have a "black box," something like a theatrical laboratory where they can physically experiment with new ideas and designs.
During Art Hop, Liggett said, he plans to host a lighting installation in the black-box space, though as of press time he was still plotting out what exactly that will be.
"We'll have something pretty crazy in there," he said with a grin, explaining that the installation will occupy the entire space.
Whatever Liggett, Rowe and Rose dream up for Art Hop, you can bet it will be illuminating.
"We love what we do," Liggett said. "It's about creating those visual spaces, those feelings that people take home with them and don't even realize it. And we really miss that."
Correction, September 9, 2020: This story had been updated to reflect that Jason Liggett toured with Mike Gordon.