Courtesy
Sara Holbrook
The namesake of a Burlington community center had ties to the Vermont eugenics movement of the 1920s and '30s.
The executive director of the Sara Holbrook Community Center said leaders of the nonprofit organization learned of the connection about two years ago but decided it wasn't egregious enough to warrant drastic action on their part. The center was in the midst of a multimillion-dollar fundraising campaign for a new facility at the time.
Holbrook, a University of Vermont education professor and clinical psychologist, founded the center in 1937 to serve low-income and immigrant families. The Old North End organization "continues Sara's vision" today, according to its website. Executive director Leisa Pollander said the board has struggled to reconcile Holbrook's charitable acts with her alleged belief in eugenics.
"We did our due diligence in trying to find a concrete connection or evidence ... and we found none," Pollander said.
None that concerned them, anyway. Instead, the center "rolled up our sleeves and dug into the campaign," she said.
Ducky Donath, who has served on the Holbrook board since the 1990s, said the board's research "cleared" Holbrook of any questionable ties. She said she hadn't thought about it again until Seven Days called for comment last week.
"To me, what happened 100 years ago — it was a whole different world," Donath said. Sara Holbrook "never did anything. She never was a Nazi or a criminal."
Holbrook's legacy as a humanitarian is well cemented in the annals of history. She started childcare programs and performed outreach to non-English-speaking immigrants. Both the Committee on Temporary Shelter and the Boys & Girls Club of Burlington grew out of Holbrook's center, sited in the city's poorest and most diverse neighborhood.
Courtney Lamdin
Preschool students at the Sara Holbrook Community Center
At the same time, though, records reveal she palled around with UVM zoology professor Dr. Henry Perkins, the father of Vermont's eugenics movement. And she referred Vermonters to the mental institutions where eugenics experiments were conducted. Holbrook also served on a committee whose research Perkins used to promote eugenic ideals across the globe.
Eugenics was widely popular and considered progressive in its day. Its supporters included the Rockefellers, president Theodore Roosevelt and Planned Parenthood founder Margaret Sanger. American eugenicists are said to have inspired Adolf Hitler's quest for a master race.
"I don't know how many people questioned the ethics of it all," said Nancy Gallagher, a local eugenics researcher who authored a 1999 book, Breeding Better Vermonters: The Eugenics Project in the Green Mountain State.
As the study of eugenics gained momentum, in 1922 Perkins began teaching heredity and evolution courses at UVM. Three years later, he received a $2,500 grant to study the "problem families" that preoccupied local social workers. With it, the Vermont Eugenics Survey was born.
Between 1927 and 1931, Perkins and a team of field investigators compiled five reports about Vermont families considered "degenerate" as a result of not just poverty, illiteracy or bad behavior but also disease, "loose morals" and "feeblemindedness." In 1928, Perkins announced that a new group, later called the Vermont Commission on Country Life, would study rural parts of the state with the eugenics survey at "its center and core." The commission enlisted more than 70 Vermonters to help. Among them were Holbrook, UVM president Guy Bailey, Vermont governor John Weeks and author Dorothy Canfield Fisher.
"He tried to get all the high rollers and everybody involved in this," Gallagher said of Perkins. "They were intertwined."
The commission published the 400-page report Rural Vermont: A Program for the Future in 1931. Though the bulk of the text doesn't explicitly discuss eugenics, the survey takes up an entire chapter, and its prejudicial tone pervades the whole book, according to Gallagher. It eliminates indigenous people from Vermont's history, for example, in claiming that early settlers were "chiefly of English origin." Gallagher said Rural Vermont became the cornerstone of Perkins' eugenics public relations campaign.
Holbrook served on the commission's Committee on Educational Facilities for Rural People, which ostensibly studied the structure of Vermont's education system but also examined social problems therein, Perkins' chief concern. Holbrook's research into "backward children" even got a special shout-out in Rural Vermont. The book was sent to every library in the state.
Does Holbrook's participation make her a eugenicist? Gallagher isn't sure, but she is certain that Holbrook and Perkins' other researchers knew the report's true aim: to preserve "old Vermont stock" and promote a white, Anglo-centric view. To think otherwise is "just kidding yourself," Gallagher said.
"They all knew about it ... It was fashionable back then," she continued, adding, "But just because it was acceptable for the time doesn't mean it is now."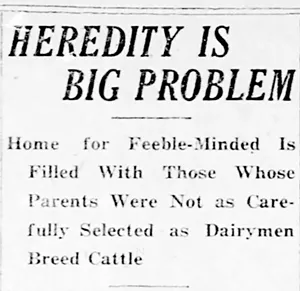 Courtesy
Burlington Free Press clipping
Holbrook's connections to Perkins and his eugenics plan don't end there. Clippings from the Burlington Free Press show that Holbrook and Perkins gave public talks with eugenic themes. Headlined "Heredity Is Big Problem," a 1926 article recounts Perkins telling a Burlington women's auxiliary group that Vermonters have lower standards for choosing mates than dairymen do for their cattle. As a result, Perkins said, the state is filled with inferior stock.
Holbrook's portion of the talk that day touched on similar themes. She told her audience that teachers in rural Vermont were helping "the subnormal become an asset rather than a liability to their communities," the article recounts.
Holbrook was also quoted directly in eugenics survey documents, namely in a study of people on the waiting list at the Vermont State School for Feebleminded Children. The facility, later renamed the Brandon Training School, was overcrowded and housed nearly 3,000 Vermonters between 1915 and 1993, when it closed. The average population at any one time was about 600. Perkins advocated expanding the capacity of such institutions to keep the mentally ill from circulating freely — and procreating, according to Gallagher's research.
"They started putting a lot of people in there that we would say had no business being there," Gallagher said.
Records stored at the Vermont State Archives in Middlesex confirm Gallagher's assertion. The tissue-thin, yellowed papers show that children were referred to Brandon for petty theft or for being "very dull" or an "idiot." One simply says a child "does not learn."
Courtesy Of The State Of Vermont
Brandon Training School
Of the hundreds in the file, one of Holbrook's referrals was especially problematic, according to Gallagher. Called the "Case History of Mary K," the report indicates that Holbrook sought to commit a 17-year-old girl for her "abnormal interest in sex." Holbrook had tried for years to get the girl into Brandon, even petitioning the court to remove Mary and her siblings from their home, but their father refused to send them away. Theirs is "probably one of the worst families in Burlington," the report reads.
Another case file from 1929 shows that Holbrook had petitioned to send a 15-year-old boy to Brandon for being "the most troublesome and disturbing child we have had in school for a long time." A summary of the boy's case says, "He really is an institutional case," and cites Holbrook as the source.
A year after the eugenics survey ran out of money and shut down, Holbrook started the Burlington Community Center on Cherry Street; it offered a nursery school, literacy classes, first aid instruction, arts and crafts, and "Americanization classes." She never married or had children of her own. When she died in February 1958 at age 80, her obituary listed just one living relative: a stepsister, Mrs. H. K. Brooks of Swanton.
A month before Holbrook's death, the center's board of directors voted to rename its new College Street headquarters in her memory. The center moved to its present home at 66 North Avenue in 1964, but that building was razed this summer to make way for a new, $4.3 million facility. The center began fundraising in 2015 and plans a ribbon cutting next spring.
Today, the center operates with a $675,000 budget, according to its most recent tax Form 990. It hosts a top-rated preschool and state-licensed afterschool program on North Avenue and a drop-in teen center at the Robert Miller Community and Recreation Center in the New North End. Its New Arrivals class enrolls 80 English-learning students each summer, and the center also hosts an adult English class through a partnership with Vermont Adult Learning. In 2018, the City of Burlington awarded the center a $150,000 grant for its capital campaign. Mayor Miro Weinberger, through a spokesperson, declined to comment on Holbrook's connections to eugenics.
"This is the first we're hearing of this," Olivia LaVecchia, the mayor's communications and special projects coordinator, wrote in an email.
Courtney Lamdin
Leisa Pollander
Pollander, the center's director, first heard "rumors" of Holbrook's eugenics work two years ago from Abenaki educator Judy Dow, who was then petitioning the state to rename the Dorothy Canfield Fisher Book Award due to Fisher's support of eugenics and the eugenics-based rhetoric in her fictional writings. Dow said the center should consider doing the same, Pollander recalled. Dow did not respond to repeated interview requests for this story.
Board member Donath enlisted her friend, former UVM history professor Jeffrey Potash, to investigate Holbrook. Potash, coauthor of the book Freedom and Unity: A History of Vermont, told Seven Days that Holbrook's work with the Commission on Country Life doesn't mean she was a full-on eugenics proponent.
Holbrook was "a woman of her times," and that historical context can't be ignored, Potash said. The influx of French Canadian, German and Italian immigrants to Vermont incited fear of losing a familiar, rural way of life.
On the national stage, the Immigration Act of 1924 introduced immigrant quotas and was signed into law by none other than president Calvin Coolidge, a native Vermonter. The landmark legislation had roots in a bill proposed by Vermont Republican senator William Dillingham. But Potash said his "perfunctory" review found no evidence that Holbrook herself espoused such xenophobic views. He also dismissed Holbrook's referrals to Brandon, saying "no one was questioning that in the '30s."
He said Holbrook's good works should outweigh any "marginal" participation she had in the eugenics movement.
While Potash cautioned that modern society shouldn't judge historical figures through a contemporary lens, other Vermont institutions have done just that in recent years. In 2018, UVM trustees voted to drop former president Bailey from the name of the campus library after activists took note of his significant financial backing of Perkins' eugenics studies. The state Department of Libraries chose to rename the Fisher book award in May. In June, then-UVM president Thomas Sullivan apologized for the university's role in facilitating the survey.
"We recognize and deeply regret this profoundly sad chapter in Vermont and UVM's history," Sullivan wrote in a statement.
Bailey and Fisher were known for their good works, which led to considerable debate over their erasure. And, like them, Holbrook helped the vulnerable.
Gallagher, the eugenics researcher, said she agreed with UVM's decision to dump Bailey but doesn't think every building named after a controversial figure should be changed. When UVM students petitioned to rename their library, they requested the same for the Perkins Hall dorm named for Henry Perkins' father, George, who was a dean at UVM. He had no ties to eugenics, and the university's renaming committee decided that the father should not suffer for his son's sins. The name stayed.
Gallagher is withholding judgment on whether the Holbrook center should consider a rebrand.
"How many things are named after Theodore Roosevelt?" Gallagher said. "It's kind of like, when are you just trying to erase history?"
Pollander said the center's name would stay and denied that its ongoing fundraising initiative played any role in keeping Dow's discovery quiet. Raising the $900,000 left to go will be her sole focus when Pollander steps down as executive director to coordinate the center's capital campaign.
To Donath, Holbrook's compassion for Burlington's youth overshadows any notion of a dark past. She's dubious that Holbrook's contributions to the eugenics survey amounted to much, though she hasn't read the research herself.
The charge doesn't make logical sense in her view: Why would a eugenicist help refugees? And even if Holbrook did support the movement, why bring it up now, after so many years?
"I'm not going to say, 'Don't believe what you read,' but sometimes it doesn't mean as much as it sounds on paper," Donath continued, adding, "Sometimes, you have to let sleeping dogs lie."