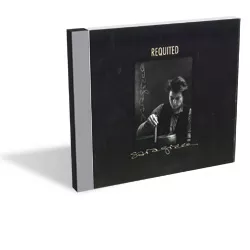 (Self-released, CD)
Editor's note: A version of this review originally appeared on the 7D music blog, Solid State, on January 5, 2011.
Vermonters didn't have to wait long for a great local release to appear in 2011. In early January, the Montpelier-based roots-soul collective Sara Grace & the Suits — a well-kept secret of central Vermont music fans — unveiled their hotly anticipated debut album, Requited. Richly orchestrated, imaginatively crafted and expertly executed, the record is a tour de force, revealing the explosive talents of a dynamic local songwriter. The disc serves notice that there's more than one Grace to watch for around here.
As its title suggests, Requited is a meditation on finding and then somehow keeping love. The lead track, "Angel," addresses the former with simmering intensity. Asa Brosius' steel lines lap against Ray Paczkowski's organ trills, while a gentle acoustic guitar bobs along in the eddying current. Grace is subdued but compelling as she introduces us to her title character.
"An angel fell from the sky and slipped me a key. / I know she's not mine, not meant for me," she sings, a barely perceptible quiver lacing her delivery. But the promise of love is that even amid despair there is hope. She closes the verse singing, "I need it all, so open the door," as if imploring the chorus of exultant horns that follows to deliver her from self-doubt.
After the ornate arrangements on both "Angel" and the following track, "The Tide," "Behind Shadows" feels bare by comparison. Though the song features a leaner assortment of players, it is nonetheless a deeply nuanced composition. In addition to her veteran backing band, the Suits, Grace has enlisted a wide assortment of guest stars — including vocalist Miriam Bernardo on the lead cut. Here, Anaïs Mitchell's uniquely skinny timbre provides a steely counter to Grace's rich, somber delivery.
Grace was an original cast member in the theatrical productions of Mitchell's folk opera Hadestown, the star-studded studio recording of which catapulted Vermont's Righteous Babe to international acclaim. Not surprisingly, Grace seems to have taken a few cues from the experience. In particular, her ear for sly, subversive arrangement bears a resemblance to that of the opera's aesthetic architect, Michael Chorney, who appears on the record numerous times on baritone sax. The multi-instrumentalist and composer rounds out an impressive horn section that also features trumpeter Brian Boyce, tenor saxophonist Terry Youk and trombonist Andrew Moroz, who cowrote the album's horn arrangements with Grace.
From start to finish, Grace proves a sturdy, direct songwriter. But what makes her special is discipline. Rarely are her wounded musings overwrought, and rarely are her more joyful moments — fleeting though they may be — earnest or cloying. Similarly, though she is capable of jaw-dropping vocal acrobatics, Grace deploys her skills judiciously. She teases and flirts, favoring measured cool over inflated histrionics. Of course, that tantalizing tension only makes the eventual release more satisfying, as on the scintillating album closer, "Woman Sweet Woman." The tune burns and bends with smoldering blues fire as Grace finally indulges her elite chops. Requited, indeed.
Catch Sara Grace solo at the Langdon Street Café in Montpelier on Thursday, March 24.