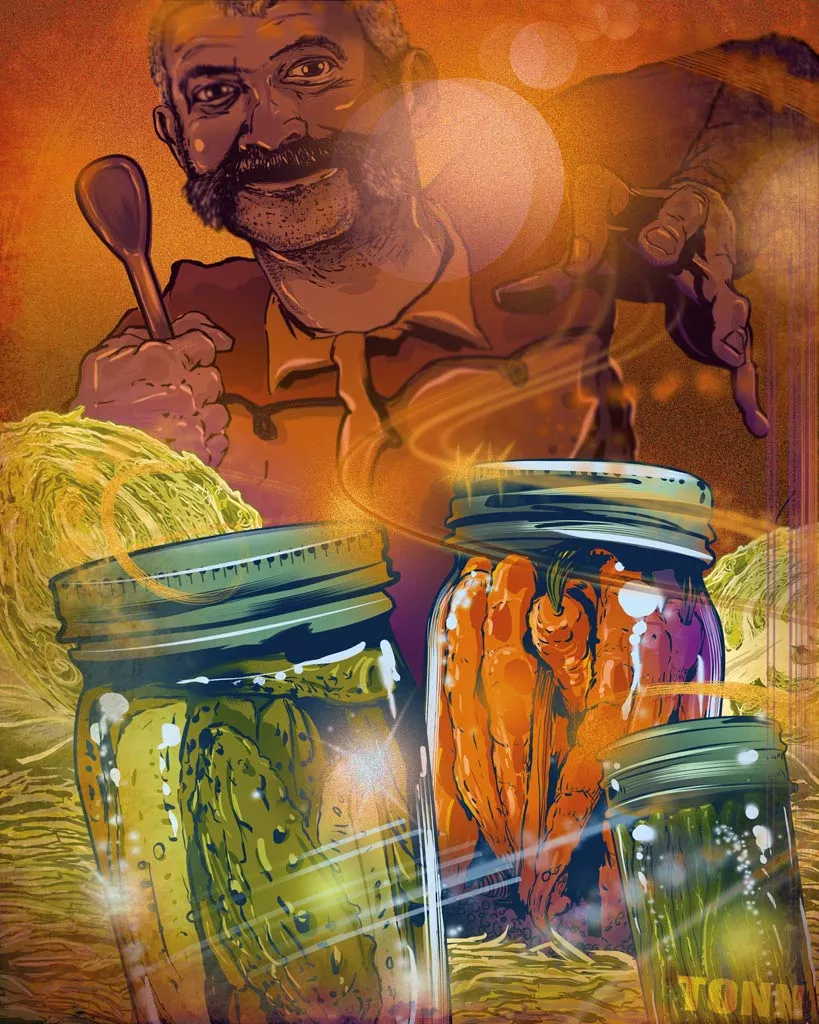 Sandor Katz was sweating. Hard. Rivulets ran from his forehead, flowing just past his preternaturally blue eyes, finally settling in that famous moustache. He'd been touring Vermont with his whole-foods medicine show all month, but he wasn't selling cure-alls — just books.
Katz is the James Beard Foundation Award-winning author of Wild Fermentation: The Flavor, Nutrition, and Craft of Live-Culture Foods (2003) and The Art of Fermentation: An In-Depth Exploration of Essential Concepts and Processes From Around the World (2012). Following a two-week class at Sterling College and several one-day events, he wrapped up his Green Mountain tour with a two-day intensive at Shelburne Farms.
Last Tuesday, 105 farmers, cooks and brewers, who had traveled from as far as Florida, Oregon and Japan, piled into the Coach Barn for two days of 9-to-5 studies in a scorching, un-air-conditioned room. The uncomfortable surroundings tested the attendees' devotion to the art of fermentation, and the population dwindled over the final day. Katz, though tired, was undeterred. He was there as an evangelist, spreading the gospel of "the transformative action of microorganisms."
Katz had mad-scientist intensity as he filled jars with colorful concoctions. Nearly as authoritative as a microbiologist on the science of fermentation, he is devoted to demystifying the processes by which the bacteria inherent in raw foods transform them into something more palatable. And that means recommending the use of very little equipment. Forget about yogurt makers, water kefir grains and specialized powders. "I tend to go for path-of-least-resistance methods," Katz told the class.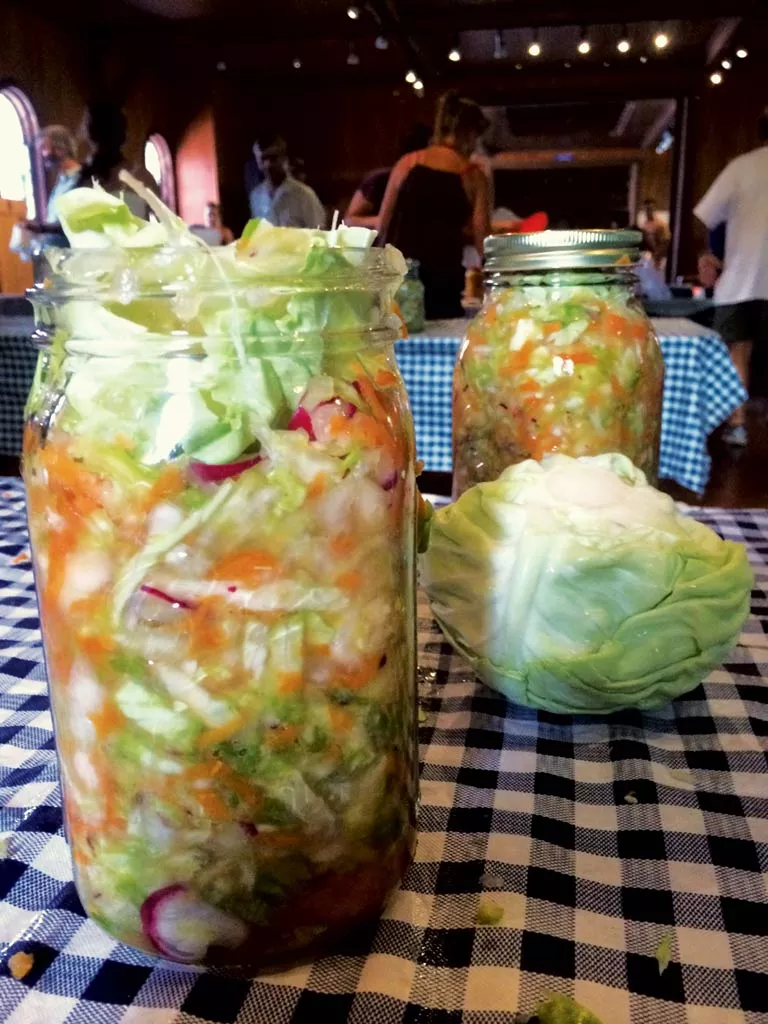 Courtesy Of Sandor Katz
Fermented veggies
Those methods are based on harnessing the bacteria that naturally occur in all living organisms. Hence the name of Katz's first book, Wild Fermentation. "Ten years ago, scientists came up with the statistic that our cells are outnumbered 10 to one by bacteria we're host to," Katz said. "They're not enemies or parasites or freeloaders. These bacteria give us functionality. We need bacteria." Lactic acid fermentation — the creation of an oxygen-free environment that encourages bacteria to produce preservative lactic acid — is his simple method of choice.
Many cooks tout the health benefits of eating food loaded with microorganisms. Some cancer researchers believe that the bacteria in ferments are anticarcinogenic, and it's generally accepted that they contain high levels of B vitamins and eat yeasts that cause Candida.
But Katz himself is less concerned with the salutary aspects of fermentation than with the taste. "I got interested in this because I love food," he said. "I like fermenting. I like berries. I like jams and I like ice cream and I like cakes. I like all kinds of foods."
To convey the breadth of fermented delicacies, Katz described a hypothetical gourmet store. All the cheeses but fresh ones, such as farmer's cheese, are made of fermented milk. Sourdough breads use a naturally leavened culture. The tang in salami, prosciutto and other dry-cured meats comes from lactic acids. Soy sauce and vinegar both benefit from bacterial aging. Even our cup of coffee and square of chocolate wouldn't taste the same if their beans weren't sprayed down and allowed to ferment before the harvest. We all eat foods that have been fermented, and we eat a lot of them.
But for many of us, the term "fermented food" conjures up smelly, indeterminate vegetables on a hippie college friend's kitchen counter. Whether because of fermentation's perceived health benefits or its traditional use to preserve a harvest (Katz hypothesizes that agriculture could not have happened without such methods), fermented food has long carried a stigma of being "crunchy."
Katz's greatest gift to his students was sharing a foodie's perspective on fermentation and encouraging gourmet exploration. The following are a few ideas I tried at home after class. Try these fermented-food recipes yourself, or use them as inspiration for your own culinary concepts.
Kimchi Jjigae
Spicy Korean pork and tofu stew
Remember the 1980s cabbage soup diet craze? This fiery broth will make you want to follow a similar regime of your own. Leave out the pork or tofu in this simple recipe if you like; just double the protein you prefer.
First, make the kimchi:
1 2-pound napa cabbage
1/4 cup salt
Water, enough to cover
6 garlic cloves, grated
1 teaspoon grated ginger
1 teaspoon sugar
2 tablespoons gochujang
Cut the cabbage into 1- or 2-inch squares, depending on preference. In a large bowl, massage cabbage with salt. Cover in just enough water to submerge all the leaves. Weight them down with a plate if they float. Leave the bowl for 12 hours, or as long as 24.
Remove the cabbage from the bowl, reserving the brine. Rinse the cabbage, then squeeze out any excess liquid. Combine all other ingredients in a dry bowl. Add cabbage and mix thoroughly.
Pack cabbage tightly in a jar, leaving a couple of inches at the top. Cover in just enough brine to keep cabbage submerged. Leave the jar covered at room temperature for three to five days. Refrigerate when it has reached your desired level of fermentation.
Now, make the stew:
1/2 pound cubed pork shoulder or lean belly
3 cups kimchi
2 cups water
1 tablespoon gochujang (to taste)
1 tablespoon mirin
1 8-ounce package of tofu, cubed
In a large, flat-bottomed pot, lightly sear the pork at a high temperature. When all the meat is browned, add kimchi, water, gochujang and mirin. Once the mixture has reached a boil, turn down heat and simmer for about an hour, uncovered. Add tofu, then cook for another 10 minutes. Enjoy with a side of rice, and perhaps with some tangy banchan (literally, "side dishes") to beat the heat.
Bigos
Polish sauerkraut stew
This is a cold-weather dish that's not known as "hunter's stew" for nothing. Make it in the fall, or get your dose of meat despite the heat. Leave out the roux to make it a hearty paleo-diet one-pot meal.
Make the sauerkraut:
1 large cabbage
1 or 2 tablespoons salt, to taste
Slice cabbage into thin ribbons. In a large bowl, massage salt into cabbage, releasing liquid from the leaves as you go. Pack tightly into a crock or jar, making sure there is enough of the cabbage's expelled liquid to submerge it. Cover or seal and allow to ferment for at least three days, until the taste suits your palate. As Katz puts it, "'Done' is when it tastes the way you like it."
Sauerkraut's ready? Time for meat:
1/2-pound slab bacon, cubed
1/2-pound Polish sausage (kielbasa is fine), sliced
1 pound pork shoulder or leftover meat you may have around
1 teaspoon caraway seeds
1 bay leaf
1/2 teaspoon marjoram
1 tablespoon flour
2 tablespoons tomato paste
1 cup red wine
About two pounds of sauerkraut, but in this rustic dish, ratios are up to you.
In batches, cook each meat until lightly browned. Set aside. Add caraway, bay leaf and marjoram. Sauté just until aromatic. Add flour and tomato paste and cook until smoothly combined. Raise heat and add wine. Boil briefly while you deglaze the pan.
Finally, the big moment: Return the meats to the pot and add the sauerkraut. Lower the heat and simmer for two or three hours, lightly covered. Enjoy now or save the stew for the next day, when the flavors will have combined even more thoroughly.
Minted Pear Soda
Yep, it's actually sweet
A Sodastream may be convenient, but it's surprisingly easy to make your own lightly fermented, sugary soft drink — no special equipment required. It won't be as carbonated as a typical soda since the bubbles are all created by the hungry microorganisms' expelled carbon dioxide. Still, there's a reason the word fermentation comes from the Latin fervere, meaning "to boil."
4 cups water
2 cups white sugar
4 Bartlett pears, chopped
4 sprigs of mint
If you are using chlorinated tap water, boil it and let it cool to burn off the chemical, which will prevent fermentation. If using spring water, you can skip that step.
In a large container, slowly add the white sugar to the water. Add pears and mint and stir rapidly. This creates a vortex, which eliminates oxygen, generating an anaerobic vacuum. The more you stir, the sooner you will have soda. As seldom as twice a day will suffice, but there is no "too much." No need to seal the container. Just keep it covered with a cloth to prevent insects and dirt from landing in the mixture.
Depending on stirring frequency and ambient heat, it can take between two days and a week to see carbonation. When you do, you have soda. Strain out the pears and mint and enjoy!
Want wine instead? Wait a few more days — but be careful. If you wait until bacteria have consumed all of the sugars, you'll end up with vinegar. Not that there's anything wrong with that.
The original print version of this article was headlined "In a Pickle"