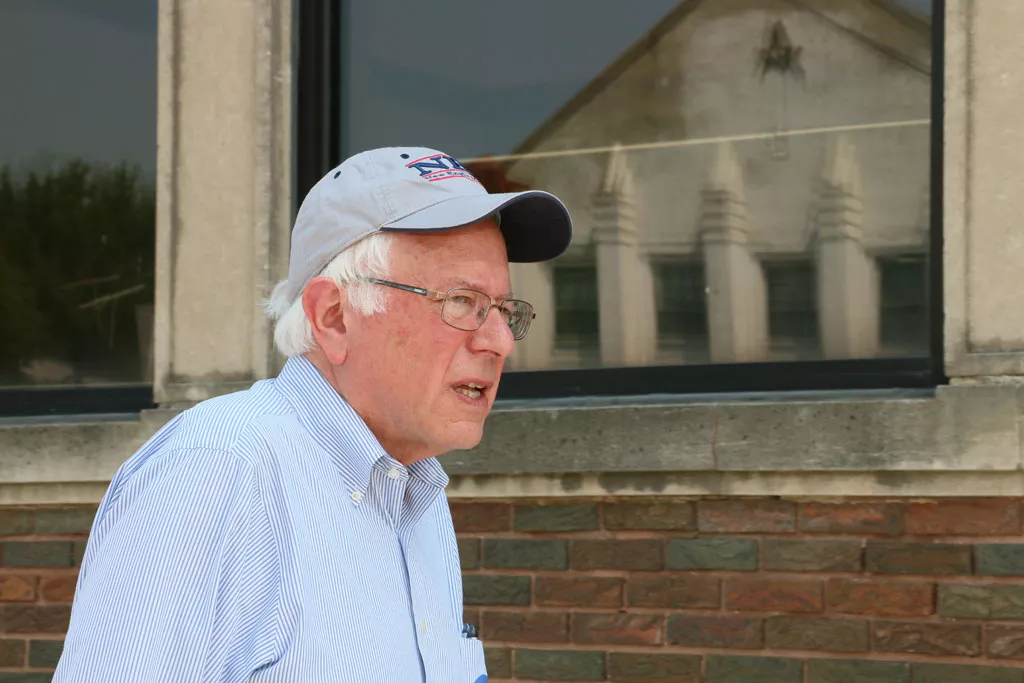 Debra Kaplan
Bernie Sanders in Iowa
Few things differentiate Sen. Bernie Sanders (I-Vt.) from his presidential rivals more than his aversion to super PACs — or so he'd like you to think.
The Vermont independent can barely get through a speech or a campaign email without denouncing his opponents for relying upon unlimited contributions to the quasi-independent fundraising entities.
"I don't have a super PAC," he wrote supporters last week. "I don't go to fundraisers where millionaires sit around the room and say, here's $5 million for your super PAC. That's not my life."
No kidding! Hard to imagine too many rich capitalists jonesing to donate to this wealth-redistributing democratic socialist.
But Sanders hasn't always ruled out super PAC support. And, like many of his foes, he's likely to get a little help from a super PAC run by a friend and former campaign aide.
When Sanders last ran for reelection, in 2012, then-Seven Days political columnist Andy Bromage asked if he'd "ever accept help from a super PAC."
"I certainly would prefer not to," Sanders responded, calling it "a hypothetical question."
"But we can chat about it if, six months from now, many, many millions of dollars are coming in attacking me," he said in the February 2012 interview.
"If it was a last resort?" Bromage pressed.
"That's something we would look at," Sanders said, adding that he hoped he wouldn't have to.
Ah. So the senator opposes super PACs unless they're necessary to win?
Indeed. Just a week before the interview, President Barack Obama's aides announced that he would accept support from a major Democratic super PAC, Priorities USA Action, in his 2012 reelection race. Sanders defended the president's choice at the time.
"Should you be principled and allow your opponent to spend huge sums of money and you say, 'Well, I'm a principled guy and we're going to get outspent 5-to-1, and I'm going to lose the election?'" the senator asked.
Sure sounds like the approach Sanders 2016 is taking!
Though the Vermonter has raised more for his traditional campaign apparatus ($13.7 million) than any candidate other than Hillary Clinton ($47.5 million) or Ted Cruz ($14 million), he's far behind the pack when you factor in super PAC support: Jeb Bush ($114.4 million), Clinton ($63.1 million) and Cruz ($52.3 million).
But Sanders isn't being entirely straight when he says he doesn't have a super PAC. By law, such entities can't directly coordinate with the candidates they back, so many are run by close confidantes and former aides well acquainted with the candidates' strategy and message.
Such is the case with Collective Actions PAC, which is operated by Rep. Chris Pearson (P-Burlington), who previously served as Sanders' campaign coordinator and press assistant. Founded in January 2014 as Draft Bernie, the PAC maintains the Run Bernie Run Facebook and Twitter accounts and, according to its website, plans to invest in online advertising.
Pearson says his Super PAC will fund grassroots projects to spread Sanders' message, but he admits it will also serve a more traditional role: skirting fundraising limits by taking contributions from those who've already donated the maximum $2,700 to Sanders' official campaign.
"We're trying to raise big checks, yes," Pearson says. "We'll see how successful I will be."
Collective Actions doesn't have to file a report with the Federal Election Commission until the end of July, and Pearson won't reveal how much he's raised. But in a letter he sent the FEC last month, he wrote that the PAC "has a number of large donors who are interested" in contributing.
"They hope to reach millions of voters and believe being active online is the way to achieve our goal," he wrote.
Isn't it hypocritical for a Progressive pol who talks a big game about campaign finance reform to exploit the very rules he opposes in support of an anti-super PAC candidate? Pearson admits it's "strange," but he defends Collective Actions as different from, say, Bush's Right to Rise super PAC, because Sanders doesn't appear at Collective Actions fundraisers.
"But yeah, if your concern is that it's a way for people to spend big money on campaigns, sure, that's what a PAC is," he says. "And do I find it a bad law? I do. But it is the law of the land."
Just how independent Collective Actions is from the Sanders campaign isn't entirely clear. Spokesman Michael Briggs ignored repeated questions about the matter. Pearson says he's briefed campaign field director Phil Fiermonte, a close friend.
"I said, 'Well, I think I'm going to keep the PAC going because I think there's some real opportunities here,'" Pearson recalls. "We both sort of chuckled [at] how absurd it all is, and that was it. I know that they're aware of all of it."
Surely, though, Sanders would prefer Pearson to ditch his super PAC now that the candidate has decided he doesn't want one, right?
Not necessarily. When Seven Days asked about it in March 2014, the campaign defended Pearson's move.
"Until we overturn Citizens United, the suggestion that opponents of right-wing Republicans should unilaterally disarm and not use the tools available to them is absurd," Fiermonte said in a written statement. "To suggest that there is any comparison between a small, grassroots organization in Vermont and the multi-billion-dollar political machine bankrolled by the Koch brothers is preposterous."
It's "absurd" to renounce super PACs? Tell that to Sanders 2016.
This story originally appeared in the Fair Game column, Conflicting Stories, July 22, 2015