Page 8 of 8
Bernie Sanders New World Money Posters
Giclée posters available in three sizes, $69-139. donnarosenartists.com
Russian-born artist and aspiring Vermonter Val Bochkov launched a New World Money series a couple of years ago and has graced his elegant "bills" with celebrity faces from Billie Holiday to Bono to ... Bernie Sanders. Read more about Bochkov in State of the Arts.
Black Flag Bernie T-shirt
$18 (roughly 80 percent of profits to the campaign), bernieflag.bigcartel.com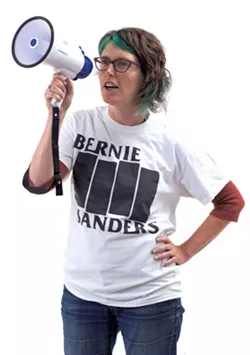 Matthew Thorsen
Model: Maeve McBride, coordinator, 350 Vermont
Chicago resident and punk rocker Steven Vainberg just got out of graduate school and is "broke as hell," so he couldn't donate money to the campaign of the man who wants to make college more affordable. He was also moved by stories about how Sanders, as mayor of Burlington, supported 242 Main, the all-ages youth center that hosted bands like Fugazi and became a punk mecca.
So he and a buddy decided they could raise money for Sanders — and themselves — by selling a shirt that borrows one of punk's most iconic images: Black Flag's thick black bars.
In August, Vainberg's first run of 50 shirts sold out in two hours. He has moved 200 shirts a week since.
"The punk community is pro-Sanders," Vainberg declared.
Talk Bernie to Me T-shirt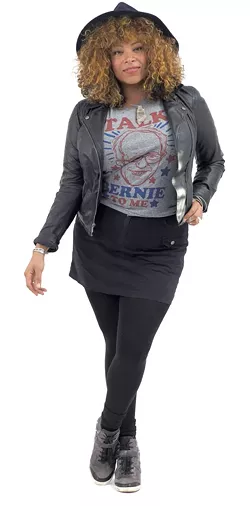 Matthew Thorsen
Model: Nicole Nelson
Nothing less sexy than a Bernie Sanders speech, but this "Talk Bernie to Me" T-shirt makes an interesting proposition.
Correction 9/30/15: An earlier version of this article misspelled Christopher Vaughn's name.