Page 4 of 8
Feel the Bern T-shirt
$20 (10 percent of profits to the campaign) Etsy.com, Madeline McLennon, or at Maglianero Café, Maple Street, Burlington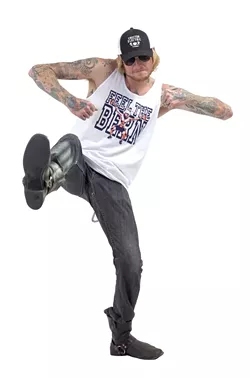 Matthew Thorsen
Model: Kelly Ravin
This is the shirt that's enabled Madeline McLennon to work a bit less as a barista at Maglianero Café and focus more on her "Feel the Bern" art. "I wanted to use the phrase and show that Bernie and all the people in the campaign are doing a lot of hard work to make him a frontrunner," McLennon said. "And I wanted something goofy, because politics can be a depressing subject."
Disclaimer: We haven't seen Bernie shirtless in a while, and we didn't have the courage to ask his wife, Jane, so we can't say whether the six-pack McLennon gave him is accurate.
St. Bernie Sanders for President Prayer Candle
$15, Etsy.com, Rustbelt Cooperative

We're non-denominational here at Seven Days, but take seriously the Bible's admonishment not to worship false gods. So exercise caution with this St. Bernie Sanders for President prayer candle, no matter how much you love the Jewish candidate and hate multinational corporations. And don't bern yourself.