Page 2 of 8
Bern One for Bernie Pipe
Pipe: $50 (some proceeds will be donated to the campaign), tee: $20, Stash N' Stowe Smokeshop, Waterbury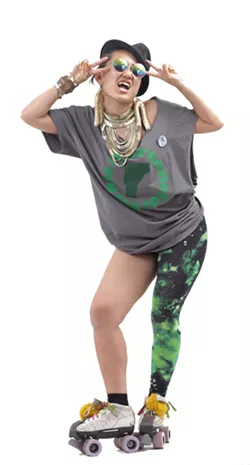 Matthew Thorsen
Model: Hi Roka
It doesn't get much more Vermont than the Bern One for Bernie pipe. For the record, Sanders supports medical marijuana but has not declared support for legalization. He told journalist Katie Couric that he wasn't a fan personally. "Because I coughed a lot, I don't know," Sanders said. "I smoked marijuana twice, didn't quite work for me... It's not my thing, but it is the thing of a whole lot of people."
The pipe is the brainchild of Sarah Coshow Bobowick, owner of Stash N' Stowe Smokeshop in Waterbury. "We're just doing our part to spread the word," Bobowick said.
Her friend Marshall Cummings, a South Burlington native, came up with the T-shirt, an ideal companion item.
Feel the Bern Unicorn and Rainbows Pin
$2.75, Etsy.com, OccuTees
Yup.