One night in May, graphic artist Dave Barron found himself sitting up in bed, doodling. Against a dark background, a simple design in stark white emerged: eyeglasses, "2016," and a shock of unkempt white hair. "Bernie," he added, though many would have easily recognized the locks and dome of Vermont's independent junior senator, who was just weeks from announcing his run for president.
For kicks, Barron posted the image on Facebook under the header, "My contribution to the campaign." By morning, the requests were rolling in: "Where can we buy the T-shirts?"
Barron has since shipped thousands of them, to addresses in all 50 states.
He's not the only one. Outside the realm of official campaign buttons, mugs and tote bags, homegrown Sanders swag has proliferated like Subarus on Interstate 89. The rise of Vermont's most famous socialist, it turns out, is working just fine for small-time capitalists.
Burlington artist Madeline McLennon has sold so many of her Bernie tank tops that she was able to cut back hours at her day job to devote more time to her art. Bo Muller-Moore's iconic Eat More Kale T-shirts are no longer his top seller: The Montpelier man is struggling to keep up with orders for his Bernie shirt.
It's not just Vermonters making the stuff, either: In Boone, N.C., Gwynne Dyer may realize the dream of a retirement funded by earring sales — thanks to people who love Bernie enough to wear him on their lobes.
In its merch search, Seven Days couldn't help but notice that the items associated with other presidential candidates lack a certain impassioned authenticity. Donald Trump's Make America Great Again hats and Hillary Clinton's barbecue apron — Grillary Clinton — look like the products of campaign staffers who aren't as clever as they think.
The grassroots designers of Sanders swag have no such creative problems.
We've found products featuring Sanders as Doc from Back to the Future and firing rainbows from his hands while astride a unicorn. A Christmas ornament sports Bernie in a disco dance-off with Sen. Elizabeth Warren (D-Mass.), and a sticker compares Bernie to wrestling legend Andre the Giant.
The makers' anecdotal sales figures support the narrative of Sanders on the rise. Dyer, for example, sells earrings featuring the faces of all presidential candidates. Guess whose mug is most in demand? Sanders, of course.
"He's my best-selling politician, that's the God's honest truth," Dyer said. "I'm not just saying that to you. Far and away. There's not really a close second."
Bernie Cuz Fuck All This Fucking Bullshit! Bag (above)
$28 (50 percent of profits to the campaign) Etsy.com, Kayci Wheatley
The Bernie Cuz Fuck All This Fucking Bullshit! makeup bag stumped us. The line had a familiar ring to it. Was this what President John F. Kennedy said when announcing the Apollo moon missions? Ronald Reagan denouncing the Berlin Wall? Lincoln at Gettysburg?
We asked the designer, but she didn't respond. She did, however, make one thing clear in a message printed on the underside of the bag. "Political ad not endorsed by Bernie... Just so you know. Altho we think he might like it. Just sayin.'"
Bernie Earrings
Gwynne Dyer isn't big into politics. But the many hours she's spent cutting out tiny images of Bernie's mug to make earrings may yet convert her. "I'm not quite sure," Dyer said. "I like to listen to everybody. But he has an honest face. I look at their faces a lot, and I think he looks like a nice, honest man."
Bern One for Bernie Pipe
Pipe: $50 (some proceeds will be donated to the campaign), tee: $20, Stash N' Stowe Smokeshop, Waterbury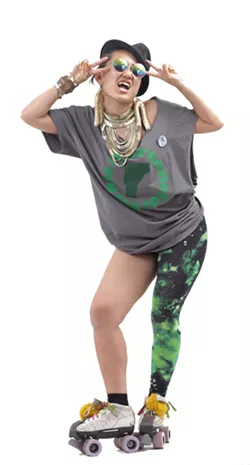 Matthew Thorsen
Model: Hi Roka
It doesn't get much more Vermont than the Bern One for Bernie pipe. For the record, Sanders supports medical marijuana but has not declared support for legalization. He told journalist Katie Couric that he wasn't a fan personally. "Because I coughed a lot, I don't know," Sanders said. "I smoked marijuana twice, didn't quite work for me... It's not my thing, but it is the thing of a whole lot of people."
The pipe is the brainchild of Sarah Coshow Bobowick, owner of Stash N' Stowe Smokeshop in Waterbury. "We're just doing our part to spread the word," Bobowick said.
Her friend Marshall Cummings, a South Burlington native, came up with the T-shirt, an ideal companion item.
Feel the Bern Unicorn and Rainbows Pin
$2.75, Etsy.com, OccuTees
Yup.
"Eat More Kale" Bernie T-shirt
$25 (10 percent of profits to the campaign) eatmorekale.com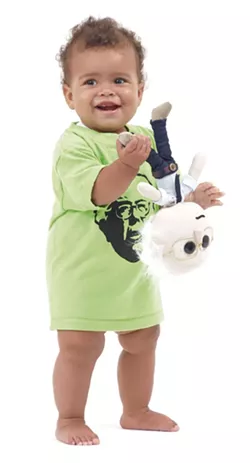 Matthew Thorsen
Model: Frankie Holiday
This design was intended to capture Sanders in his sternest glory. "He's not smiling. His eyes are squinted. He's in that serious pose that he takes," said Bo Muller-Moore, who is shipping "hundreds" of the shirts every week. "You can almost see the spittle flying out of his mouth," he added.
Lil' Bernie Doll
$80 ($25 goes to the campaign), lilbernie.com
Professional tailor Emily Engel makes dolls that resemble friends — for the fun of it. But her dad, a hardcore Sanderista, was dead serious when he recommended she make a Bernie doll in her shop in Ludlow, Mass. On September 16, she posted a design of Lil' Bernie on Facebook, thinking a friend or two might buy one. One week later, she had shipped the dolls to customers in 20 states and Australia.
Bernie Sanders Coffee Mug
$28, Burlington City Arts Artist Market or christhrowspots.com
Matthew Thorsen
Model: Katharine Montstream
Wake up and smell the inequity. Essex potter and teacher Christopher Vaughn said that as a small business owner, he appreciates how Sanders hammers the "1-percenters."
Bernie 2016 T-shirt
$25 (10 percent of the profits to the campaign), thebernieshirt.com
Dave Barron's T-shirt is arguably the most iconic image thus far of the Sanders campaign. "The simpler you can get your point across as a designer, the stronger it is," Barron said. From 20, 30 feet away, people can "see what it's all about," he noted.
Feel the Bern T-shirt
$20 (10 percent of profits to the campaign) Etsy.com, Madeline McLennon, or at Maglianero Café, Maple Street, Burlington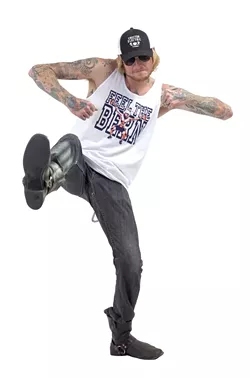 Matthew Thorsen
Model: Kelly Ravin
This is the shirt that's enabled Madeline McLennon to work a bit less as a barista at Maglianero Café and focus more on her "Feel the Bern" art. "I wanted to use the phrase and show that Bernie and all the people in the campaign are doing a lot of hard work to make him a frontrunner," McLennon said. "And I wanted something goofy, because politics can be a depressing subject."
Disclaimer: We haven't seen Bernie shirtless in a while, and we didn't have the courage to ask his wife, Jane, so we can't say whether the six-pack McLennon gave him is accurate.
St. Bernie Sanders for President Prayer Candle
$15, Etsy.com, Rustbelt Cooperative

We're non-denominational here at Seven Days, but take seriously the Bible's admonishment not to worship false gods. So exercise caution with this St. Bernie Sanders for President prayer candle, no matter how much you love the Jewish candidate and hate multinational corporations. And don't bern yourself.
Badass Bernie T-shirt
$15 (100 percent of profits to the campaign) xfeelthebernx.com
Matthew Thorsen
Models: Emma Mulvaney-Stanak, State Chair, Vermont Progressive Party, and Ruby
Behold, a badass Bernie. This was designed by Burlington artist Justin Gonyea and Big Heavy World music shop manager James Lockridge to appeal to the "punk and metal kids in town that like Bernie Sanders but don't really feel like wearing a pastel shirt with a logo on it," Gonyea said.
Bernie Pop Laminated Bag
$39 to $59, 60 Lake Street, Burlington, or flashbagsonline.com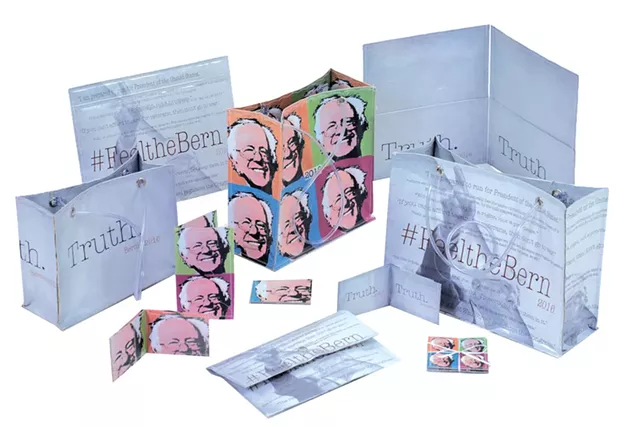 The folks at Burlington's Flash Bags laminated Obama several years ago — and the item sold well. So they had a pretty good idea that "Bernie Pop" — à la Andy Warhol and his Campbell soup cans — would also be a winner. It doesn't hurt that Bernie's poll numbers are so hot, you have to blow on them before digging in.
Bernie Sanders and Elizabeth Warren Disco Night Mini Print
$10, Etsy Shop, FullSnowMoon
The original concept from Wyoming artist Kim Harris pictured Hillary Clinton, Sanders, Sen. Elizabeth Warren and former Maryland Gov. Martin O'Malley onstage, with Michael Jackson sitting on the side, watching them in the rumble scene from West Side Story.
"It was getting to be too much," Harris lamented. This is her revised version.
Bern Down Babylon Bernie Sanders T-shirt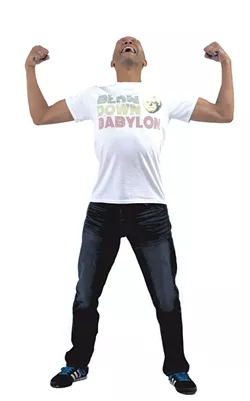 Matthew Thorsen
Model: Craig Mitchell
"Chant Down Babylon" is a Rastafarian phrase and the title of a Bob Marley song about bringing down corrupt and unjust human institutions. So naturally, like you, we assumed the Jeb Bush campaign had already secured the rights to the phrase. But Winooski T-shirt designer Drew Burns said it reminded him of our man in Washington.
"Obviously, the message is a niche one," Burns said. "Not really something that your grandma would wear. But we've been getting a lot of love from the West Coast ... and Vermont as well."
dug Nap Bernie Prints
$19 to $250, Frog Hollow Vermont State Craft Center, Church Street, Burlington; Burlington City Arts Artist Market
Matthew Thorsen
Model: dug Nap
Veteran Burlington artist dug Nap has been making Sanders-related prints for years. His "Bernie" vanity license plate prints have always sold well. Now he's also got 11-x-14-inch posters that read "Bernie for Prez," "Add Some Bernie to Our Journey" and "I Am a Bernie Maniac," among others.
"You're trying to figure out who's going to buy them, who is going to hang them on the wall," Nap said. "You don't know. You just find out."
Bernie Sanders New World Money Posters
Giclée posters available in three sizes, $69-139. donnarosenartists.com
Russian-born artist and aspiring Vermonter Val Bochkov launched a New World Money series a couple of years ago and has graced his elegant "bills" with celebrity faces from Billie Holiday to Bono to ... Bernie Sanders. Read more about Bochkov in State of the Arts.
Black Flag Bernie T-shirt
$18 (roughly 80 percent of profits to the campaign), bernieflag.bigcartel.com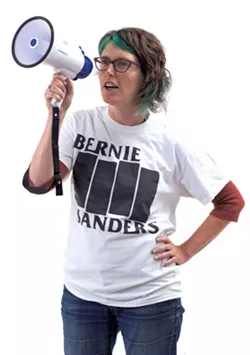 Matthew Thorsen
Model: Maeve McBride, coordinator, 350 Vermont
Chicago resident and punk rocker Steven Vainberg just got out of graduate school and is "broke as hell," so he couldn't donate money to the campaign of the man who wants to make college more affordable. He was also moved by stories about how Sanders, as mayor of Burlington, supported 242 Main, the all-ages youth center that hosted bands like Fugazi and became a punk mecca.
So he and a buddy decided they could raise money for Sanders — and themselves — by selling a shirt that borrows one of punk's most iconic images: Black Flag's thick black bars.
In August, Vainberg's first run of 50 shirts sold out in two hours. He has moved 200 shirts a week since.
"The punk community is pro-Sanders," Vainberg declared.
Talk Bernie to Me T-shirt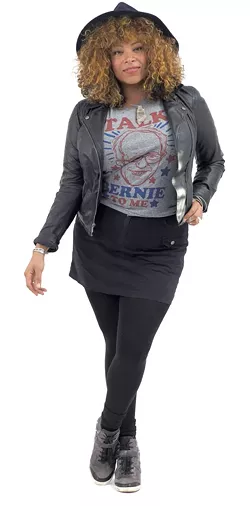 Matthew Thorsen
Model: Nicole Nelson
Nothing less sexy than a Bernie Sanders speech, but this "Talk Bernie to Me" T-shirt makes an interesting proposition.
Correction 9/30/15: An earlier version of this article misspelled Christopher Vaughn's name.