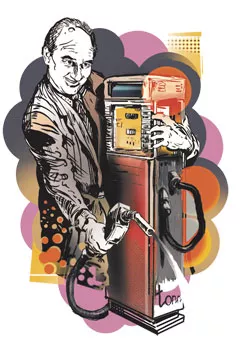 Jul 25: Earlier this year, gas-station magnate Skip Vallee purchased a Route 2 filling station in Plainfield at a foreclosure auction. But rather than make the former Red Store another link in his chain of Maplefields minimarts, Vallee put the property up for sale — with a catch. A deed restriction prohibited any new owners from using the property as a gas station.
Vallee already owns a service station in nearby Marshfield.
Plainfield residents accused Vallee of putting his own profits over the town's economic development interests. "It's difficult enough to get businesses to move into a small town," said Sarah Albert, a Plainfield resident who worried the extra restrictions might scare away potential entrepreneurs.
Fueling the Plainfield furor was last summer's slew of headlines about high gas prices in northwestern Vermont. Sen. Bernie Sanders hammered gasoline distributors — including St. Albans-based R.L. Vallee Inc. — claiming they were gouging customers by charging more in the Burlington area than in other parts of the state.
Sanders singled out Vallee for attempting to block Costco's plans to build a self-serve filling station in Colchester, just a stone's throw from a Vallee-owned Maplefields. Vallee said his concern was largely environmental: Costco's gas pumps would be built on sensitive wetlands, he said. The Mobil mogul also complained that increased Costco traffic would negatively affect his own gas-station business.
Update: After a few quiet months, gas prices are back in the news, and Sanders and Vallee have rekindled their feud. On December 10, Sanders unveiled a new website — sanders.senate.gov/consumers — that allows consumers to track daily gasoline prices throughout the state. Vallee fired back with a campaign-style attack ad that aired on WCAX-TV and online, in which a narrator accuses Sanders of siding with "big business" in the Costco gas-pump dispute. He also gave the media surveillance-camera pictures of Sanders and his director, Phil Fiermonte, snapping pictures of gas prices at a Maplefields in Middlebury.
Meanwhile, the former Red Store is still empty — but Vallee reports that he has two potential tenants: a gallery owner and the Twin Valley Senior Center. The senior center has outgrown its current space in Marshfield and is looking for a new home. Albert says that grumblings about the store have died down in Plainfield. "[It's] sad to see these empty buildings in a town that doesn't have many commercial buildings to begin with," Albert says, adding that the senior center would bring "new life" to the building.
Vallee cautions that the space may need work, including accessibility improvements, before the senior center could move in. "If we could make it work, it would be a fabulous use for the space," says Vallee.