Courtesy Of Bernie 2020
Ruthmary Jeffries and Bernie Sanders greet pharmacist Kevork Ohanian in Montréal
Twenty years ago last week, Kathleen Keenan boarded a van bound for Canada in search of cheaper prescription drugs. The 59-year-old emergency room nurse and Vermont state representative from St. Albans had been diagnosed with breast cancer and was struggling to afford her daily dose of tamoxifen.
"I had been paying about $113 a month down here, and it was $10 a month up there," she said last week. "It was such a huge savings. I couldn't believe it."
Keenan wasn't riding any ordinary van. The journey from a McDonald's parking lot in St. Albans to a doctor's office and pharmacy in Montréal had been organized by Bernie Sanders, then a fifth-term member of the U.S. House. He was hoping to bring attention to the vast discrepancy between drug costs in the two nations as he sought to pass legislation allowing the reimportation of American-made medicines from foreign countries.
"To my mind, it's outrageous that patients in the U.S. pay the highest prices in the world for medications manufactured in their own country," Sanders told a reporter for the Gazette, a Montréal newspaper, on the day of the July 7, 1999, trip.
Two decades later, as the now-senator seeks the Democratic presidential nomination, Sanders is preparing to reprise the northbound drug run. On July 28, he plans to lead a busload of diabetes patients from Detroit to Windsor, Ontario, to fill insulin prescriptions.
"The reason to do the bus trip is to once again spotlight this absurd discrepancy," explained David Sirota, a spokesperson and speechwriter for Sanders' presidential campaign. "The situation is as bad, if not worse, than it was 20 years ago."
Indeed, the price of insulin nearly doubled between 2012 and 2016, according to the nonprofit Health Care Cost Institute, from $2,900 a year to $5,700. Consumer advocates have estimated that its list price is 10 times higher in the U.S. than in Canada, though PolitiFact has noted that rebates and discounts somewhat decrease the discrepancy.
In what is surely no coincidence, Sanders' latest Canadian journey is scheduled to take place two days before the next round of presidential debates begins, providing a perfect anecdote for a candidate who frequently invokes the high cost of prescription drugs and often alludes to the 1999 trip.
It's the latest example of Sanders' presidential campaign dusting off his voluminous playbook of political set pieces intended to attract press attention in a crowded field. Last month, the candidate crashed Walmart's annual shareholders meeting to demand better wages — a move reminiscent of his April 2000 appearance at an IBM shareholders meeting to oppose changes to an employee pension plan.
According to longtime Sanders allies, such events are hardly political stunts.
"Ask the women who were suffering from breast cancer if it was a gimmick," said Phil Fiermonte, a retired Sanders outreach director who organized the original trip. In his view, it demonstrated his former boss' ability to marry direct action with political communication and legislative advocacy.
"He thinks outside the box," Fiermonte said. "How can you get at an issue in a way that really educates the public and makes a difference?"
Though Vermont doctors had previously organized such cross-border trips, Sanders was the first member of Congress to do so. His journey "inspired imitation in Western border states," the Los Angeles Times reported the next year. At least half a dozen members of and candidates for Congress sponsored copycat events in the run-up to the 2000 election, according to press accounts from the time.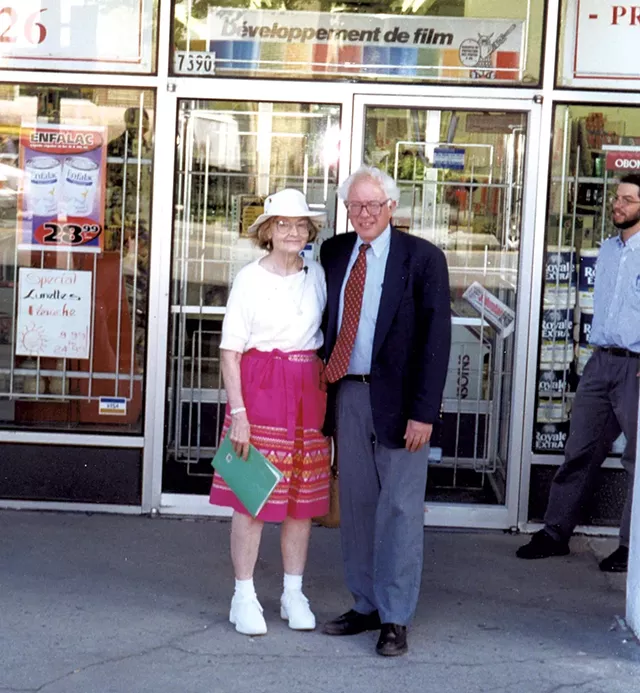 Courtesy Of Bernie 2020
Ruthmary Jeffries and Bernie Sanders in Montréal
The episode led the New York Times to write in an April 2000 profile that "there are few more persistent irritants [to the pharmaceutical industry] than Representative Bernard Sanders."
It also helped lead to passage, in October 2000, of legislation aimed at allowing the importation of prescription drugs. But much to Sanders' chagrin, Republican members of Congress loaded it with loopholes that gave the pharmaceutical industry several outs. In the closing days of then-president Bill Clinton's administration, secretary of health and human services Donna Shalala exploited one of those outs to prevent the program's enactment.
"The industry has so much political power that Bernie actually passed that legislation and it was signed into law, and the drug industry still managed to kill it," Sirota said.
Sanders declined an interview request for this story, but several people who took part in the 1999 trip described their memories of it.
Judy Domey, then a home health nurse from St. Albans, accompanied her mother, 81-year-old Mary Salls, who had also been diagnosed with breast cancer. Domey recalled chatting with Sanders on the ride north. "I was telling him how the cost of medicine was so high that some of my patients had to decide between buying food or buying medication," she said last week.
A WCAX-TV report on the journey shows the white Special Services Transportation Agency van crossing the Canadian border at Highgate Springs. Its occupants first visited Dr. Nii Quao in the west end of Montréal, according to an Associated Press account, and then dropped off their Canadian prescriptions with pharmacist Kevork Ohanian.
"I'll have three boxes of that," the late Fairfax resident Ruthmary Jeffries says in the WCAX video as she leans over the pharmacy counter. Sanders hovers behind her in a blue blazer and red tie.
As the patients waited for their prescriptions to be filled, the independent House member took them out to lunch.
Chris Pearson, then a 26-year-old outreach assistant for Sanders and now a Chittenden County state senator, helped Fiermonte organize the event. He recalled Sanders ordering him to figure out its logistics "with military precision." Pearson went so far as to take a dry run to Montréal to ensure he knew the directions. When he reported to Sanders that it would take 28 minutes to make it from Burlington to the St. Albans McDonald's, Pearson said, "Bernie teased me for not saying half an hour."
Keenan said she "didn't know a soul" on the journey north but that "everybody coalesced" around a common purpose. Said Pearson, "There was just this spirit of helping a larger cause that I recall ... They knew full well that this was to showcase an injustice, that they were part of demonstrating something."
Another young Sanders staffer, 22-year-old front desk attendant Tim Ashe, remembered the "celebratory" atmosphere of the trip. "There was a tremendous amount of excitement," said Ashe, now president pro tempore of the Vermont Senate. "This was not a group of radicals. These were just people who were very sick and needed drugs."
The following March, Sanders decided to sponsor another expedition. The demand was so great that his staff had to upgrade from a van to a bus. "We were getting a lot of calls from constituents asking if they could be on the next bus," Ashe said.
Sirota, who had been hired as Sanders' press secretary after the first trip, recalled the challenge of herding the group from the doctor's office to the pharmacy and then waiting for the prescriptions to be filled. "We had to have a plan to bring people to a mall to, like, hang out and shop around Montréal," he said. "It was actually a pretty big logistical effort."
The trips had a lasting impact on the participants. Having obtained a Canadian prescription, Keenan was able to drive across the border to Bedford, Québec, to pick up more tamoxifen — and save a lot more money. "It was very convenient," she said.
According to Ashe, the events also had a lasting impact on public consciousness. In recent years, several states, including Vermont, have sought to obtain permission from the federal government to establish their own drug reimportation programs, though none have taken effect. President Donald Trump has signaled an openness to such state initiatives and said earlier this month that he would support caps on prescription drug prices.
"I think it is part of the discussion that dates back to that first bus trip," Ashe said.
For Domey, whose mother died five years after traveling to Canada with Sanders, the event made clear that at least one politician was looking out for her family and community.
"I think he really feels for the people — the middle class, the lower middle class," she said. "He knows that a lot of us are struggling, and he seems to understand that."
Disclosure: Tim Ashe is the domestic partner of Seven Days publisher and coeditor Paula Routly. Find our conflict-of-interest policy here: sevendaysvt.com/disclosure.