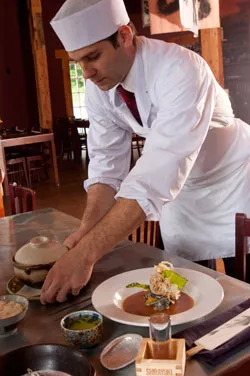 Earlier this year, Chris Russo and Kazutoshi Maeda of San Sai Japanese Restaurant announced that they'd be opening Bento, a Japanese market and take-out eatery, on College Street as soon as May. Since then, Japanese food lovers have been eagerly watching for progress at the papered-over storefront.
Turns out, that tantalizing view was distracting people from a new eatery that will be serving even sooner. Bento will indeed open on College Street, but not before the debut of another restaurant. Shortly after Russo began work on Bento, his realtor found him another space worth considering. It was 131 Main Street, most recently the site of Esperanto. Next week, it will be home to the extended soft opening of Ramen.
Just like at San Sai, Russo and Maeda will be doing things the traditional way at their ramen restaurant. "A lot of places use a granulated bouillon base. We're not going to be doing that," Russo says. Instead, he'll use local pork, beef and chicken in his stocks, each of which will cook for nine to 12 hours before serving. Not just the stocks will be created with painstaking care. The only item Russo isn't making himself is the noodles, which he'll buy frozen, he says, until he can afford to purchase his own machine.
Russo says that early on, the types of soups will vary as he and his staff find their footing. "In Japan, every single region has their own kind of ramen," he explains. "In one area, it's like a miso; some, it's a salt ramen. Everyone has their own thing."
Ramen will be open initially for dinner only, but Russo hopes to add lunch and late-night hours soon. Each meal will include a few ramen options, along with a limited menu of appetizers and desserts. Sake and beer will round out the offerings, perhaps making Ramen Vermont's first izakaya, aka Japanese drinking establishment.
As for Bento, just give Russo some time to settle in at Ramen before he resumes construction on the market.
The original print version of this article was headlined "Ramen-Yah!"