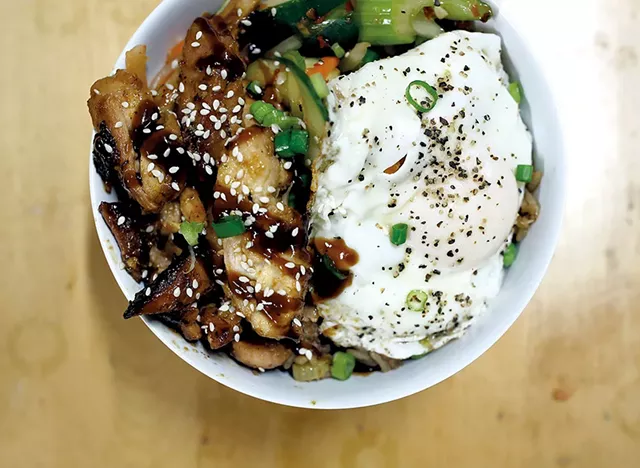 Sarah Priestap
The Party Animal
"CHICKEN AND BEER," announces a bold blue sign on the side of the building at 176 Route 5 in Fairlee. While the label gives passersby an inkling of what they might find inside, it's a little deceiving: Samurai Soul Food is neither a chicken joint nor a beer bar.
Chef-owners Kelden Smith and John Hessler opened the place the week of Donald Trump's inauguration in January. Before that, the cooks had worked together at the Worthy Burger in South Royalton. Hessler's résumé includes time at Black Krim Tavern in Randolph, as well as years working in Chittenden County's club scene.
Before opening Samurai Soul Food, Smith and Hessler told Seven Days they were going to cook what they liked to eat — Chinese food, fried chicken, Tex-Mex. They hoped their restaurant could become a community stronghold in a town where the 1,000-odd full-time residents rarely eat out. They'd serve beer and wine but not bother with spirits; guests would order at the counter, and servers would bring their food to them.
Sarah Priestap
John Hessler
Huh, wondered this reporter, a born-and-bred local. It seemed a little too weird, maybe, to work in a town where the only culinary successes in living memory have been a Greek pizza place and a summer snack bar.
Yet from day one the place was packed. Locals responded with a mix of astonishment and gratitude. Word circulated through the rural towns along the Connecticut River: Have you eaten at Samurai Soul Food? The food was good! It was fun to hang out there. It wasn't crazy expensive! The chefs bought ingredients from our neighbor-farmers.
Crowds have continued to file in every Tuesday through Sunday evening, filling the 35 seats pretty much until the kitchen closes.
"It's been nonstop since the day we opened," Hessler confirmed, standing near the register toward the end of his shift last week. "And not just the people you'd expect."
If you're from here, odds are you'll run into someone you know. At first glance, Samurai Soul Food seems to cater to a youngish crowd, but you're just as likely to bump into your aging uncle — or your cousin and her young family — as you are to clink glasses with a 30-year-old hipster.
Sarah Priestap
Samurai Soulfood
The décor is part bachelor pad, part tiki bar, part hazy college dorm room. But the room isn't clouded with bong smoke, and the bathrooms are impeccably clean. Strings of chile-pepper lights glow red against bamboo-lined walls. Posters depict a young Bruce Lee, circus polar bears on teeter-totters, clowns. An overhead television plays silent anime films. Languid goldfish swirl around the rocks and plastic plants inside a long tank near the door. Tibetan prayer flags adorn the doorways.
At tables and a small bar, guests can sip blends of sparkling wine, sake and juice. A glass of iced rosé splashed with blueberry juice tastes like a classed-up wine cooler in pink ombré — pale pink at the top of the glass gives way to a deep berry hue toward the bottom.
Patrons can also choose from a list of half a dozen well-curated local beers, such as frequent rotations from Fiddlehead Brewing, River Roost Brewing, Lost Nation Brewing and others. Nonalcoholic options include an electric-pink fruit punch and Jamaica (hibiscus) tea.
The food strikes a balance between irresistible street eats and modern farm-to-table comfort fare, without relying on the same old overdone tropes — poutine, mac and cheese — that you'll find on many a casual menu. Several dishes look half Asian or half Mexican; the best ones succeed by being neither.
Take the tuna nachos ($10): Crunchy fried wonton strips serve as the chips; hunks of blushing raw tuna add meaty heft. Shredded cabbage, carrots and peppers dressed in sweet soy and sesame stand in for iceberg lettuce, while pickled ginger adds the sour kick that brined olives or sliced jalapeño peppers would bring to a Mexican plate. Splatters of orange tiger mayo — the kind you might find atop a spicy tuna roll — take the place of cheese or sour cream. Mexican? No. Japanese? Vaguely. Delicious? Oh, yes.
Across the table, spider plants in plastic pots were suspended from a metal bar like coat hangers, adding a botanical touch and framing my husband's head.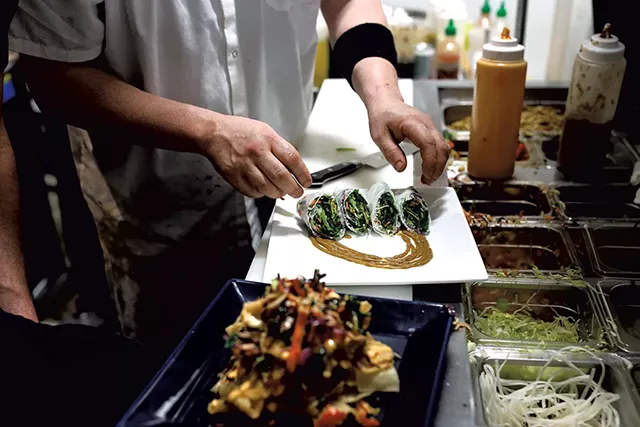 Sarah Priestap
John Hessler putting the finishing touches on some spring rolls
He was midway through a bowl of Party Animal fried rice ($14), one of several pitch-perfect Chinese-American plates that Smith and Hessler have spun into cool, modern classics. Beneath a neat arrangement of Korean barbecue chicken, spicy pickles and an egg fried soft, a mound of rice was fried with diced carrots and peas and crumbled local pork. It wasn't what you'd get at your neighborhood takeout spot, but the core of the dish captured exactly that salty, umami allure.
One table over, a friend of mine hunched over an old eight-bit table video game, nibbling a beef and broccoli special ($13) between rounds of Pac-Man. That dish packed all the sesame-sweet satisfaction I'd expect from my downtown wok. Except that the beef was from nearby Almanac Farm, mindfully raised by farmers known to the restaurateurs; the sauce was homemade, not glugged out of a half-gallon jug. The broccoli was fresh and crunchy.
I looked around, a bit surprised that nearly every seat was still full at 9 p.m. on a Thursday. Guests bobbed their heads to a Talking Heads tune, which drifted across the room at a tolerable volume.
"I'm not sure I would have predicted the success of a place like this," I said to my friend at the neighboring table. "Apparently, people around here have been craving something like this."
"Totally," he said, looking up from the game. "This is exactly what Fairlee needed."