Tom McNeill
Samurai Soul Food
Visitors to super-rural Fairlee will find an unusual welcoming committee at Samurai Soul Food: a blond mannequin with a belted restaurant T-shirt barely covering her plastic lady parts — and a fat black cat named Richard, who purrs and slinks figure-eights around her ankles.
176 Route 5
Upper Valley
Fairlee, VT
802-331-1041
American (New) and Eclectic/Fusion
Inside the 35-seat restaurant, chef-owner Kelden Smith plates blistered quesadillas stuffed with mac and cheese or beef short ribs; fiery chicken drumettes cooled with soft chèvre; and Party Animal rice bowls with Korean-style barbecue chicken, fresh veggies and a fried egg.
In a quiet Upper Valley backwater where the median age is nearly 50, Smith's oddball brand of Asian-fusion stoner food is an unlikely draw. But the restaurant has consistently packed in diners of all ages since opening on January 20, 2017, just hours after Donald Trump's inauguration.
Tom McNeill
Samurai Soul Food
"It's just an all-around good time," says general manager Amy Bruce, relaying the restaurant's YOLO mission. "It kind of takes people back to the 1980s." Indeed, the décor includes vinyl album sleeves, paper dragons, chile-pepper lights and a disco ball — a DIY look that's part Chinatown, part college dorm room.
Draft beers hail from breweries such as White River Junction's River Roost, Burlington's Zero Gravity and Tunbridge's Upper Pass. There's no hard liquor, but you can get sparkling wine spritzers or a Dark and Stormy that replaces black rum with vanilla stout.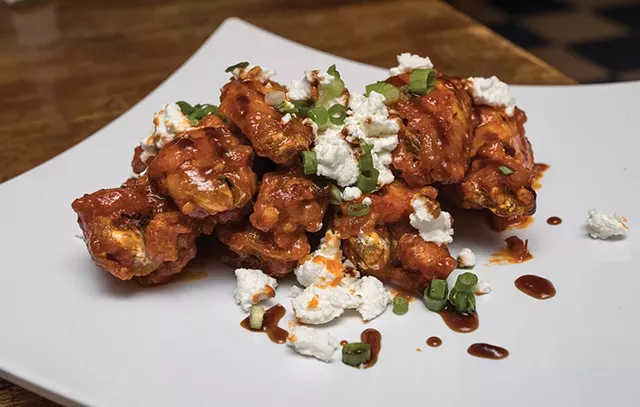 Tom McNeill
Samurai Soul Food
Chilled sake's the thing for fried-wonton nachos with crunchy Asian slaw, cubed ahi tuna and a generous squirt of chile-laced "tiger mayo." Golden-fried boneless chicken thighs encased in sponge-cakey breading — à la Chinese chicken fingers — call for a crisp lager.
When the weather warms, a tiki-themed beer garden doubles the restaurant's seating. That's critical, since Fairlee's population swells each summer with camp counselors and second-home owners who stay on the shores of lakes Morey and Fairlee.
Tom McNeill
Samurai Soul Food
Even with the extra space, lines snake out the door nightly. A cynic might credit the restaurant's success to the fact that it's the only bar in town.
But ask a local, and they'll give it to you straight: Samurai Soul Food is a sure shot for a fun time.