James Buck
Lamb tagine
Pasty, basic hummus is easy enough for anyone with a food processor to serve as a starter — or, worse, roll into a burrito — but distinguished hummus remains a rare find. And diners will find it at Little Morocco Café, which opened in December in Burlington's Old North End, just down the street from Butch + Babe's.
The secrets of Little Morocco's perfect hummus reveal themselves bite by bite — when they reveal themselves at all. Most notably, there's the silken creaminess, which requires removing the fibrous hulls of the chickpeas before blending. (The extra step can be a hassle, but once you've tried hummus made this way, chunkier versions just taste inferior.) Then there are the fresh garlic and lemon juice, flavors that penetrate but don't dominate.
Manager Adill Ramani emphasized the importance of the Moroccan extra virgin olive oil drizzled on top, light yellow and extremely delicate in flavor; more robust oils would produce a completely different taste, he said. As for the hummus spices, chef Noha Yaqout Yamani remained mum on the exact blend: "Chef's secret," she said.
At Little Morocco on a recent Friday night, my friend and I slathered this hummus on the pillowy, chewy pita that was part of the Taste of Morocco platter ($9.99). The spread came with two other mezzes, including a shakshouka of roasted red and orange peppers, tomatoes, garlic, and parsley. Heavy on the olive oil, the sweet, smoky zaalouk was made from puréed roasted eggplant mixed with tomato, garlic and paprika.
When working in Western restaurants, chefs cooking in a regional or ethnic tradition must make complex decisions about how to retain, adapt, amplify or minimize the cuisine's typical flavors and ingredients. Yamani said she sticks to "traditional Moroccan food," specifically that of Marrakech, where she lived and worked in restaurants until she immigrated three years ago.
"We do not do modern cuisine," she said matter-of-factly in French. "We decided that we wanted people to discover the authentic tastes of Moroccan food. We don't change the spices."
Such an unwavering approach isn't uncommon in Moroccan cooking. In an interview in the New York Times, Marrakech-born chef and cookbook author Mourad Lahlou — whose now-closed Michelin-starred restaurant Aziza merged traditional, Californian and innovative methods — said that long-established food practices hold sway in Morocco, where "changing the herb garnish on a tagine is still considered daring."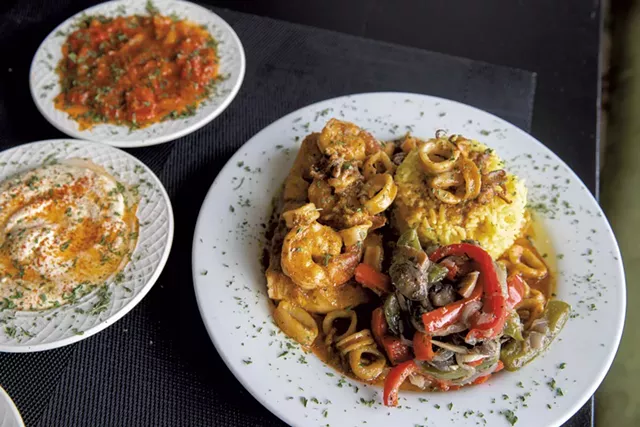 James Buck
Seafood tagine
For Yamani, what makes the cuisine of her home country special is how it combines "many flavors, many spices," she said. "In one caramelized lamb shank, there's a mélange of flavors: sweet, savory and salty."
Moroccan food often employs fruits alongside meats in savory dishes, especially raisins, dates, prunes and apricots. Then there's preserved lemon, which Lahlou deems "Morocco's greatest contribution to the world, period" in his book Mourad: New Moroccan. Little Morocco features a housemade version in its ultra-classic Moroccan tagine of chicken with preserved lemons and green olives ($21.99).
Stews improve after a day or two of melding, and the tagines at Little Morocco are a case in point. Yamani said her process of salting, marinating and cooking takes more than 48 hours. On our visit, the kefta tagine ($16.99) offered seasoned beef meatballs simmered in a fresh tomato sauce spiced with paprika and cumin. It was rich — the beef fat hadn't been skimmed off — and came topped with a scrambled egg and served with saffron rice.
The lighter seafood tagine ($25.99) had shrimp, calamari and cod rubbed with green charmoula, a spice blend that typically contains garlic, preserved lemons, cilantro, parsley, cumin and more. It came with red and green roasted peppers cooked with mushrooms, as well as a side of rice. The restaurant also serves a vegetarian tagine ($15.99) and a selection of couscous and kebabs.
Ramani said Little Morocco sources some vegetables from local farmers markets and eschews frozen or canned ingredients. Indeed, the vegetables I tried had the texture of fresh produce. Fish and seafood come from a market in Boston; olive oil and spices are imported from Morocco.
The most commonly used spices in Moroccan cooking are cumin, ginger, coriander, turmeric, white pepper and paprika, which means the heat-shy need not fret at Little Morocco. Vermonters who associate North African food with mouth-smacking intensity, by contrast, might need to recalibrate their taste buds. The restaurant's food is fresh, flavorful and savory, but its spice levels support rather than dominate the flavors of the meat and vegetables. Want some harissa to add heat to your dish? Sorry, that hot pepper paste actually originates in Tunisia and isn't on the menu at Little Morocco.
In Little Morocco's dining room, tables buttress cushioned wooden benches, painted shiny black, with star shapes cut out to reveal brightly colored glass. On that Friday evening, conversation in French wafted through the curtained window where food emerges from the kitchen. Arabic music played throughout the restaurant, punctuated by blips of silence reminiscent of cellphone music interrupted by text messages.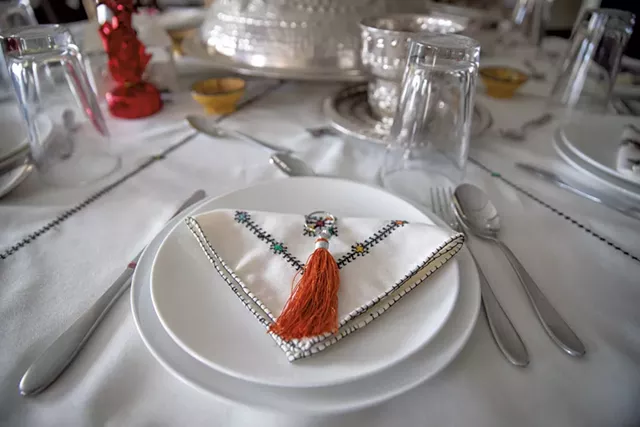 James Buck
Place setting at Little Morocco Café
Little Morocco has a small staff: On a typical night, said Ramani, it's only him, Yamani and a dishwasher in the back of the house. After being seated, we waited five minutes for menus — an understandable delay, given that the host was also the sole server.
Despite the workload, Ramani, who is also pursuing a master's degree in international business, kindly took the time to emerge from the kitchen and answer a question. What exactly, we asked, was the raisin juice on the menu?
Ramani explained that two days of multiple soaks, simmers, strains and blending — and, of course, secret spicing — go into the drink. Since it was sold out until the next batch was ready — and the restaurant does not offer alcohol — we took his suggestion and tried the ZaaZaa shake ($8.99) after our mains. Served at room temperature, it was made from walnuts, almonds, avocado, banana, raisins and dates; Ramani described it as a typical refreshment one might find at markets in Marrakech. Extremely rich, the ZaaZaa could be a meal in itself — brunch, perhaps.
Speaking of which, Yamani said the restaurant will start serving Sunday brunch in April. She plans to offer harsha — a pan-fried bread made from semolina flour — crêpes, omelettes, shakshouka with eggs and "many other Moroccan things." For now, the details remain another chef's secret.