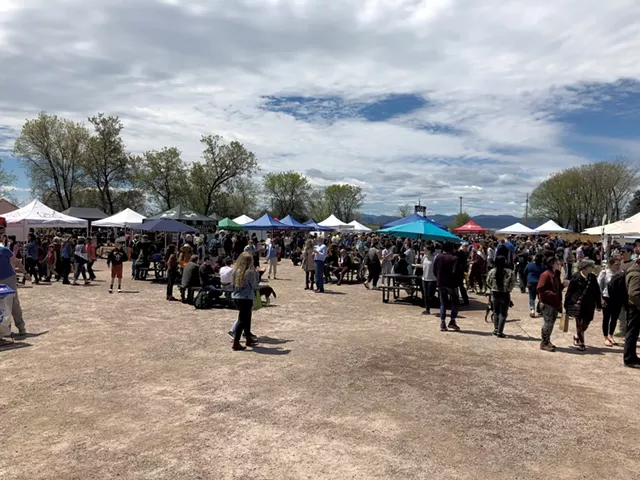 DAVID HOLUB
Burlington Farmers Market
The beans and blueberries aren't ready, and the carrots and cucumbers are a ways off, too. But as I learned on a recent Saturday, if you're waiting for summer's full bounty before you hit the Burlington Farmers Market, you're missing out.
The market, which opened May 11, is already humming with artists and artisans, community groups, prepared foods, live music, and spring vegetables. To be sure, there was enough lettuce, greens, onions and radishes for a salad, and plenty of farm-raised meats to throw on the grill later. But I was like Veruca Salt in Willy Wonka's chocolate factory: I want it now! My sole objective was to jump mouth first into the market's array of ready-to-eat foods — and to perfect the art of eating while strolling.
I arrived midmorning at the market's temporary location at 345 Pine Street, having parked about five blocks south. (The market's longtime home, City Hall Park, will be undergoing a renovation.)Inside the market, which is open Saturdays from 8:30 a.m. to 2 p.m., the people watching was in full swing. Just as the sun was doing its spring best, with temps in the 60s, so were market-goers testing the limits of the weather, clad in T-shirts and shorts.
My initial impulse was to start slamming sausage sandwiches, but given that this was my inaugural Burlington Farmers Market, I thought I should meander for a bit. I opted for beverages first, hoping to appear studious and refined with drink in hand while browsing the booths of artists and crafters.
DAVID HOLUB
Kenny Richards of Halyard Brewing
As I sipped a sample of cold-brew coffee from City Market, Onion River Co-op, I spotted a large, striking banner across the way at the booth of ginger beer specialist Halyard Brewing. The picture of a giant octopus wrapped around a captain's wheel was the work, I soon learned, of Winooski artist Brendan Fossi. While I exclaimed about the signage and package design, Halyard founder and CEO Kenny Richards assured me that the contents of the cans and bottles were just as special.
Richards offered two 2-ounce samples for $1: the Volcano Juice, a ginger beer/lemonade shandy ($10/four-pack); and the spicy Gipsy Moth ($10/16-ounce bottle). Both are a ginger lover's dream. The 4.1 percent ABV Volcano Juice would be perfect for a sun-soaked cookout, but the burn of the 8 percent ABV Gipsy Moth nearly made me howl.
"We added as much ginger as we could use without blowing it out," Richards said as I savored each sip.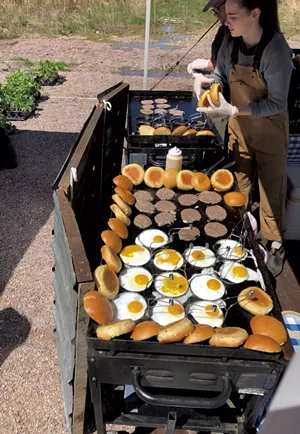 DAVID HOLUB
Pegasus Meats' booth
With the smell of pastries and sizzling burgers in the air, my hunger pangs set in, especially after stopping to marvel at the colorful grill full of pork sausage patties, fried eggs and toasting challah buns at Pigasus Meats. But I was still thirsty, and temptations lurked at every turn, including Champlain Kola, made with kola nuts, citrus, cinnamon and vanilla at Rookie's Root Beer; and the Woke Milk & Coffee liqueur from Hooker Mountain Farm Distillery, made with rum, milk, coffee and Vermont maple syrup.
But it was the iced chocolate coconut milk (normally $5; offered for $4 on this blessed day) from Burroughs Chocolate that I couldn't resist. Its ingredients rung like game-show dings in my head: spring water, raw organic cacao powder, coconut milk, cane sugar, sea salt and a boost of cold-brew coffee. Though no thicker than water, it was like drinking a chocolate bar, with subtle harmonies of coffee and coconut. I began to suspect my fervent oohs and aahs were a bit much for company founder Kyle Burroughs. Thankfully, my joyous gasps invited conversation.
DAVID HOLUB
Spicy Chicken Samosa from Pak-Afghan Foods
Like many market purveyors, Burroughs was happy to tell the story behind his craft, mapping out how his cold-pressed raw heirloom cacao goes from bean to bar. When I asked about his old-timey Burroughs logo, he had a story for that, too. A 10th-generation Vermonter, he lifted it straight from an antique milk bottle found at his family's old dairy farm in Vergennes.
I could have chatted all day, but I had an appetite to satisfy, and other booths were calling me. I couldn't let these good Vermont vendors go home with unused toothpicks, could I?
I walked again through the market aisles, this time focused on food — sampling as much cheese as possible. Though I've met few cheeses I didn't like, the win went to Shelburne Farms and its four-cheddar selection. The extra-sharp two-year cheddar was so good, I was tempted to sprint away with the sample plate.
Keeping a mental list of lunch options in my head, I couldn't help but notice how much maple had found its way into and onto just about everything: milk, yogurt, chipotle-bourbon syrup, peanut butter cookies, cotton candy, nuts, popcorn, pastries.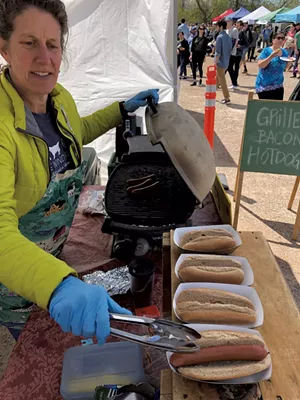 DAVID HOLUB
Maple Wind Farm's booth
As I wandered, I let the food options choose me, plunking down money only when I couldn't resist. As I passed Maple Wind Farm's booth, I involuntarily rubbernecked a bright-yellow sign: "Grilled bacon hot dog!"
As with cheese, I love all hot dogs, even the ones I hate. And I'll eat hot dogs from anywhere — gas stations, ballparks, street vendors, Home Depot. But you know a farmers market hot dog has to be a special breed. Maple Wind's bacon dog ($5) was made with 33 percent each of pork, beef and bacon (so, technically, 66 percent pork?), all pasture-raised.
"It's a hot dog you can eat with confidence," co-owner Beth Whiting declared. She offered their frequent-eater eight-dog punch card, but I politely refused, preemptively embarrassed that I might get to eight punches by closing time.
I dressed my dog with ketchup and mustard and, though I was indeed confident about where my hot dog came from, perhaps my expectations were too high. The hot dog itself was tasty, but discerning the bacon was difficult. The bun, however, was a disappointment. Big and wheaty, it threw off the crucial bun-to-dog ratio. Give me a thin, top-sliced white bread roll any day.
After a pit stop to sample some handcrafted marshmallows from Nomadic Kitchen, I decided to zero in on the variety of ethnic offerings.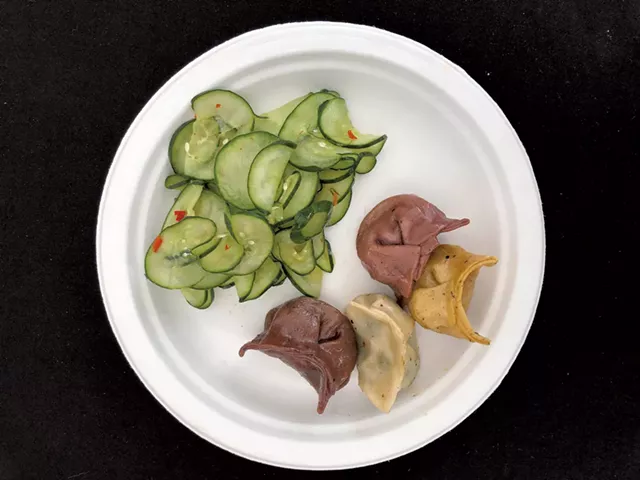 DAVID HOLUB
Marinated cucumber and potsickers from Green Mountain Potstickers
First stop: Green Mountain Potstickers, a line I entered, paradoxically, because it was the longest. I asked a woman waiting if she'd eaten here before. She hadn't. Then why wait so long? "I love Asian food, and I saw there was such a big line," she reasoned. Good, I thought, I'm not so crazy.
I ordered a four-piece meat-free potsticker variety plate ($7). Best was the spicy Wing Chun, filled with green bean, soy protein, garlic, shiitake mushroom and sesame oil. The marinated cucumber slices on the side, subtly spicy and tangy, were a surprisingly excellent complement.
My line acquaintance recommended the samosas at Pak-Afghan Foods, so off I went. I chose the Spicy Chicken Samosa ($3), which came with chunks of chicken, cheddar cheese, cabbage, garlic and curry spices stuffed into a wheat pastry. It may have been the best thing I ate all day, though its heat — and the newly formed sweat on my forehead — was no joke.
DAVID HOLUB
Tamale from Gracie's Tamales and Burritos
Next I stopped at Gracie's Tamales and Burritos for a cheddar, Monterey jack and green chile tamale ($4). Wrapped like a gift in its cornhusk, complete with a tie, I almost needed a box cutter to get it open. It was worth the effort. The combination of masa, gooey cheese and green chiles lit up my brain's pleasure center.
I couldn't leave without eating something sweet and luckily remembered the extravagant display of delicacies at Ardelia Farm & Co. I chose the Ardeli-O's ($2), essentially a small whoopie pie; a maple-bourbon-pecan tartlet ($2); and a coconut macaroon ($1). All were excellent, but the macaroon stayed with me most — literally. It took the entire drive home to clear all the coconut from nooks in my mouth I didn't even know I had.
Even though I stuffed my face at every turn, I could try only a fraction of the market's offerings. Happily, a summer of Saturdays awaits.
Where's the free market parking?
DAVID HOLUB
Pastries by Ardelia Farm & Co.
As the Burlington Farmers Market settles into its new temporary location at 345 Pine Street, motorists have experienced some frustration about parking.
The market's executive director, Chris Wagner, said that initially there were informal plans for market-goers to park at the Maltex Building and Dealer.com (south lot). Those agreements fell through, however, when market managers learned that both of those lots are reserved for employees, tenants and customers on Saturdays. Instead, Wagner recommended the following options:
Free parking spaces on Pine Street (not next to "No Market Parking" signs)
The Dealer.com north lot (1 Howard Street, a four-minute walk)
Burlington Electric Department (585 Pine Street, a nine-minute walk)
Burlington Public Works Department (645 Pine Street, an 11-minute walk)
Perkins Pier (1 Lavalley Lane, a 10-minute walk)
Paid parking downtown (about a seven-minute walk)
Better yet, ride a bike and park it for free with Local Motion, or if you live nearby, walk!