Courtesy Of Back Road Bbq
Notorious P.I.G. platter from Back Road BBQ
Mobile eateries used to be where we stopped for a quick gyro, pretzel or creemee. But in recent years, food trucks have become mainstays of the summer food scene. In 2013, Burlington's ArtsRiot launched its Friday-night Truck Stop gatherings, which rallied a dozen or so wheeled purveyors serving barbecue, burgers, tacos, Puerto Rican pinchos and more.
ArtsRiot has also organized Truck Stops in Winooski and Montpelier. This summer, Burlington Parks & Recreation will host a monthly first-Wednesday food truck social at Leddy Park (see Side Dishes for details). And who's been to a music festival that didn't have several meals-on-wheels to choose from?
Trucks come and go throughout the season — a major perk of their mobility. Some serve as business incubators — noted restaurants including Winooski's Misery Loves Co. and Waitsfield's late, great Phantom got their starts in movable kitchens. In Essex Junction, Chris Simard recently rolled his Lazy Farmer truck business into Pork & Pickles BBQ, which will open in the coming weeks.
The fleeting availability of food trucks is part of the fun: They impart a sense of living in the moment. And, while each mobile eatery offers a taste of its owner's unique food history, the collective roster provides a snapshot of local culinary culture.
What's this season's flavor profile? Seven Days hit the road last week to sample seven of 2016's favorite, and up-and-coming, trucks.
ArtsRiot Food Truck
ArtsRiot, Burlington Truck Stop and Burton, Burlington; Winooski Truck Stop. artsriot.com
Suzanne Podhaizer
Korean pork-belly gyro
Given that it hosts the hopping Burlington Truck Stop, it's only logical that ArtsRiot should have its very own food truck. Chef George Lambertson promises it will be ready by next week, complete with an "unbelievable" paint job by the "guys at Anthill Collective," he said.
Asked about the truck's theme, Lambertson — a Burlington native with a gift for wild flavor pairings — texted a response: "CHEESEBURGERS & CHINESEFOOD." He then wrote, "You prolly can't reply cuz your head just exploded off your neck."
The 400 Burger — gooey with "'Merican" cheese and topped with pickle chips and shredded lettuce — is an ArtsRiot classic, but when Lambertson suggested that other dishes will be Chinese, it was partly for the alliteration. And partly because he cooked for a stint at Burlington's A Single Pebble.
In fact, Lambertson and Jean-Luc Matecat will be making dishes that combine local ingredients, such as radishes, cucumbers and tomatoes from Pitchfork and Half Pint farms, with a host of Asian influences.
There will be a green salad with sweet soy dressing, dumplings, cold noodle dishes and fried rice. "We love fried rice with some interesting proteins in there," Lambertson explained. "Crab fried rice. Not your standard shrimp or chicken."
The chef is also excited about putting a twist on a Mexican dish: "We're gonna be bangin' on the street corn," he said. The ArtsRiot version will be smeared with kimchi butter, sprinkled with chile powder and drizzled with a tofu-mint emulsion "that we've been fucking around with."
At last Friday's Burlington Truck Stop, Lambertson was working the crowd while Matecat manned a grill. Alongside the burger, they offered a messy, spicy and enticing dish of barbecued ribs with a side of pickles. And then there was the Korean gyro: 16-hour pork belly with housemade kimchi, cucumber salad and spicy yogurt. It was weirdly perfect fusion street food.
Of the truck, Lambertson said: "I think that the concept itself is thrilling." When he tells people about it, he noted, "Their eyes light up, or they giggle. That's what a food truck is all about. It's like an ice cream truck. [Its purpose] is to get you all excited."
— S.P.
Jam Bakery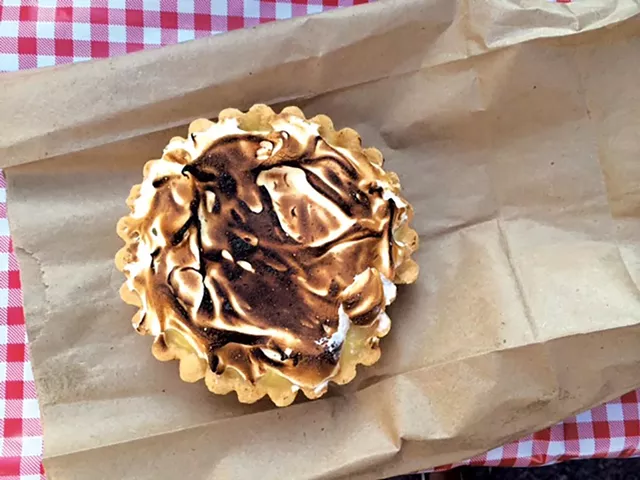 Julia Clancy
Rhubarb tart from Jam Bakery
At one corner of the Burlington Truck Stop last Friday, the side doors of a '97 Ford Econoline were flung open to display an assortment of just-made treats. A sign above the door frame read "Jam Bakery" in large copper letters, and just inside the van a small countertop was stocked: A basket held coconut macaroons filled with chocolate chips and pastry cream. There were peanut butter cookies, peanut butter mousse bars and rhubarb tarts with toasted meringue. Slabs of sweet-potato bread were stacked next to banana bread and dark chocolate brownies. And there was an apple cake so custardy and abundant with fruit that I wondered how the slice was sturdy enough to hold by its browned edges and eat by hand.
A glass pastry case lined with potted flowers displayed more goods: homemade raspberry-rose Pop-Tarts, maple- walnut "shorties" filled with lemon cream, chocolate chip cookies, blondies flecked with white chocolate and cranberries. A plate of cookies aptly named Chocked Full promised oats, raisins, coconut, chocolate, peanut butter and honey-roasted peanuts.
I'm usually more inclined to finish a meal with cheese than a slice of cake, so Jam Bakery presented a new-to-me conundrum: What to do when everything in a sumptuous pastry display looks equally tempting? Baker-owner Shiel Worcester helped solve my "problem" by loading up a couple of paper parcels with her homemade treats.
Worcester studied baking and pastry at the New England Culinary Institute in Montpelier. The Vermonter gained pre-Jam experience as a baker at Rainbow Sweets in Marshfield before joining the pastry team at well-known spots such as Milk Bar in New York City and Hen of the Wood in Burlington. Yet Worcester always knew she wanted to open her own baking business.
She began formulating Jam Bakery three years ago from the cramped kitchen of her Burlington apartment, where she'd spend her free time turning out pies and cookies for eager friends and, occasionally, a neighboring coffee shop. Although a brick-and-mortar spot wasn't financially feasible, Worcester knew exactly what she wanted in a bakery and found a food truck setup the best way to launch.
"Jam Bakery started as a Kickstarter in 2014," she said. "I raised $6,800 by the end of the year — enough to get equipment, starting ingredients, all of the needed licenses and, of course, the van." Jam Bakery joined the 2015 lineup at the Burlington Truck Stop, and now that Econoline is back for its second season.
Since starting her mobile enterprise, Worcester has relished her creative freedom as its owner. She enjoys using Vermont ingredients such as Maple Wind Farm eggs, King Arthur Flour, local maple syrup and honey. She sources seasonal fruits from surrounding farms and her parents' extensive home gardens. Worcester said she called upon talented friends to fill the van with artwork, and she scours thrift shops for dishes; her mother sewed the van's curtains.
Along with a delectable range of baked goods, Jam Bakery displays the crux of Worcester's baking passion: the creativity and collaboration behind the process.
— J.C.
Back Road BBQ
1806 Ducharme Road, Cabot; Hill Farmstead Brewery, Greensboro; Black Bear Biodiesel, Plainfield; elsewhere in Morrisville, Stowe and Hardwick. 540-0406
Courtesy Of Back Road Bbq
Frickles at Back Road BBQ
Most food trucks start with a chef and a dish he or she is excited about making, such as ramen or tacos. Back Road BBQ started with a farm. Ben Nottermann was dreaming of ways to turn some of the pigs from Snug Valley Farm— which he co-owns with his wife and parents — into smoky, delicious pulled pork.
The answer came in the form of a barbecue "dream team," as Nottermann calls it, which includes chefs Brock Miller, Isaac Gresser and Charlie Lee, all of whom worked at Hardwick's A Vermont Place until its demise. Just a few weeks after a truck-less soft opening at Miller's home in Cabot, the 'cue crew purchased a food trailer and got it up and running. According to Gresser, the spacious kitchen is even nicer than the ones he cooked in at Michelin-starred restaurants.
For much of the summer, Back Road BBQ will pop up at Hill Farmstead Brewery, among other places in central and northern Vermont. Wherever they roam, the chefs will serve pig that has been smoked for 22 to 28 hours, depending on its size. Diners can get the pork solo, but even better are platters that come with decadent sides, such as buttery smoked mac and cheese, or collard greens with bacon. The Piggie Smalls is the most petite offering, with just one side, while the Notorious P.I.G. comes with three.
Later this summer, Miller's garden will provide the truck's veggies. Next year, Notterman noted, they'll have hoop houses up and running in the spring, so Back Road can be a legit farm-to-fork food truck all the way.
With a pair of smoker boxes that crank out maple and fruitwood fumes, the crew goes through two to four pigs per week; by the height of the summer season they expect to use between six and eight. The younger chefs stay up with the smoker doing "power overnights," as Nottermann called them, feeding the coals every 40 minutes and prepping other ingredients in between.
Their audience so far is "pretty much everybody." Nottermann has noticed that their barbecue appeals to townies and tourists alike. "The response to the food has been incredible," he said.
After their first visits to Hill Farmstead, somebody posted about their fare on a beer-rating website. In person, "People have told us that this pairs well with the Susan, and that pairs well with the Edward," Nottermann said, referring to a couple of the brewery's beers. "This is cool. This means we're doing well."
— S.P.
Caja Madera and Caja Dos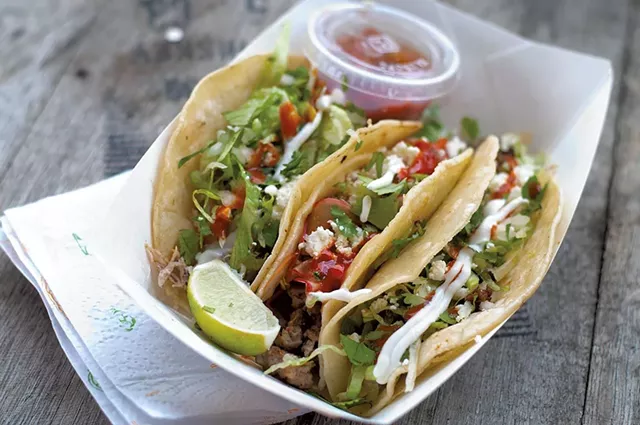 Hannah Palmer Egan
Tacos from Caja Madera and Caja Dos
Bryan Palilonis used to own a pizzeria and food truck in West Palm Beach, Fla. Then a neighboring truck owner told him to "get off her turf" — and threatened consequences if he didn't. So, when a friend offered him work at the Basin Harbor Club in Vergennes, the cook packed up and moved to Vermont.
Palilonis says he loved Basin Harbor but longed to do his own thing. So he bought a 1984 camper, sheathed it in wood and started serving roadside on Route 15 in Hardwick ... in January. "It was 20 degrees out, and people were stopping for tacos," Palilonis said, noting that locals seemed to crave something new and different.
Earlier this month, the newcomer debuted Caja Dos ("Box Two"). With a spray-paint sunset by artist Brian Clark of Burlington's Anthill Collective, the truck is hard to miss. It's still absent identifying lettering or branding, though. Palilonis said that allows Dos to switch up the menu; Vermont's circuit already includes several well-loved taco trucks, and event organizers hesitate to duplicate cuisines.
"If someone has Mexican [food] at a festival already, [Caja Dos can serve] samosas or whatever else," Palilonis said.
But last week, he was slinging tacos at Hill Farmstead Brewery in Greensboro, where he has an intermittent six-week summer residency. The fare was simple: Soft corn tortillas cradled rich, stringy pulled pork, crunchy iceberg lettuce and crumbled queso blanco. Another choice featured housemade chorizo, which hummed with cumin and heat from three different chiles. The day's special offered musky banh mi beef with crunchy sprouts, served spicy.
Caja Madera's Hardwick menu offers quesadillas, salads and soups, in addition to the tortilla folds. But Palilonis' overarching message seems simple, tested and true: Eat tacos, be happy.
— H.P.E.
Thai@Home
812 Exchange Street and Middlebury Farmers Market, Middlebury. thaiathomevt.com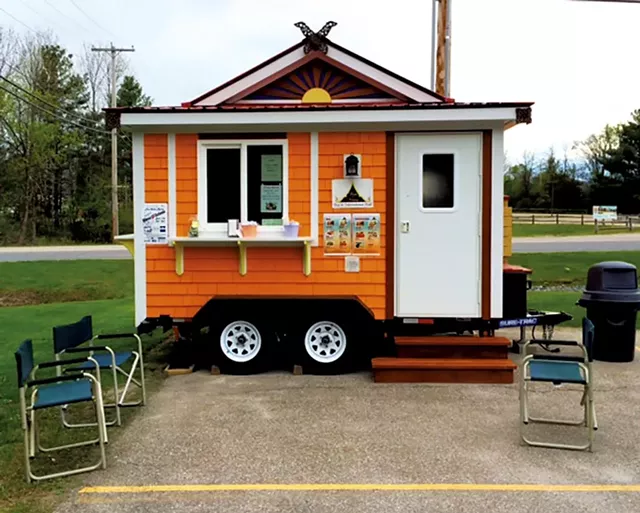 Julia Clancy
Thai@Home
Outside the Vermont Sun fitness center in Middlebury, a tiny orange house on four wheels sits in a corner parking spot. To passersby on Exchange Street, a yellow sign framed with wood discloses two words: "Thai Food." Behind the door is a lunch and dinner spot called Thai@Home. There, chef Wanna Phafuk, known as "Hasna" to friends and family, stands in her 2-by-2-foot galley kitchen Monday through Friday.
I visited Thai@Home last week on a rainy Thursday evening. Under the shelter of the house's awning, I watched through the front window as Phafuk sliced carrots and mixed dough for sa la pao, a steamed wheat bun stuffed with vegetables, sweet red-bean paste or minced pork with hard-cooked eggs. "I don't know how I started cooking," she said. "I always cooked. I grew up with my mom, and she always loved cooking."
In 2010, Phafuk moved more than 8,000 miles from her home in Bangkok to Middlebury, where her husband, builder John Filan, was born and raised. Nostalgic for the cuisine of Thailand, Phafuk took to the kitchen. Before long, she was selling her homemade meals to hungry regulars at the Middlebury Farmers Market on Saturdays. This summer marks Phafuk's sixth year at the market, now with the little orange house that Filan built for her last year.
The plan for a food truck began with one assertion, in Phafuk's words: "I enjoy cooking, but I don't want a restaurant. That's too much."
But she liked the idea of a food truck. After a season parked in Frog Hollow Alley near Middlebury's Main Street, Thai@Home is entering its second year of business on Exchange Street. Notable neighbors include Stonecutter Spirits, Woodchuck Hard Cider, Vermont Coffee Company and Otter Creek Brewing.
In the summer, Phafuk uses seasonal ingredients from her at-home greenhouse and large organic garden. She sources rarer staples of the Thai kitchen from Asian markets in Burlington. Phafuk's modest menu includes expected fare such as pad Thai and a take on Japanese gyoza, but her knockout dishes include two curries, one red and one green. Bright in taste and color, and with a perfectly cooked bed of white rice, layers of flavor jump from sweet coconut milk to the complex and slow-building heat of curry paste. The curries are balanced with a savory thread of peanut and garlic and capped with a hint of acidity — perhaps lime.
Phafuk's "dimsum" — a wheat wrapper filled with peas, corn, carrots and marinated minced pork — is delicate and tender. Her dessert sticky rice, with sweet Thai black rice, coconut milk, ripe mango and a scattering of sesame seeds, is made more addictive with a slight hint of salt.
From a kitchen in Bangkok to a little orange house on Exchange Street, Thai@Home's flavorful food is a remarkable bridge between two homes half a world apart.
— J.C.
Lesnikoski-Naples Fish Truck
ArtsRiot, Burlington; Boyden Valley Winery & Spirits, Cambridge.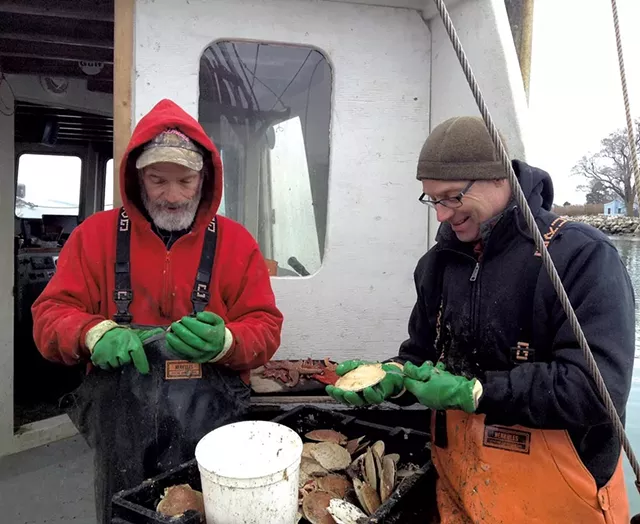 courtesy of BOB LESNIKOSKI
Mike Anderson and Bob Lesnikoski shucking scallops
Bob Lesnikoski is best known for growing cranberries at Vermont Cranberry in East Fairfield. But in the off season, he trolls the sea on the F/V Rimrack, a fishing boat owned by Mike and Padi Anderson of Rye, N.H. Lesnikoski brings scallops and squid back to Vermont, where he processes and sells the seafood at local markets.
Lesnikoski shares his on-farm fish storage and processing facilities with Starbird Fish owner Tony Naples. Last summer, they partnered on a mobile seafood stand and spent many Fridays slinging lobster, scallop and squid rolls at ArtsRiot's Burlington Truck Stop.
This winter, Lesnikoski purchased a Tastee Freez truck on eBay and trailered it here from Montana. Though it needed some work, all of the truck's original appliances, including a flattop grill, a fryolator, a milkshake blender and creemee machine, are functional.
courtesy of BOB LESNIKOSKI
Cheddar-ale scallops
But soft-serve circa 1962 was different from today's creemees, so Lesnikoski is working on formulating a local milk blend that will work on the old machine. "It may be more like gelato," the fisherman said.
He and Naples are planning a June 17 debut at ArtsRiot, as well as events at Boyden Valley Winery & Spirits in Cambridge and summer festivals.
Reprising last summer's seafood stand, savory items will include rolls brimming with lobster prepared as in Maine (with mayo) or Connecticut (with hot butter), along with scallop rolls and squid banh mi. New items this year include sizzling scallops grilled on the half shell with cheddar and ale, and fried calamari. And, since all of Starbird's fish is sushi-grade, the truck also will offer salmon poke and bento boxes.
"The concept is [to serve] only fish that we have caught," Lesnikoski said, "and John Brawley's [Sweet Sound] oysters [from Duxbury, Mass.]" He hopes to serve responsibly harvested wild-foraged foods, too.
Lesnikoski admitted that the truck is yet unnamed. "But," he said, "I may just call it 'Wild.'"
— H.P.E.
Farmers & Foragers
Ethan De Seife
Spring rolls from Farmers & Foragers
Solomon Bayer-Pacht and Lauren Johnson, co-owners of Burlington's Farmers & Foragers food truck, surely didn't intend to be so literal about taking part in 2016's inaugural Burlington Truck Stop at ArtsRiot last Friday. But their kitchen-on-wheels apparently did: The truck stopped. Working, that is.
"We were all loaded up, ready to go," said Bayer-Pacht. "We hopped in our truck and pulled out of our driveway. All of a sudden — I had driven about 100, 200 yards — the engine died. I was stopped in the middle of the street."
Lacking a vehicle with propane hookups, or any kitchen space whatsoever, Farmers & Foragers had to forgo selling all of the hot food on its Truck Stop menu. Alas, none of their perch po'boys or truffle fries could be consumed that day. Bayer-Pacht and Johnson were relegated to offering only a couple of chilled items from a distinctly un-truck-like table.
Though frustrated, F&F's owners handled the setback with good-natured grace. In a generous what-the-hell gesture, the two treated patrons to complimentary, locally foraged pickled ramps and fiddleheads.
Though the menu was smaller than anticipated, the food was fresh and flavorful. My wife remarked that the spring rolls — packed with fresh, raw, organic cucumbers, carrots, beets, mango, mint and cilantro — tasted like "a bite of summer." The spicy peanut dipping sauce was good enough to eat by itself. So I did.
The menu's only other item exploded with the fresh, green flavors of spring. I don't usually go in for smoked fish, but Farmers & Foragers' smoked-trout crostini was all springy-zingy, redolent with avocado, endive, shallot and lemon.
The food was delicious but not quite substantial enough to earn full dinner status, so we grabbed a yummy banh mi from the Hindquarter. Had it been possible, though, we would have sampled anything — and possibly everything — from Farmers & Foragers' menu. Let's hope that Bayer-Pacht and Johnson have a good mechanic.
— E.D.S.