Jeb Wallace-Brodeur
Vermont rabbit gnocchi with butternut squash and chèvre in CBD-infused beurre fondue
Call me old-fashioned, but I thought the point of hemp was to get high, if only in a last-ditch, ditch-weed kind of way. But I was set straight — and remained that way through five courses — at the recent Hemp + Hops Dinner at Zenbarn in Waterbury Center.
Hemp may not blow your mind, but it served as a buzzy centerpiece at the $75 prix fixe dinner. The multicourse meal paired food from the Zenbarn kitchen with beer from Zero Gravity Craft Brewery in Burlington. The twist was this: Each course contained a dose of cannabidiol (CBD), a chemical compound derived from cannabis — in this case, the hemp strain.
Organizers, including the Vermont Cannabis Association, described it as the first hemp-themed restaurant dinner served in Vermont; two seatings fed a total of 80 people. Several diners at the 7 p.m. dinner, which I attended, noted that it was their first hemp-themed dinner anywhere — in a restaurant or at home.
"I've never even heard of doing this," said Paul Sayler, brewmaster at Zero Gravity. "Vermont is so radical. We're very lucky to be here."
Two lush and hardy hemp plants were on display under a set of grow lights in the bar, where people mingled before dinner. A sign pointing upstairs advertised massages for $1 a minute. I considered dropping $10 on a quickie before supper but opted instead to educate myself at the pop-up hemp bazaar on the other side of the room.
Things were for sale that I hadn't known existed, such as a "turkey bag" to disguise the smell of ... weed? hemp? And there was a stainless steel storage container with handy clips and a pad-like insert that will dry your buds if they're too wet and moisten them if they're too dry.
I popped into my mouth a chocolate truffle laced with eight milligrams of CBD, and I received a crash course in CBD-ism.
"Vitamin C is to an orange as CBD is to hemp," said Kelsy Raap, general manager of Burlington's Green State Gardener store, which sells supplies to medical marijuana growers and registered hemp growers. Before moving on to the medical marijuana table, I paid $10 for a 10-pack of CBD-infused gummy bears.
At my next stop, I talked with a young man named Brandon Allen, office manager of Canna Care Docs of Vermont, who was fielding questions from people interested in medical marijuana. I asked him why I should pay extra for a piece of candy infused with CBD.
"Two CBD gummy bears is like taking an Advil," he said, asserting that the compound will ease the pain of body aches. "But it feels a lot better."
I learned a new phrase from Allen: "body high." CBD will give one, but it "will take away the head part" of getting stoned, he said.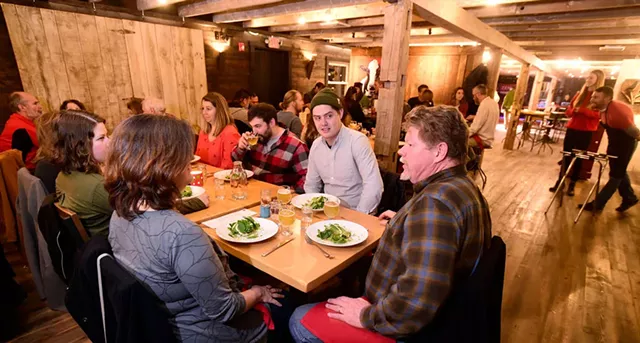 Jeb Wallace-Brodeur
Hemp + Hops Dinner at Zenbarn
I headed to the dining room to find a seat for supper and joined a table whose occupants included two 21-year-old women who are college students and servers at RíRá the Irish Local & Whiskey Room in Burlington, a married couple in their sixties, and a marketer and designer who is expanding her niche to include cannabis-related products and packaging.
"I think it's the fastest-growing profession in America," Leila Gardner, a student at the Community College of Vermont, observed of cannabis-connected employment. She's interested in catering with a specialty in cooking with cannabis.
As we sipped the first beer in the lineup — a sour ale called Bernie Weisse that Zero Gravity originally brewed to mark Sen. Bernie Sanders' (I-Vt.) presidential run — Raap of Green State Gardener talked up the healing powers of CBD and touted a "grow-your-own health revolution."
Among the myriad benefits of cannabinoids, she said, are anti-inflammatory, antispasmodic, antidepressant and antianxiety properties. Perhaps most relevant to the event at Zenbarn was the trait Raap mentioned in conclusion: "CBD is a fabulous mitigator of hangovers, so enjoy your beer!"
Jeb Wallace-Brodeur
Chef Mike Giffune and staff
Apart from the beer (which does not take away the head part of a high) and food that wowed us, one of the meal's enjoyable and intriguing aspects was trying to taste and understand how chef Mike Giffune had used CBD in his preparations. At our table, dinner mates who shared that interest made fast friends.
This curiosity had drawn many of my dining companions to Zenbarn, a restaurant, bar, music venue, and yoga and wellness studio that opened a year ago. The December 10 event was Zenbarn's first beer dinner, and, in the words of Sayler, "the CBD part makes it that much more interesting and richer."
I sat across the table from Randy Kruger, 61, who said he has a green thumb and enjoys growing plants and landscaping at his home in Colchester. He's interested in finding out more about hemp, he added, especially in "a world that's full of anxiety, where people can't chill out anymore.
"Rather than be close-minded about things," Kruger continued, "maybe it's better to be open-minded and learn."
Sarah Smith, 21, a University of Vermont student, was succinct in her enthusiasm: "I turned down nachos for this!"
The first course of Giffune's dinner was baby kale salad with roasted sunchoke purée and CBD-honey vinaigrette. We ate it with the promise of more to come, including rabbit gnocchi with butternut squash and chèvre in CBD-infused beurre fondue. Later, we cheered the steak frites with hempy butter on top.
Our table wanted to meet the man behind the meal, so Giffune made a brief appearance before the luscious chocolate pot de crème was presented with a pretzel stick for easy dipping.
"Nice job!" Kruger told him.
I took the opportunity to grill Giffune about how much CBD the entire spread contained, and he said he aimed for 30 milligrams per person over the course of the meal.
"I don't know how accurate I was," Giffune said. "But I sort of erred on the side of decadence."
A few days after the Hemp + Hops Dinner, I called Giffune to ask him about cooking the meal. The 35-year-old chef, a graduate of the French Culinary Institute (now the International Culinary Center) in New York City, has lived in Vermont for four years and cooked at the Burlington Country Club and Stowe Mountain Lodge.
In September, Giffune started at Zenbarn as sous chef, then became executive chef on November 1. He was into the idea of pioneering a hemp meal, he said — his first experience cooking a multicourse savory dinner with CBD.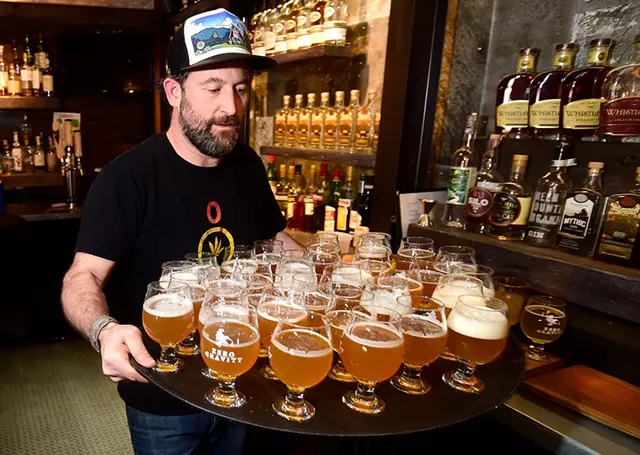 Jeb Wallace-Brodeur
Ari Fishman delivering a tray of Zero Gravity beer
The herb is piney and pungent, Giffune said, and he tried to ensure that it wasn't an overwhelming component of each dish. He likened it to cooking with sage or rosemary, strong herbs that can leave a sticky resin on your hands.
"One of the bigger challenges was to try to make CBD a centerpiece," he said, "but not overpower the flavor of the meal."
Giffune used CBD in several ways in the meal, including in safflower oil that he drizzled on parsnip soup and in cream for the rabbit and dessert. Before infusing the cream, Giffune heated hemp buds to about 150 degrees in the oven to activate the chemical compound in CBD (on the same principle as smoking a joint). This process is called decarbing, he said. Then he steeped the buds in cream for a few hours. When he'd strained out the plant material, the cream was ready to be used in his cooking.
The meal was a great way to showcase CBD in a more mainstream setting, Giffune said, adding that he thinks CBD has medicinal value "even if it's not proven by the CDC or the FDA," referring to the Centers for Disease Control and Prevention and the U.S. Food & Drug Administration.
"Even if everybody's not going to go make a six-course dinner with CBD, it provides sort of a stage to let people know that it's actually a thing," Giffune went on. "It definitely has real-world benefits."
He added: "I don't think anyone walked away from the meal stoned."