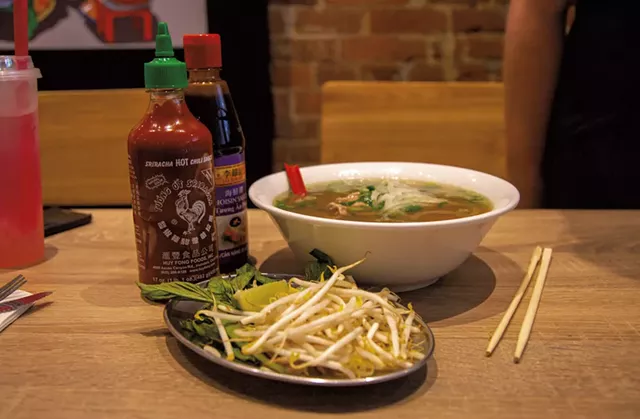 Jordan Barry
Pho tái at Pho Son
My grandmother always said, "Have a hot cup of tea, dear; it will cool you down." The same thinking applies to a steaming bowl of pho on a hot summer day, right? That's what I was hoping as I sat down at air-conditioned Pho Son on a humid 85-degree day last week.
Burlington's newest Vietnamese restaurant, at 213 College Street, started serving its take on pho and other street-food dishes on June 6. It's the first local restaurant for Son Le and his wife, Jennie Yee, but not their first business; customers familiar with their nail salon, Jennie Nail & Spa in CityPlace Burlington, will notice similar red accents in the restaurant's décor.
Le, 45, is no stranger to the restaurant business: He was a master sushi chef and restaurant owner in Montréal before moving to Burlington to be with Yee 10 years ago. "I didn't open a sushi restaurant when I moved because there's not a big market for sushi here," said Le.
But, after a decade of owning a nail salon downtown, Le's network led him back to the kitchen. "I got to know a lot of people, including Yves Bradley of Pomerleau Real Estate," Le said. "He was always looking for a location for me." When the former Bueno y Sano space became available, Bradley connected Le with its owner.
The location and space were too good to pass up, and Le decided to open a restaurant that focused on the food he and his family eat every day. "I was in the restaurant business for 25 years, but never Vietnamese food," he said. "But I'm Vietnamese, and I cook this food at home anyway, so you could say I'm a Vietnamese chef."
Le used his experience, along with recipes from his sister and mother, to create a menu with a wide variety of pho, wok stir-fries, bánh mì and other traditional Vietnamese specialties. The décor nods to Vermont with a rustic barn-wood wall, and to Le's past as a sushi chef with a chef's counter overlooking the open kitchen.
Le developed very high standards through his sushi training and has carried them over into his new venture. Comparing the two cuisines, though, he points out a big difference in consumer expectations. "Vietnamese food is cheap, but it's very complex," he said. "Sushi is complex, too, but it's expensive."
Jordan Barry
Pho Son on College Street
The price that customers are willing to pay for a bowl of pho doesn't reflect the work that goes into it — hours on hours of boiling the broth and building flavors, preparing ingredients, and timing everything perfectly so that it comes together the second the finished bowl hits the table.
"The soup has to be hot. The bowl has to be hot. The medium-rare beef has to be medium rare. People recognize those things, and it's only 12 bucks," said Le.
When my bowl of pho tái arrived, "hot" was an understatement. Steam billowed off the broth, carrying rich aromas of beef and star anise. The beef was thinly sliced, and I grabbed a piece with my chopsticks to taste it before the broth had a chance to overcook it. It was a perfect medium rare, as was my tongue after coming into contact with the piping broth.
Giving myself a second to recover, I turned to the accompaniments. My server returned with a plate full of crunchy bean sprouts, leafy Thai basil and lime wedges and pointed me to the hoisin and Sriracha on the table. According to both the server and a paragraph printed on the menu, the addition of these herbs and sauces is an essential part of eating pho.
I love a good interactive meal, and the instructions were all the encouragement I needed to play with different flavor and texture combinations. The large bowls leave lots of room for experimenting, and even the generous portion of rice noodles at the bottom can't possibly soak up the abundant broth.
The menu at Pho Son is approachable, whether you're familiar with Vietnamese cuisine or trying it for the first time. Le and his staff are welcoming and quick to offer suggestions. He has noticed that most Vermonters are already familiar with Vietnamese cuisine. "Pho is not like McDonald's, but everybody knows what it is," he said. "But if they're not scared of anything, I suggest pho gà — traditional 'walking chicken' with chicken liver, gizzard and heart."
It may not be fast food, but Le frames the menu — and the service model — as "street food," and he wants to keep prices low to reflect the casual, approachable origins of these dishes in Vietnam. "I don't want it to be fancy," he said. "At the price I'm selling the food, you can come back three times a week."
Starters range from $4 to $8, pho from $11 to $15, and chargrilled meats served with rice or vermicelli from $12 to $16.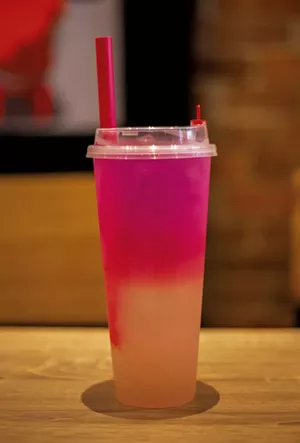 Jordan Barry
Bubble tea at Pho Son
On a separate visit to Pho Son, I started my meal with bò lá lôt (seasoned beef wrapped in betel leaves) and goi cuon (shrimp and pork summer rolls). Each starter had plenty to share, and I'm tempted to go back and make a whole meal from the starter menu — or from the specialty section, which offers larger portions and combinations of the starter dishes. A handful of vegetarian and vegan options appear on the menu, but the emphasis is on traditional preparations, and many of the sauces and stocks contain fish sauce.
The bánh mì, available with homemade pork sausage (bánh mì thit), grilled chicken (bánh mì gà) or grilled steak (bánh mì bo), are a great idea for a takeout lunch. Pho Son has an easy-to-use online ordering system, and the flavor-packed sandwiches are just $7 or $8.
The restaurant also has a range of bubble teas, including both milk tea and tea juice (without dairy). I went for the Galaxy Litchi and enjoyed every pop as litchi pearls flew through the wide straw into my mouth.
The bright pink of the bubble tea and the vibrancy of the aromas and flavors filling the restaurant had my senses buzzing. As I paid my bill, the mural on the wall finally caught my eye. A custom piece designed by Cuong Huynh, a Vietnamese artist from San Diego, the mural depicts the essence of Pho Son. It's a street scene — titled "Vermont Street," to be exact — with people eating in small groups, enjoying the restaurant's dishes. "Everybody has their eyes closed, except four people," said Le. "That's me, my wife and my two kids."
If the first month of business is any indication, Le is bringing that scene to life. Pho Son is open for lunch and dinner seven days a week, and Le's first chance to shut his eyes was when the restaurant was closed on July 4.
"I don't want to be famous," said Le. "My focus is really good quality food, all the time."