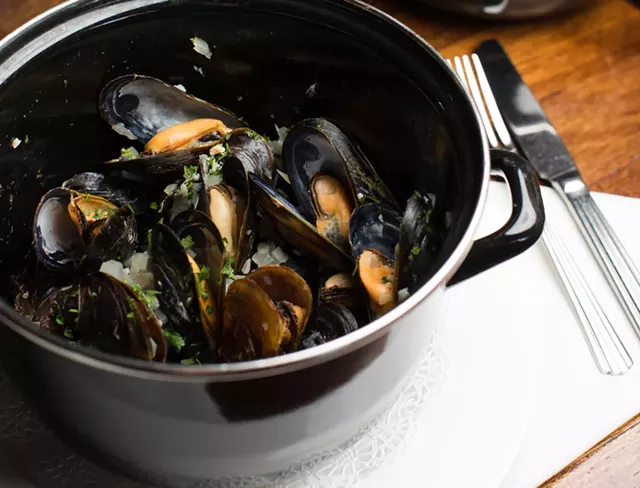 Brent Harrewyn
Mussels special at Bistro de Margot
The white tablecloths are gone from the bar area at Burlington's Bistro de Margot, but the service remains first-rate and full range. I was on the receiving end of such service the other night at the bar, where I had a dish I couldn't eat fast enough, and a lesson on how to eat it. Each of these delights came courtesy of a single source: Hervé Mahé, chef-owner of the French restaurant on College Street.
The meal was a pile of steamed mussels. They were cooked with white wine, diced onion and chopped garlic, and served in the big pot in which Mahé had prepared them. The French way to eat mussels, he told me, is to use the empty shell of a mollusk to pluck each succulent mussel from its briny trap and deliver it to my mouth.
Wow — a new way to eat an old favorite!
"I love mussels," Mahé said. "Yes, indeed."
Mussels at the Bistro de Margot bar belong to a special that Mahé introduced this month. For $20, diners can get an appetizer and a glass of wine, selecting from among six apps and three wines — red, white or rosé. If you typically prefer to eat from the small-plate section of a menu, this special is an excellent addition.
"I wanted to do something that people will talk about," Mahé said. The food-wine combo and casual setting, he hopes, will show people that "we are a cool, low-key place."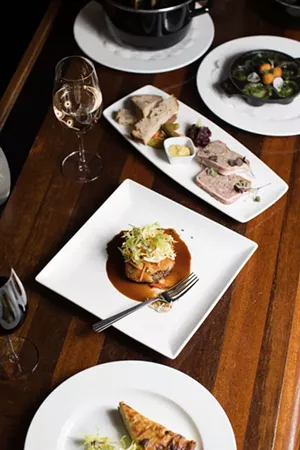 Brent Harrewyn
Special menu offerings
The new menu is designed in part to attract diners in their twenties or thirties to a less-formal setting than the bistro's main dining room, the chef explained. It's also an option for those who want a quick bite before a show or who aren't interested in a "full-on dinner," he added.
I arrived solo on a Friday evening and was greeted by the bartender's prophetic words: "Your day's about to get a lot better."
A blackboard listed the appetizers from which I could choose, along with the three wine choices — each of them poured from a box. On the food side of the ledger was snails, onion tart, country terrine, oxtail crisp, Vermont cheese plate, and mussels. (That's the translation; the prominent listing at Bistro de Margot is in French.)
I considered several options before giving in to the temptation of mussels. (I could eat steamed mussels eight days a week.) I paired the shellfish with a glass of red wine from Burgundy, a 50-50 blend of Gamay and Pinot noir grapes. Don't let the box pour fool you — my glass of red was fine and full. And I found the box a fun way to get wine in a French bistro.
The mussels arrived from the kitchen in a flash. Along with them came the chef, who took a few minutes from his work behind the line — he cooks five nights a week — to chat at the bar. A mussel fan since his boyhood in France, Mahé extolled their simple and classic preparation.
"The less work, the better," he said, noting that the mussels "pop," or open up, in about two minutes.
I nodded and went about the serious business of inhaling the steam rising from the pot and digging out the goods with my fingers (pardonnez-moi). I tried to keep up my end of the conversation even though the next shell was pretty much all I could think about.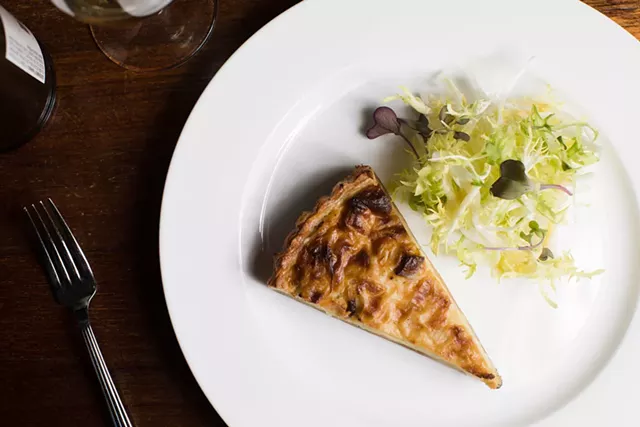 Brent Harrewyn
Onion tart
How rude, I thought, to indulge in this pleasure without sharing. "Do you want some?" I asked the maker of this magic. Mahé politely declined. Then he made my meal even better by revealing the empty-shell-as-scoop technique.
Using this method, I recovered a modicum of manners and slowed my pace, truly savoring each bite. Mahé returned to the kitchen, and I turned my full attention to the food. Soon, the empty shells outnumbered the mussels yet to be eaten. And before long, all that remained was rubble.
That's when it hit me: I'd only spent $20. And a mound of mussels, hefty as it looks in the big steamer pot, amounts to a light meal. It was time for appetizer No. 2. I ordered the onion tart for "dessert" and dug into a rich slice of the savory pie.
Mahé reappeared, as he is wont to do in his dining room. "I love that tart," he said. "It's super nice. Once you know how to do, it's easy." He proceeded to give me tips on baking and béchamel at the bar.
The chef said he'll mix up his apps menu with the changing seasons, such as adding a small tuna salad and an heirloom tomato salad with produce from Half Pint Farm in Burlington's Intervale.
"You get to try lots of stuff," Mahé said. "It's pretty cool."