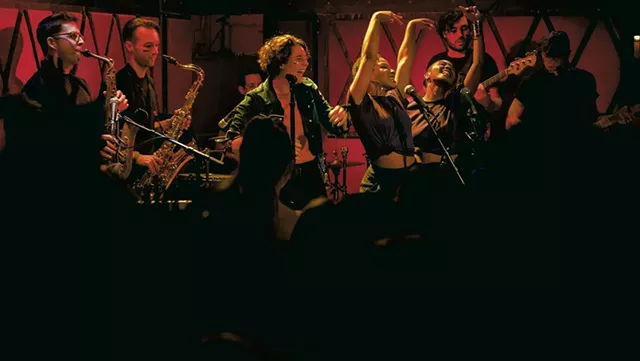 "Once you come to a show, you are one of the friends," Sammy Rae tells Seven Days by phone. Born Samantha Bowers, the 26-year-old singer-songwriter and multi-instrumentalist leads the eight-piece, New York City-based ensemble the Friends. On its website, the band offers a sentiment similar to that of its leader: "Our shows are safe spaces for you to do your thing. Raise your voice, wear your funky clothes and dance how you like. We don't have fans, we have Friends."
Active since 2016, the energetic crew plays an eclectic blend of styles, ranging from funk-inflected pop to plaintive folk-rock to raging rock and roll. Beyond its masterful genre-hopping, the group is known for rowdy performances that incorporate synchronized dance moves and crowd-surfing.
Though Sammy Rae has visited the Queen City for pleasure on several occasions, her band makes its Vermont debut on Wednesday, February 5, at the Higher Ground Showcase Lounge in South Burlington. Local garage rockers the Bubs, who share a similar philosophy with Sammy Rae & the Friends, add support.
Seven Days caught up with Sammy Rae by phone.
SEVEN DAYS: Judging from your live videos, it seems like there's a lot going on onstage during your shows. How did you first visualize what you wanted your act to be? Did it come together gradually or all at once?
SAMMY RAE: I always knew I wanted to front a band, and I knew I wanted it to be large. I was always obsessed with Bruce Springsteen and the E Street Band. He's got this enormous band, and it's high energy, and there are lots of horns, and everybody's singing. I wanted this high-energy wall of sound where everybody was their individual, unique character. And that's what we got. Fans know every band member's name, not just mine. That's really important to me.
SD: What's the tone of the New York City music scene? How does it vibe with your band's friendship-first mission?
SR: It's really busy. It's a gorgeous scene of really talented players from all over the country. My band is from all over. That's something I think is distinctly New York. They get that thing they can't get anywhere else. I'm glad to have found myself in the heart of that. The scene is much smaller and friendlier than you might expect, because everybody's played with everybody at some point. If I suddenly need a bassist, somebody knows a bassist, you know? In that way, you get close to a lot of different people. There's just this magic in New York where you're able to try anything.
SD: Your song "The Box" seems to ruminate on concepts of gender roles. What's it all about?
SR: I was writing this song about experiences I'd had with other females and males in my life in situations where we're asked to take care of each other. Like, when somebody's sick or having a tough day. When we care enough about our friends, we can kind of step out of those gender roles and be people for each other. I wanted to think about it as a social experiment. If you put this female and male in a box and they had nothing and had to take care of each other, how would they do it? Who would be the leader? It's an asking-questions song. The only way that we can progress society forward is to drop the notions of these gender roles.
SD: Have there been times in your music career when you've felt pressure to be a certain shade of your gender identity?
SR: I am one of those people who exists very comfortably in my masculinity and femininity. When you're female in the music industry — I see this a lot in New York — a lot of ladies who are more in the pop and R&B realms, it's like hyper-femininity. A lot of the show is the sexuality. There are elaborate outfits and wigs and nails and big makeup. And there's nothing wrong with that. That's the nature of their gender and their choice.
When I came into this, I was never really a hyper-feminine individual. Or hyper-masculine. The only way that I can really do this is if I just be myself. And that sounds a little cliché, but I don't have the energy to put on this entire costume and presentation. If it isn't authentic to who I am, there's no longevity.
Being somebody who identifies as queer, there's this pressure of, "Oh, my God. That's a queer bandleader. How queer are they? Are they queer enough? If this is part of what she claims as her identity, why is she wearing hoops and a crop top? Why doesn't she have a buzz cut?" I think something that's so freeing is that, really, how I present myself is entirely up to me, and there's no pressure to do anything. I just want to be myself, though that can change from day to day. You're always gonna get me, but you may not get the same me.
SD: For the music video for "The Box," how did you and choreographer Erin Weinberger translate your song into dance?
SR: I knew I wanted to dance — and I'd never danced before in my life. I told Erin I wanted to do something vulnerable. We took a couple of months. I essentially learned how to dance. The whole thing is kind of navigating different shades of female and male relationships. Not just romantic, not just platonic, but how we can interact with each other and what other people can bring out in that. I wanted to investigate how two very different sorts of female and male energies can all coexist and learn to move together.
SD: Your latest single, "Denim Jacket," is clearly about overcoming anxiety. Do you sing from experience?
SR: Yes, absolutely. I'm grateful that I don't live with generalized anxiety. I do have some compulsions in terms of tidiness. I need my room and things to be a certain way. I need all solids and no patterns, and things like that. Sometimes when I get into a social situation — and I've found this increase as I grow in visibility in New York — I don't want to be recognized. I just wanna hang out with my friends and not constantly be on my game.
But I've always felt this overwhelming pressure of what to be and who to talk to when you walk into a party. Social situations have been tough sometimes. Certain people need different things to overcome those anxieties and feel like their best selves. Some people need to stand next to their favorite person. Some people need to be drunk. Some people need to be in their favorite outfit.
My dad had given me a denim jacket from the early '80s, and I took it to college. It makes me feel really badass because it's got a bunch of pockets and it's super cool and super old. Whenever I walked into a party and I was wearing that, I always felt better.