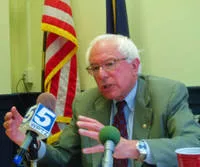 This one will be different. One can already feel it in the air and the wind and on the waves — particularly the airwaves — something that's positively inescapable now.
And that something is the kick in the stomach that passes for the "news" in 2007. The now-normal, expected daily newscast that begins with, "Another eight U.S. soldiers were killed in Iraq yesterday . . . 40 Shia [or Shiite] worshippers died in a suicide bombing" . . .
One cannot defeat madness by ignoring it. And finally, after five years-plus of President George W. Bush's Iraq madness and deceit, Americans are rising up and speaking out by the tens of thousands. They're determined, as shown at the polls last November and at Vermont town meetings this spring, to put an end to the war — before it puts an end to us.
"Your perception is exactly right," said Independent U.S. Sen. Bernie Sanders at a Tuesday presser in Burlington this week.
"I was over this weekend in Essex Junction at the Memorial Day Parade, in Middlebury and Vergennes yesterday [also parade-marching], and that is what people are talking about," said Sanders. "They want this war ended. They want a sensible approach and an effective approach to fighting terrorism, and we don't have it yet."
Ol' Bernardo, former eight-term congressman and four-term mayor of the People's Republic of Burlington in the 1980s, made those remarks about the war at a press conference he called to plug the "All Healthy Children Act." He'll introduce the bill in the Senate next week. It would provide health-care insurance for every American under 18!
Dream on, right? Maybe when Bernie's president?
Sanders had Marion Wright Edleman, director of the Children's Fund, on the TV "live via satellite" from his Washington, D.C., office.
The senator was upbeat and didn't appear to have planned a discussion of the Iraq War. However, "Mayor Sanders" and yours truly settled the question of who decides what questions are kosher at "press" conferences way back in the '80s: The press does.
Once we pulled back the Iraq scab the emotions in the room rose considerably.
"As one of the people who led the opposition to this war from the first place," said the Vermont Independent, "I think this war has been a horrendous disaster for so many reasons: the loss of life for our soldiers, the people in Iraq, and the people who come home wounded or with post-traumatic stress disorder."
"Want to talk about money?" he asked sarcastically.
There are "good estimates," Sanders said, that the eventual price tag for the Iraq war "will be $1 trillion." We're already close to $500 billion, "and God knows how much longer it goes on," added the senator.
"A couple months in Iraq vs. providing health insurance for every child in America?" he scoffed. "Give me a break!"
We asked Sanders what he had said to the regular Vermonters who stopped him at the Memorial Day marches to raise their "personal concerns, fears and opposition to the Bush war in Iraq.
"What I say to them is, we do not have the votes to override the president's veto [on the Democrats' war funding bill that had timetables for withdrawal]," said Sanders. "It takes 66 votes to override the veto," he pointed out. Democrats only have 50 votes at the moment.
"What I say to them is that many of us understand how frustrated and angry people are. And what I say to them is, we are doing everything we can to end this war as soon as we possibly can."
Sen. Sanders was asked what he thought of calls from a few Vermonters that Democratic Sen. Patrick Leahy and Rep. Peter Welch, who have voted against the Iraq war, "pull a Jim Jeffords" and leave their party for "Independent" status, the way GOP Jeezum Jim did in 2001.
With lines of frustration showing in his face, Vermont's political institution of the left suggested, "Instead of beating up on people like Welch and Leahy, who have voted consistently against the war, maybe people should start turning their attention to people who are voting for the war."
And on that front, Sanders gave a hopeful hint that there are signs of a political sea change ahead in America.
"I think a lot of Republicans who are going home this week to their districts are going to find exactly what I found," said Bernie. "And what they found were people saying to them, 'Hey, stop supporting this president on a very failed policy!'"
Sanders will not be up for reelection until 2012, but many Republicans will be. Including some in Maine and New Hampshire.
"I think some of those senators are getting increasingly nervous," said Sanders of Vermont. "The president was able to hold them and keep them in line, but I think many of these senators and House members are feeling increasingly uncomfortable."
As they damn well should, eh?
**************
Making History — Funny how historic occasions, even those expanding human rights to minorities, can make some political leaders shy.
That was the case, many suggest, when Democratic Gov. Howard Brush Dean III made history by signing Vermont's landmark civil-unions law. On April 26, 2000, after years of legal battling and months of intense legislative warfare, Ho-Ho signed into law the first-ever legislation that extended marriage rights to same-sex couples. That was back in the days before he was a household word in America.
But there are no photos of that historic moment. No video footage in the WCAX-TV News archives. That's because Ho-Ho signed the civil-unions bill in private, behind closed doors, with only close staff members present.
Dean said he did so because it had been such an emotionally intense and bitter battle and he didn't want to rub it in. He was just being sensitive.
Some think, however, that Gov. Dean was more concerned about his coming 2000 race for re-election and the impending political backlash to the legalization of marriage rights for homosexuals. Surely photos of the historic Dean bill-signing would be used by his Republican challenger, Ruth Dwyer, to fan the flames of that antigay backlash?
And then there was the little matter of a certain Vermont doctor/governor harboring presidential ambitions for 2004.
Damn right, there weren't going to be photos or film of the historic Vermont civil-unions signing!
And history, as we know, has a way of repeating itself. Take Gov. Jim Douglas' "secret" signing last week of our state's latest historic human-rights legislation. S.51 is "An Act That Prohibits Discrimination on the Basis of Gender Identity."
Vermont has once again led the way on the human-rights front by adding gender identity to "race, color, creed, sex, sexual orientation, national origin, age, religion or disability" as a factor that cannot be discriminated against.
Gov. Scissorhands signed S.51 into law last Tuesday. But there are no photos of this historic bill signing, either. Certainly, it wouldn't have been too inconvenient for our guv. After all, Douglas did have two other bill-signings on his public-appearance schedule that day.
"A public signing would have been the icing on the cake," said Kara DeLeonardis, executive director of R.U.1.2? in Burlington. However, Kara told "Inside Track," she was "thrilled" that Gov. Scissorhands "let the bill pass" and become law.
Asked about it the other day, Douglas told "Inside Track" he signs most bills "without going on the public schedule."
But is he "proud" of signing this one?
"Obviously, last year, I vetoed it on the recommendation of the Human Rights Commission, which is charged with enforcing it," replied Jimbo. "They didn't feel it was enforceable. So, over the last year I've met with members of the transgendered community, the Human Rights Commission has, and we've made changes that will make it work. Vermonters don't want to discriminate, but there is a lot of controversy over that."
Yes, indeed. In fact, our guv acknowledged he's been getting some heat from Vermont conservatives.
"There's some people who have expressed their opposition," said Douglas, "so I frankly didn't feel the need for a signing event."
Following in Howard Dean's footsteps, is he?
Douglas for President in 2008!
**************
Circ Follies! — The Age of the Automobile trudges on and, with it, the pleasantries of rush-hour traffic, drunk driving and moose hits! And, of course, the Chittenden County Cir- cumferential Highway. Well, at least the planning and legal battles over it.
"I can remember," said veteran Vermont journalist Candy Page, "when I was an editor at the Free Press — it must have been in the early 1980s — when Sen. Bob Stafford got the initial money to build the Circ Highway. And the way he got the money was to say, this was going to be a demonstration project on how you could quickly build a new highway by cutting through the red tape!"
Live and learn, eh?
No one doubts the Douglas administration wants to build the damn road. It's what IBM in Essex Junction and the Lake Champlain Chamber of Commerce, among others, have been dreaming about for years: an "essential" 15.8-mile loop-road that, they claim, will relieve congestion and promote "smart growth" — no matter what the studies say.
But those dreams were crushed three years ago when U.S. District Court Judge William Sessions ruled that the Circ Highway needed a new Environ- mental Impact Statement. The original EIS, produced back in 1986, was more than a little out of date, ruled Judge Billy.
The Vermont Agency of Transportation, now under the leadership of Gov. Jim Douglas' talented and successful campaign manager Neale Lunderville, is quietly rolling out the results of its latest court-ordered EIS. And while Gov. Scissorhands, who has already conducted a couple of unsuccessful ribbon-cuttings, still talks the pro-Circ talk, opponents suggest that may be just bluster.
Some opponents of the "highway to nowhere" say the administration doesn't presently have the money — approximately $80 million state share — to build the Circ. And they suggest another federal court battle with the tree-huggers may give Gov. Douglas a political out while endearing him to his base.
Hey, at least he's fighting for it, right?
Ms. Page was appearing on the "Vermont This Week" reporters' panel on Vermont Public Television last weekend. Candy, a local journalism institution, also shared her interesting impression of the big 16-day federal trial in Burlap that she had just covered. There on the fifth floor above Burlington's main post office, the U.S. auto industry launched its full-bore legal challenge to the progressive and environmentally conscious California carbon dioxide emissions standards, also adopted by the Green Mountain State.
"This was a 16-day trial that was full of technical testimony," said Page. "If I had to sum it up, I would say the auto industry made the case that they are technologically and financially incapable of producing a fleet of cars that would meet the California air-emissions standards."
The "only way" to reduce CO2 emissions from America's tailpipes, she noted, is to burn less fuel.
"It was a fascinating education in how Detroit works. There were engineering vice-presidents there explaining how long it takes Detroit to make a 5 percent improvement in fuel economy. Meeting the CO2 standards, Detroit argued, could take them 12 years!" Candy said.
"That was a little depressing, I think, for those of us who think of American industry as capable of anything," said the Freeps scribe.
"We don't often have a chance in Vermont to see big Washington and New York law firms put a full-court press in court, and they left the state's case somewhat battered," said Candy.
Of course, she noted, the auto industry always screams and yells that environmental upgrades ordered by Uncle Sam are tremendously difficult and too costly.
Remember seatbelts and catalytic converters?