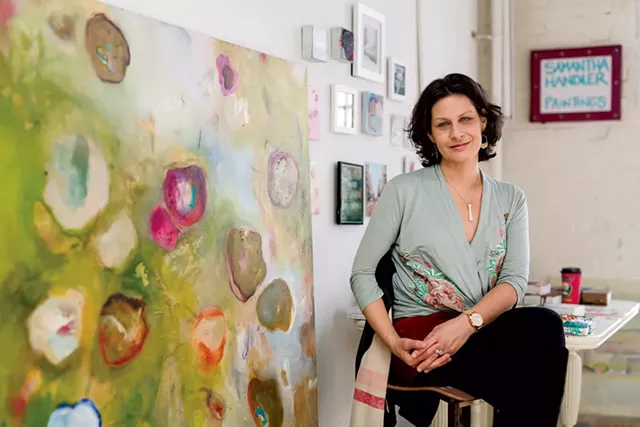 Oliver Parini
Samantha Handler
On the second day of 2015, Shelburne artist Samantha Handler began a sort of personal artistic renaissance.
She didn't recognize it as such at the time, Handler says. January 2 was the day her husband left her and her "whole life dumped out on the ground." She was forced to close the Open Arms Café, the Shelburne eatery the couple had been operating, and raise her two teenage daughters alone. Later that year, she was diagnosed with stage IV breast cancer, which had metastasized after five years in remission.
Amid that emotional devastation, Handler returned to her art. "Painting was there waiting for me," she says. "It was in [me], waiting to come out."
Courtesy Of Samantha Handler
Pottery by Samantha Handler
Handler, 43, now paints almost daily in the sunlit corner she rents in the Box Art Studio in Burlington. She creates primarily abstract work, pieces laden with her own emotions and suggestive of natural scenery. She is also a potter and a photographer. On the side, Handler holds down her "dream job" at Shelburne's O Bread Bakery, spending early mornings measuring flour and making dough.
A New York native, Handler studied at the Parsons School of Design in Manhattan, and in 2005 received her MFA from Vermont College [now Vermont College of Fine Arts]. She took a decade-long break to raise her daughters and run the café. Now, she's finding her niche as an artist, experimenting with form, shape and medium in an attempt to "express what is there beyond what I can see."
Courtesy Of Samantha Handler
Pottery by Samantha Handler
Handler creates work of all sizes — collections of tiny square paintings, photos, mugs and pots, long horizontal canvases. Sometimes, she hangs a blank canvas on her wall at home for days before she decides how best to fill it.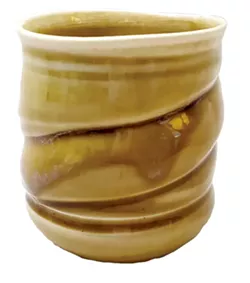 Courtesy Of Samantha Handler
Pottery by Samantha Handler
Then, she takes a brush to it in a flurry of activity, adding acrylic paint in soft strokes, accruing layers of paint that lend depth and texture to the piece. Handler has a penchant for blurred horizontal strokes and daubed circles that hint at her landscape photography — a sunset perhaps, or ripples on a pond.
What the work does not include is the certainty of sharp lines or angular edges. Handler says she's still working "to get closer to what I don't yet know about the world."
An exhibition of her work is on view through January 29 at the Shelburne restaurant Rustic Roots.
Seven Days spoke with Handler in her studio about her artwork, approach and the realities of living with stage IV cancer.
SEVEN DAYS: You mention up front in your bio that you are living with cancer. How does that inform the way you approach your art?
Courtesy Of Samantha Handler
Pottery by Samantha Handler
SAMANTHA HANDLER: It's a very interesting experience for me to walk in the world with cancer that I know is not going away. I used to feel like I really needed to know what I was doing [in my art]. Now, I feel that I'm excited to see what will come out, and I constantly engage with that, and I'm willing to follow whatever it does. I'm not afraid anymore of what I'm saying in the world. I found I don't have time to waste worrying about what people think.
It took everything changing for me, losing my marriage, losing my financial security, becoming a single mother, to kind of compress me. It distilled me down into What do I absolutely need to do right now? And this is what I need to do. I know it.
SD: What led you to abstract art?
Courtesy Of Samantha Handler
Pottery by Samantha Handler
SH: I don't think I could accomplish what I'm doing by trying to paint what already exists in the world. That wouldn't fulfill me. For me, it's more about colors and form and depth, all these technical components of the painting, which create very clear and sudden feelings.
When I'm standing at the lake, walking my dog or drinking coffee, I want to see beyond the cup, the barn or the stones in the water to what I can't see but I know is there. My paintings aren't intentionally abstract; I'm trying to find something that is still unknown to me.
SD: Do you ever worry or think about the possible disconnection between artist and audience?
Courtesy Of Samantha Handler
Pottery by Samantha Handler
SH: All the time. To be honest, I haven't figured it out. The closest I've come to figuring that out is to work three-dimensionally in clay. I feel so grateful when people respond and take home a cup, something they can hold in their hands and use in their life.
I'm not a writer, but it's almost like a poem would be in the world: It's a story that means something, and you don't always know quite what it means, and sometimes you have to live around it for a long time.
SD: You create in a variety of mediums. How do they complement each other to convey a message?
Courtesy Of Samantha Handler
Pottery by Samantha Handler
SH: I'm not limited to medium and size and shape. I really try to stay open to the ways I can express the questions I have. It's not like I have something to say and I try to say it. I try to get to the place where [my work] reflects back to me where I am in the world.
The photography helps me understand what I'm drawn to. And then the pottery is a great outlet for helping the form in my two-dimensional painting. I love curves, and that comes out when I paint.
I'm really changing and evolving faster [as an artist] than I might if I were just painting.
SD: How do you know when a piece is complete?
Courtesy Of Samantha Handler
Pottery by Samantha Handler
SH: I'm trying to express where I connect to the place I am. When it feels like it's accurate, somehow, I'm done.
The world is so crazy — cellphones and politics, and how am I going to pay the rent?, and everything going on in the world — to listen to just me takes a long time. I'll make marks that are like, what are you doing? until I get down to oh, there I am. It's an intuition.
SD: Have you always thought of yourself as an artist?
SH: Yes, definitely — well, maybe not always. I spent a year in Israel and I had this friend, Dana. She was like, "You're an artist, you need to go to art school." She literally sent me to art school.
Back then, when I was 20, I needed someone to tell me that I was an artist. And now, I do not. Now, I know — I know that this is what I'm meant to do.