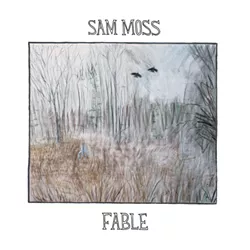 (Lost Honey Records, CD, digital download, vinyl)
When last we left Sam Moss, he was part of the delightfully strange and prolific Brattleboro indie scene. Following the release of his deconstructionist folk gem No Kingdom in 2013 — named one of the year's 10 best local recordings by this paper — Moss moved to Boston. There he has continued to write, perform and record sweet and provocative art-folk masterpieces. The latest such work is Moss' ninth album, Fable, released in May.
Though he now calls Beantown home, Moss retains strong local ties. Two-thirds of his backing band members are part of Brattleboro's Wooden Dinosaur: guitarist Michael Roberts and bassist Jeff Murphy. Fable was recorded at Guilford Sound in Guilford, Vt., and is the first release on Lost Honey Records, a joint venture by Moss and Roberts — look for a WD record on the imprint later this year. Rounding out Moss' Green Mountain bona fides, the vinyl version of the record was pressed at the Burlington Record Plant.
Moss has long had rambling musical wanderlust. Though rooted generally in Americana, he often detours down the genre's myriad side roads. No Kingdom, for example, found kinship in the spare, Appalachian-gothic aesthetic of fellow Vermont expat Sam Amidon. Moss is also a highly regarded fingerstyle guitarist whose instrumental compositions similarly tweak roots convention.
On Fable, he navigates a sort of middle ground. There is stark, sprawling beauty in these eight delicately arranged songs, written between 2013 and 2014 just as he was transitioning from Brattleboro to Boston. His writing has a road-weary quality, and his expressive, reedy tenor evokes a mellow Ryan Adams, Iron & Wine's Sam Beam and Tracy Chapman.
But Moss' and Roberts' guitar work largely defines the album. On opener "Postman," Roberts' woozy tremolo guitar evokes the spooky southwestern vibe of Calexico. The title track fuses a lilting acoustic riff with shimmering electric sustains set to a gently insistent drum shuffle. "Hunter's Moon" highlights Moss' acoustic chops as he winds a gorgeous high-and-lonesome vocal melody around nimble fingerpicking.
"Beast" is sinister cut built on a shiver-inducing, Delta-blues-style progression given dark accents by Roberts' gritty, minimalist work. Over this, Moss hollers a baleful melody that harks to Appalachian balladry. It's a stirring stylistic fusion.
Fable closes on "Lighting," which moseys along at an unhurried pace. Roberts shades Moss' light melody with tumbling lines that are rhythmically and tonally skewed just enough to impart a playful vibe.
Fable by Sam Moss is available at sammoss.net.