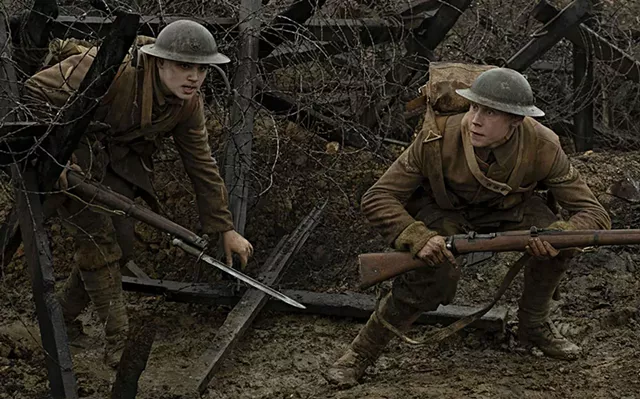 SHOT WATCHED ROUND THE WORLD Mendes' latest, assembled to simulate a single, continuous take, is a force to be reckoned with at the box office.
Sam Mendes isn't one to get in a rut. Some directors pursue success through association with a popular genre, character or franchise. The British-born auteur's filmography, however, could hardly be more all over the map.
In 20 years, he's made unflinching studies of suburban life (American Beauty [1999] and Revolutionary Road [2008]), a couple of James Bond pictures (Skyfall [2012] and Spectre [2015]), and a pair of films about war (Jarhead [2005] and 1917, just nominated for a Best Motion Picture Oscar), along with Road to Perdition (2002) and the almost universally unseen Away We Go (2009).
Mendes' latest ranks as his greatest cinematic achievement, which isn't necessarily the same thing as his greatest film. More than anything, 1917 is an audacious technical experiment.
Mendes and co. set out to enable viewers to experience the horrors of war from the comfort of their seats. To accomplish this, he needed, first, to devise a narrative structure that would maximize audience immersion. Second, he needed to re-create the trench-lacerated battlefields of early 20th-century France.
The solution to both challenges hinged on something we don't generally associate with World War I: cutting-edge computer technology. As you've probably read, the movie was put together in such a way as to create the illusion that it was shot in a single take, à la Alfred Hitchcock's Rope (1948) or Alejandro González Iñárritu's Birdman (2014). Those directors went to the trouble to prove they could pull off the complex effect. Mendes, by contrast, does so to draw the viewer more intimately into the experience of his two principals.
George MacKay and Dean-Charles Chapman star as English lance corporals Will Schofield and Tom Blake, respectively. Barely out of boyhood, they're stationed near the German front. Until, that is, a general played by Colin Firth sends them on a mission that's as pressing as it is perilous.
The enemy appears to be in retreat. Territory that the Germans had taken at tremendous cost suddenly stretches for miles, occupied only by the fallen. A colonel played by Benedict Cumberbatch is poised to launch an assault he's convinced will turn the war's tide. The catch: Aerial photo surveillance reveals that it's a trap. Two battalions — 1,600 British troops — will march to certain death the following morning if word to call off the attack doesn't arrive in time. Oh, and the Germans have cut all communication lines.
It's up to Schofield and Blake to make the trek across this booby-trapped no man's land and deliver the order by hand. It's literally a race against the clock.
And, speaking of clocks, two hours almost never flies by this fast. MacKay and Chapman turn in first-rate performances, but the real stars here are Mendes — who wrote the white-knuckle script with Krysty Wilson-Cairns — and Roger Deakins.
The legendary cinematographer artfully shot the film's cratered fields and bombed-out villages in a gorgeously subdued palette. Then he performed pure big-screen wizardry on his work, digitally slicing and dicing segments that run a few moments into a convincingly continuous whole. One minute his camera is beside the two soldiers. The next, it's between them, behind them, before them. The result is an irresistible sense of not just watching but being with them, almost one of them.
It's not always the most comfortable experience. It is, however, a virtually unprecedented one. Seeing 1917 gives entirely new meaning to the words "joining the army."