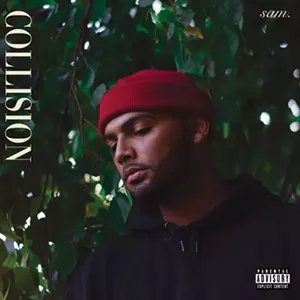 (self-released, digital download)
In 2017, Burlington's 99 Neighbors established themselves as the region's new guard of hip-hop. Originally called Possibly Human, the nebulous collective is closer to coalescence than ever before with its thick roster of MCs, producers, videographers and visual artists. Rapper/singer-songwriter Sam Paulino — known simply as Sam. — is perhaps the group's most visible member at the moment. And his new EP, Collision, draws us intimately into his psyche.
Despite the confidence and swagger for which he's known, Sam. wrestles with demons just like everyone else. And he gets by with a little help from his friends. Three producers — Somba, JuJu and guest Neighbor Loupo, who contributes to the opening track — support and envelop the MC's lyrical heat with vibrant, genre-defying backdrops. Unearthly vocal filters, undulating trap beats, '80s-inspired synths and sensuous guitar work converge in a chimerical tapestry of sound. In other words: Shit's dope.
The eight-song collection begins with a challenge: "Take a look at me / Tell me what you see," Sam. coos on the slinky "Crash Course." Amid snaking, augmented vocal samples and chipped beats, he literally asks his listeners to judge him. He's disillusioned with his millennial cohort ("I don't pay attention / 'Cause everybody flippin' / All of them act different / They energy be switchin' up") but distinguishes himself as a no-bullshit straight shooter with his initial confrontational request.
Continuing the sad-boy streak, "Minutes" is Sam.'s most confessional work to date. JuJu's stark, swirling atmospherics emphasize the gravity of the rapper's depression and isolation: "Locked in my bedroom / 'Cause I hate going outside / All my friends addicted to Xan / Some of 'em dead," he spits matter-of-factly, suggesting addiction is inescapable. Though it's largely a synthetic production, JuJu sends the track off with a red-hot, blues-flavored electric guitar outro.
Things pick up on the quirky "DRIP." As Sam. breathes and murmurs about keeping up appearances even when you're broke, Somba lays down a bouncy electric piano line coupled with wet, dribbling accents.
The synth-laden "Don't Call Me" is exceptional. Sam.'s singing is at its most passionate here — which is no surprise, given the song's salacious subject matter. Though he claims his lover is "toxic" and "messy," the physical connection between them eclipses — and perhaps simultaneously fuels — the drama.
In a nod to "Wavs. (Outro)," the dazed closer on Sam.'s 2017 debut with Somba, The South Cove EP, Collision concludes with "Dancing in the Rain." The dreamy, guitar-driven slow jam is uplifting in tone but bleak in its finality: "You can't save me," Sam. whispers.
One year after his grand introduction, Sam. shows that he and his cronies are a force to be reckoned with, even under the weight of the darkest feelings. Collision is deeply captivating, as is Sam. himself, largely because he's not afraid to be vulnerable.
Collision is available at soundcloud.com/sampaulinomusic. 99 Neighbors perform on Saturday, September 1, at the Higher Ground Showcase Lounge in South Burlington.